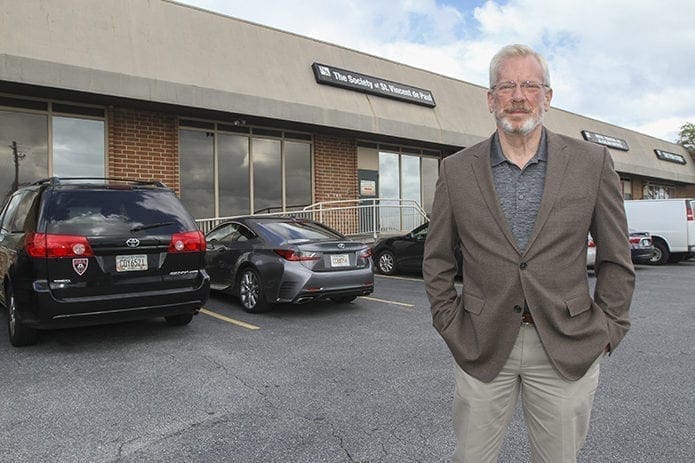 By ANDREW NELSON, Staff Writer
|

Published October 19, 2018

CHAMBLEE—St. Vincent de Paul Georgia is kick-starting the first capital campaign in its 115-year history, aimed at doubling in size its local food market and creating a safety-net pharmacy to help low-income clients.

The Catholic human service agency hopes to raise some $6.5 million as it now prepares for the public phase of fundraising.

More than $1.7 million has been collected for the Hope Transformed campaign. Its effort was given a boost from the Archdiocese of Atlanta with a contribution of $400,000.

"This is to blow up our services, to expand our ability to help people to really, really make an impact on people in need here in Georgia," said CEO John Berry. "No matter how the economy appears to be doing or the stock market appears to be doing, there's a lot of people hurting in this state and in this country."

The organization gave the green light for this effort only after it ensured the money would not compete with the donations for service to clients, said leaders.

"We are not going to change the reality of the world overnight, as much as we all would love to do that. So what we have to do is how can we take these folks, change their situation as it relates to the reality that exists, while at the same time, working through advocacy efforts and other things, to change the reality to be more caring of people," Berry said.

The society's mission is to serve women, men, and families living on the margins, moving them toward self-sufficiency. In 2017, more than 129,000 people were helped. Twelve thrift stores raise money for client aid. In addition, there are 38 food pantries with fresh meat and produce accessible to all. Its family centers aid people to enter the workforce, improve resumes, and budget money.

The fundraising comes amidst the current sex abuse scandal facing church leaders. Berry said he didn't feel the issue would hinder the campaign.

"Our founding is on Catholic social justice principles and we are very proud of that. We honor that. But we are not a church organization," he said.

The campaign would purchase the organization's 20-year home at 2050 Chamblee Tucker Road, Chamblee, upgrade its worn appearance, and revamp the interior with a new teaching kitchen to provide healthy cooking lessons, and educational training resources for clients and the more than 5,000 statewide volunteers. In addition, the administrative area will be trimmed as offices are replaced with an open office to encourage staff collaboration.

The building purchase is to take place no later than March 2019. The campaign seeks pledges, which will be fulfilled by October 2021. The purchase price has been negotiated to $2.3 million.

A new initiative is to build a pharmacy to help clients to receive inexpensive or free medicine for chronic care conditions. The medicine will be supplied by the Tennessee nonprofit Dispensary of Hope. It works already with three programs in Georgia.

"This will allow people to not have to choose between do I take my blood pressure medicine every month or do I pay my rent or feed my kids. Those are unacceptable choices for people," said Berry. "These aren't medical conditions that you can just blow off. These are things that will kill you or disable you and then you are in this vicious cycle where you are disabled and you can't work, it's just horrible."

St. Vincent de Paul Georgia is partnering with Mercer University's College of Pharmacy and Mercy Care to serve vulnerable clients.

Unexpected medical costs can erode a family's financial safety and St. Vincent de Paul is working to fix that situation.

Hundreds of thousands of working people are in a gap between earning too much for government health insurance but cannot afford to pay for private insurance, said Courtney Anderson, an assistant professor who teaches about poverty at Georgia State University's College of Law.

People with limited resources and without health insurance have to weigh if they can afford to take time from work, pay for childcare during a visit and cover the cost to get to a facility, Anderson said.

Prescription drug cost is recognized as a hardship for people, because even if on Medicaid, the required payment can be out of reach, Anderson said.

The proposed clinic is about two blocks away the Chamblee MARTA station. The clinic pharmacist will fill medication and provide care to people in need.

Other St. Vincent de Paul organizations already serve clients with chronic health needs with free pharmacies. The Cincinnati Council of St. Vincent de Paul has filled prescriptions for more than 10 years. It has served 421,000 prescriptions with a total estimated retail value of over $49.7 million.

Another part of the plan is doubling the size of the society's existing grocery store. The expansion will increase the amount of fresh produce and healthy food alternatives available to clients.

Berry said the goal is to offer a "dignified shopping experience" for clients. "They will feel more like they are coming into a supermarket," he noted.

Doubling in size, additional shelves of food and built-in freezers and refrigerators will make for easier shopping as clients select their food.