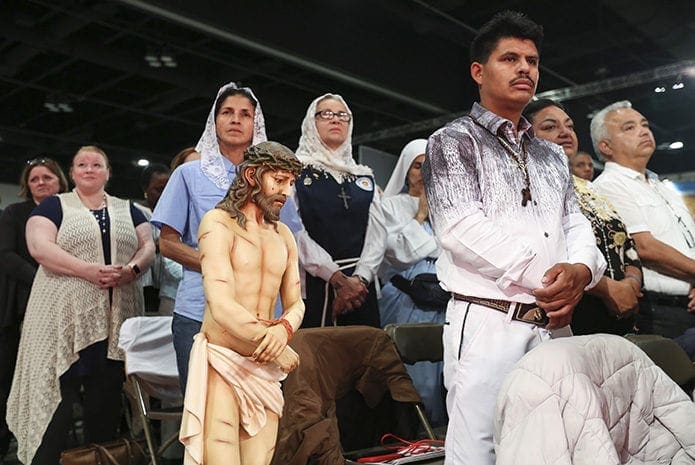 By ANDREW NELSON, Staff Writer
|

Published June 7, 2018

COLLEGE PARK—From quiet prayer in front of a sunburst monstrance holding the Blessed Sacrament to an upbeat assembly line packing food for the hungry, Catholics of all ages and nationalities came to be revived in their faith June 1.

Thousands appeared on the opening day of the 2018 Eucharistic Congress held Friday and Saturday, June 1-2, at the Georgia International Convention Center. The celebration was the 23rd annual gathering in the Atlanta Archdiocese marking the Corpus Christi feast day. Organizers estimate about 30,000 attend over the two days, making it the largest annual assembly of Catholics in the Southeast. This year's theme was "That they may all be one."

Events began Friday with the boisterous meal packing, followed by an evening opening Mass. Afterward, people took part in a healing service or spread out to meet and worship in smaller groups, including young adults, the French-speaking Catholic community and people facing mental illness.
Living Eucharistic service
Early in the day, volunteers mingled around a tarp-covered tent, waiting for the hall doors to open. At this mock refugee village set up by Catholic Charities Atlanta, people learned about the life of migrants.
Inside the hall, tables were set for teams of volunteer workers to scoop, measure, seal and box plastic bags with meals of soy protein, dehydrated vegetables and rice, destined for Burkina Faso in Africa.
For the third time, the Starve Wars service project was held at the congress. This collaboration between Justice and Peace Ministries of the Atlanta Archdiocese and Catholic Relief Services gives people the opportunity to serve, reinforcing the Catholic social teaching mandate to care for the poor and linking the celebration of the Eucharist to human needs. More than 500 people prepared 100,008 meals.
As part of the fun, four Star Wars characters in costume posed for photos. They are members of the Georgia Garrison of the 501st, who donate time to appear as Star Wars figures at hospitals, fundraisers and other events.
Packing the meals, parents worked side by side with their young kids. Teens got up early despite being on summer vacation. Parishioners teamed up with fellow church members as a group project.
Danait Tekie, a rising junior at Marist School, Atlanta, stood with her siblings, cousins, aunt and father. They filled plastic bags at a fast clip, working together. They attend St. John Neumann Church, Lilburn.
"I was trying to find an excuse at first not to come. Now that I am here, I really like it," she said.
Tekie's parents emigrated from the east African country of Eritrea. The food she prepared was going to Burkina Faso, on the west side of the continent. But she felt connected to the people on the receiving end of the line. Said Tekie, "I feel like I am helping my own neighbors."
Kris Michels returned for the second time to participate in Starve Wars, encouraged by her teenaged daughter, Maggie.
"It is connected with the Eucharist. It's a perfect way to do some of our own work of mercy," Michels said.
The family, of St. Monica Church, Duluth, has been on the receiving end of generosity since her husband lost his job, she said, as her voice broke with emotion. Making these meals is a way to repay the support her family received from others, she said.
Opening Mass
That evening Bishop Bernard E. Shlesinger III, Atlanta auxiliary bishop, celebrated the opening Mass of the Eucharistic Congress, with prayers in French, English and Spanish.
During his homily, the bishop urged people to open their hearts to serve God.
"It is not how well we do things that matters. It is really about God doing things in us," he said. "A good and faithful Christian is giving God permission to work through us."
When people put faith in God rather than themselves, their reliance on God grows, he said.
"Our confidence has shifted off ourselves and what we can do," he told the congregation. "We come to receive the body and blood of Jesus so he can strengthen us and send us out into the world to do his mission. Let us pray for the strength that comes from our Eucharistic Lord. With him all things are possible."
Small groups gather to worship        
After the Mass, people gathered for different styles and languages of prayer, from Christian praise music that wouldn't sound out of place in a coffee shop to prayers recited in French.
A new program of prayer and reflection for those facing mental health issues drew some 20 people.
Scores of Haitians and people from other French-speaking countries gathered. With upbeat emotions, the women and men swayed and waved their arms to the band.
Gabriel Desgranges, a member of St. Lawrence Church, Lawrenceville, and his daughter, Gabriela, drove from Atlanta's northern suburbs to be part of the lively worship.
The Haitian native said attending these events is like a basketball team practicing so they play better.
"Spiritually, when you get together to hear testimony, you get stronger," he said.
Hearing prayer in your native language and the shared cultural background knit the community together, he said.
Scalabrinian Father Carl Jean, the Haitian community chaplain and speaker at the French-language track, attended the congress for the first time. Speaking beforehand, Father Jean said he wanted people to understand how the Eucharist can "change them and transform them into the body of Christ."
A highlight of the congress is how it links people of various languages and cultures together with the Eucharist, he said.
"Everyone has their culture and their social and personal customs. But the Eucharist will make us sons and daughters of the same Father and we will be one family. So, it is imperative the participation of French-speaking in the Eucharistic Congress," Father Jean said.
Beauty leading to faith
For a program called "Revive," young adults filled the seats, lined the walls and spilled out of a crowded hotel conference room. Up on stage Catholic songstress Sarah Kroger, playing keyboards and singing, led praise and worship with three other musicians.
Jimmy Mitchell, a speaker and musician from Nashville, Tennessee, shared his view of how to engage people who have little or no faith: "Captivate first, evangelize later."
In his work as the founder and chief curator of Love Good, a media company, Mitchell said a tagline is "captivate the world in such a way they ask all the right questions."
Expecting people to answer questions about their faith or purpose in life can be off-putting, but when you use art, music or other expressions of beauty, the conversations can be deeper, he said.
Beauty "pulls us out of ourselves and reminds us we are part of an epic love story. Beauty has no enemy," Mitchell said.
He quoted from the three most recent popes, St. John Paul II to Pope Francis, to highlight how the church embraces the arts and through the arts can inspire faith. "Art and the saints are the greatest apologetics for our faith," said Pope Emeritus Benedict XVI.
With all the technology connecting people, Americans today still find themselves living without purpose, Mitchell said. He said art and beauty can be ways to root oneself in the church and its traditions, which then can lead to God. He told the large crowd to be self-aware as recognizing what is wrong can lead to bigger and better things.
"Embrace the brokenness, knowing God already has, and allow him to transform you from the inside out," Mitchell said.
Joe Comerford, 27, who attends the Cathedral of Christ the King, Atlanta, said the night was one of "beauty and prayer." It was just what he needed after a tough week on the job, said Comerford, who works in investing.
He was a first-timer at Revive but promised it wouldn't be his last. Comerford said that Mitchell's ideas and the experience of worship at the congress are a way to connect with a larger audience.
"It's outside the church doors and there's a place for it. I want to be a part of it," he said. "This is a footprint of Catholicism in the city."