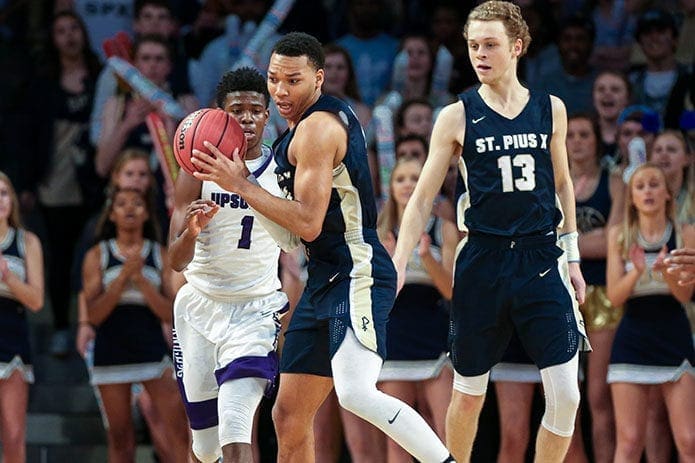 By MICHAEL ALEXANDER, Staff Photographer
|

Published March 22, 2018

ATLANTA—The year's Class AAAA state basketball championship game was practically a duplication of the 2017 contest.

The game took place on the same day, March 10, at the same location, Georgia Tech's McCamish Pavilion. The championship was between the same two teams, St. Pius X High School, Atlanta, and Upson-Lee High School, Thomaston. The ultimate outcome was also the same. Upson-Lee prevailed 70-54.

The major difference was the margin of victory. Last year there were only five points separating the loser and victor.

The first three quarters of the game were closely contested. Although St. Pius held its biggest lead, eight points, during the second quarter, Upson-Lee charged back and St. Pius took a 33-32 lead into halftime.

The score was tied four times during the game, and the final one came in the third quarter after the teams played to a 38-38 tie. Upson-Lee senior guard Tavias Fagan broke the tie when he converted a two-point basket, to give Upson-Lee its third and biggest lead of the entire game. It was at this point, however, Upson-Lee never relinquished the lead again. With a 48-42 lead to start the fourth quarter, Upson-Lee would go on a 22-12 run to put the game away.

Senior guard Everett Lane hit three 3-pointers to lead St. Pius with 11 points. Senior guard Troy Stephens scored eight points and juniors Zach Ranson and Matthew Gonzalo chipped in nine and eight points, respectively.

St. Pius, under the leadership of head coach Aaron Parr, finished the season with a record of 28-4 (10-0 in the region).