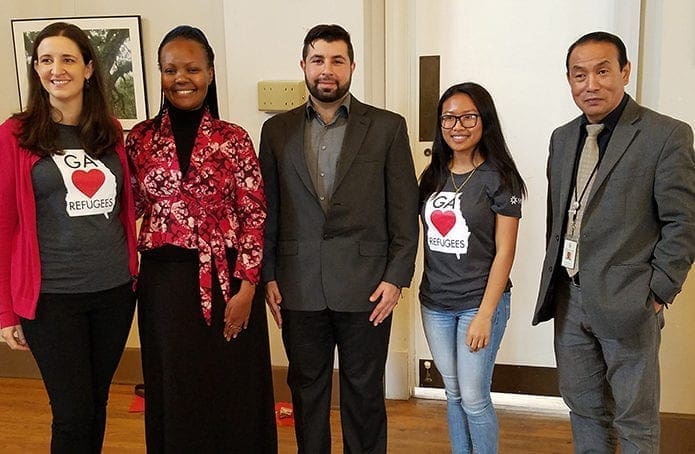 By ANDREW NELSON, Staff Writer
|

Published February 22, 2018

|

En Español

CLARKSTON—Bahadur Subba spent 13 years in a refugee camp, where more than 100,000 people had fled for protection

"There was no aid. We were just on the side of a riverbank," said 49-year-old Subba, about the camp.

With Nepali heritage, he was a member of a minority group in Bhutan, a country in the eastern Himalayan Mountains. Its ruling class enacted the "One Nation, One People" program in the 1980s and pushed his people out of the country. The laws forced them to flee despite his father serving in the army. Security forces jailed Subba for protesting.

Later he got a degree and fostered a school program in the settlement. As years went on, he moved away. He never settled in one place because no country would permanently accept him. When he married and started a family, he knew he didn't want the same for his then toddler son, with no country to call home. When he got a chance to attend a three-day United Nations-sponsored leadership program in New York, he took it. On the fourth day, he took action. Subba said he "left his tie and suit and went to work."

He relied on a network of Bhutanese immigrants to navigate the unfamiliar United States, working at a sandwich shop and getting a lawyer to take his case without pay. He filed for asylum. He was undocumented as he waited for a decision. Three years passed before he saw his wife and son.

Ultimately granted asylum, he now serves the refugee community as the resettlement manager at Catholic Charities Atlanta. His son is 15 and a high school freshman. His wife is employed as a childcare worker for a resettlement program.
Refugee program persists, despite slowdown
Subba spoke on a panel of refugees and advocates at the second annual Georgia Loves Refugees event Feb. 14 at the Clarkston Community Center. The Coalition of Refugee Service Agencies (CRSA) hosted the event.
The CRSA has 18 member agencies working to settle refugees in Georgia. But the effort faces political headwinds. Changes in federal policy have slashed the number of refugees entering this country.
In 2017, President Donald Trump set a goal of accepting some 45,000 refugees. But even that historically low number is not on track to be met. From October 2017 to January 2018, 228 refugees arrived in Georgia. In contrast, about 1,000 refugees came to the state in the last months of 2016.
Since October 2017, Catholic Charities Atlanta has served 16 refugee clients. A year earlier, staff welcomed at Hartsfield-Jackson Atlanta International Airport more than 170 women, men and children, said Frances McBrayer, senior director of Refugee Resettlement Services at Catholic Charities Atlanta.
The 20 staff members in the department are adapting to the trickling numbers.
"We are trying to focus on who is here and who needs help," said McBrayer, who is a licensed, master-level social worker.
They are reaching out to victims of human trafficking and others who may not have been served in the past but are eligible for job training, financial assistance and public benefits.
McBrayer said her staff is down two positions through attrition. She said the agency is working to keep the skills of the staff with new roles at the nonprofit.
The Catholic Church clearly values the dignity of refugees, said McBrayer. She makes that point to people who support cutting programs for refugees.
"That's a huge part of what refugee resettlement is"—fulfilling Catholic social teaching, she said. The focus of aiding refugees is helping families find "a place to be safe," she said.
Some polls have shown Catholics being more supportive of refugees and immigrants. In 2017, the Pew Research Center found nearly six out of 10 Catholic disapproved of President Trump's travel ban to prevent refugees and others from seven Muslim-majority countries from entering the U.S. However, most white Catholics supported the ban, according to the survey.
Georgia loves refugees
A native of Iran couldn't return home after serving as a Christian missionary in the Middle East. A high school student missed four years of education after her family fled Burma, but was recently selected as at the student of month at her Gwinnett County high school. Another started a business to showcase the talents of refugee women.
These were the life stories shared by panel members sitting on the stage during the event at the community center in Clarkston, a town dubbed the most diverse in America. T-shirts for sale with "Georgia Loves Refugees" with a big red heart were piled on a table. Refreshments from two businesses begun by refugees—Refugee Coffee, and Sweet, Sweet Syria—were for sale.
During the event, the coalition of nonprofit and faith-based groups delivered its assessment on refugee resettlement. The group's executive summary noted the decline in new families arriving, while sharing some bright spots.
Paedia Mixon, the CEO of New American Pathways, said despite the politics, Georgia residents are very welcoming to refugees. Created in October 2014, New American Pathways arose from a merger of Refugee Resettlement and Immigration Services of Atlanta (RRISA) and Refugee Family Services (RFS), two organizations that shared a strong legacy of service to the Atlanta refugee community. New American Pathways provides some 5,000 refugees each year with the tools to rebuild their lives and achieve success.
"What we've realized is we are stronger together. Refugees are incredible people and they bring amazing things to our communities," said Mixon. There are fewer of them coming here, but that has shown how they contribute to the state, she said.
"They are some of the strongest people on the planet," said Mixon.
For Subba, the journey from his home to a refugee camp to the United States ended in January when he took the oath of U.S. citizenship. It gave him the peace of mind he's wanted since the crackdown in his native country forced him out.
"Once I got hold of the (citizenship) papers that is the freedom I was looking for. It was a relief," he said.