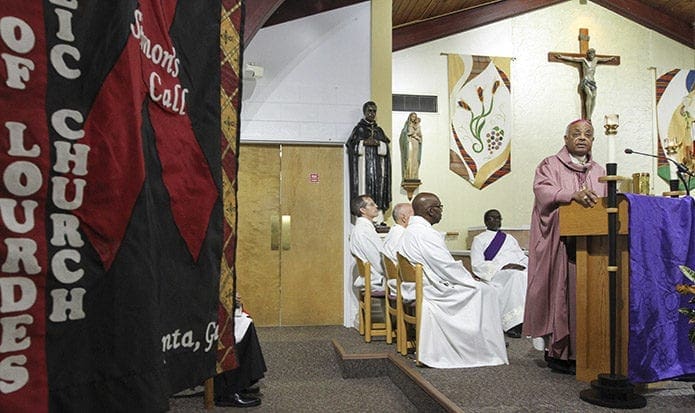 By NICHOLE GOLDEN, Staff Writer
|

Published December 7, 2017

|

En Español

ATLANTA—Volunteers devoted to serving people with HIV/AIDS gathered at a Dec. 1 Mass "For a World Living with AIDS" at Our Lady of Lourdes Church, Atlanta.

Held annually on World AIDS Day, the Mass is hosted alternately by parishes with HIV/AIDS ministries.

Archbishop Wilton D. Gregory was the celebrant for this year's Mass, which is a time to remember and pray for lives lost, for people living with the virus, their caregivers and family members and for a cure.

More than 60 people attended the Friday evening Mass, organized by Justice and Peace Ministries of the archdiocese.

In his homily, Archbishop Gregory spoke of the need for today's disciples to be alert of the signs of the times including the global reaction to the pandemic of HIV/AIDS.

"We have lived with this reality now for more than a generation, and our responses to the disease and to the sorrow that it has left in its wake have been both inspiring and occasionally horrifying," he said. "Thanks be to God, we can now speak about HIV/AIDS as an illness that is indiscriminate in its reach and impact."

Growing awareness is a sign of solidarity that all people must experience as society searches for cures and consoles those impacted, he said.

The archbishop noted, however, there is a disturbing aspect of the epidemic that is not to be ignored.

"Some people still want to focus exclusively upon how HIV/AIDS is transmitted and those people who may have suffered disproportionately from its presence," said Archbishop Gregory.

This type of bigotry, he emphasized, has existed for all of human history.

"This evening, in prayer and at the Eucharist, we gladly embrace the people who continue to endure this disease and its repercussions, whether personally or because one of their loved ones suffers or has succumbed to this plague," he said.

The archbishop prayed for "a softening of the heart of humanity" to be more compassionate toward the suffering.

The parish AIDS quilt was displayed on the altar. The quilt features names of friends and family who died from the virus.

Archbishop Gregory said the quilt serves as a "sacramental reminder" of the many talented and vibrant people taken by the disease.

He said the Catholic Church, while not perfect in its response to the crisis, is a face of compassion and a sign of hope.

The archbishop concluded with a prayerful plea—"May we enter a new year with much more hope than fear, more love than hate, more compassion than apathy and more reasons to believe in the dignity of all men and women rather than examples that betray common dignity."

The director of Justice and Peace Ministries, Kat Doyle, presented a monetary donation to Mercy Care at The Edgewood Center, Atlanta, at the Mass.

"It was funded through grant monies we have from the Catholic Campaign for Human Development (CCHD) second collection," said Doyle of the contribution.

The donation helps Edgewood Center provide permanent housing for those living with HIV/AIDS and for MARTA transportation to and from appointments.

Hazel Mitchell, case manager for Mercy Care at The Edgewood, accepted the donation. She said the program has 46 residents, primarily men, which reflects the face of the disease locally.

Mitchell said one of their newest residents is just 21 years old and recently diagnosed.

According to the Centers for Disease Control and Prevention (CDC), 39,782 people were diagnosed with HIV in the United States in 2016. An estimated 1.1 million people are living with HIV, and about one in seven don't know it.

The CDC's Division of HIV/AIDS Prevention said Southern states accounted for more than half of new HIV diagnoses in 2016, while making up 38 percent of the national population.

Simon's Call, the AIDS ministry of Our Lady of Lourdes, and other parishes and ministries, support Edgewood residents.

Janis Griffin, leader of Simon's Call, has been involved with the ministry for 20 years. Griffin said they provide a quarterly brunch for the residents, who were previously homeless. At the Christmas brunch, they will be providing gifts of sheets, towels and other supplies.

The ministry has 17 volunteers, and while it used to provide monthly meals, other ministries and churches started to step in and share the work.

"It's a wonderful thing," said Griffin about the increased awareness and involvement.

Mitchell said the social support, including food and Bingo games, means connection to others for their residents.

"That's a real opportunity to interact," she said.

Simon's Call has an annual ice cream social to raise funds for Edgewood's residents and also maintains the parish memorial AIDS quilt.

"It's about 10 by 10. It has 100 names … too many names," said Griffin.