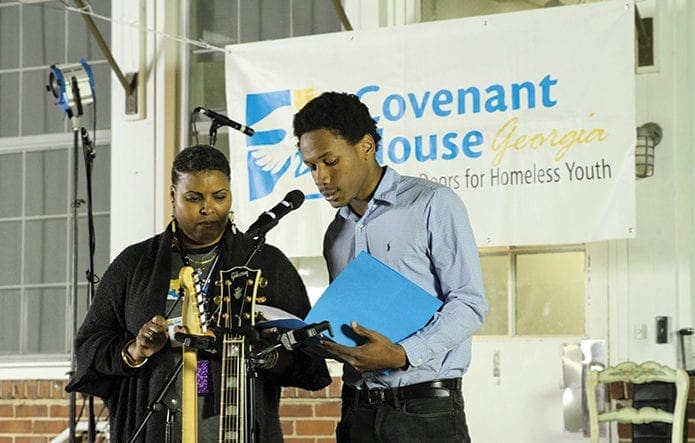 By ANDREW NELSON, Staff writer
|

Published November 22, 2017

ATLANTA—Young people "lost to the streets" were remembered in a quiet ceremony of candlelight and bell ringing Thursday, Nov. 16, at Covenant House Georgia.

Scores of supporters of Covenant House gathered in the courtyard of the Atlanta crisis shelter for homeless youth to mark the deaths of teens and young adults lured away in 2017. Twenty-eight names were said aloud in the cool night.

There are young people who feel trapped in a life that draws them back, said executive director Allison Ashe.

"Some evil in the world we need to stand up against," she said to the crowd holding lit candles.

Some 1,300 youth have been served by Covenant House in the most current year. Youth leaders report the young people flee homes for a variety of reasons, from domestic violence to sexual trafficking, or because the youth are gay or pregnant. A survey by Georgia State University reported there are 3,300 homeless youth in metro Atlanta.

Ashe said the house needs to continue to be a beacon to those who haven't been served and draw them in. Ashe said that homelessness is the least interesting thing about the young people; instead, they have gifts as poets, artists and students that make them unique.

One survivor held back tears as she told her story. The 21-year-old was sexually abused at age 10. She tried to commit suicide after living with undiagnosed depression. The young woman, who asked that her name not be printed, works now and hopes to attend college for culinary arts.

"It does not discriminate. And it can be anyone," she said about homelessness.

Covenant House gave her the space to breathe and look to the future, she said.

"I had to take a step back, so I could deal with my past so my future will be even better," said the young woman. She applauded the staff for being there for her and others without judgment, with only support.

"The staff is here to help you, not judge you. You've been here more than my family," she said.

Covenant House was founded in New York City by a Catholic priest. From its founding in the early 1970s to 2008, the international nonprofit was led by either a priest or a sister.

Transfiguration Church member Breon Haskett has been serving at the shelter since 2012.

A former Marine, Haskett said he stays involved because of the need he sees. On Tuesdays, Haskett rides with the organization's outreach van. They stop where teens congregate. In downtown Atlanta, they find homeless youth, and on the edge of the city, they find teen victims of sex trafficking.

"I was so disturbed by what I saw, I keep going out," he said.

Faith motivates his service. Paraphrasing St. Teresa of Avila, Haskett said Jesus Christ has no hands except those people willing to step up and serve.

"It's the true nature of being Christ's hand and feet," he said about volunteering.

Covenant House opened a facility in Atlanta in 2000 and moved to its current campus at 1559 Johnson Road about five years ago. The organization provides 46 crisis shelter beds in Atlanta, in addition to 24 beds for independent living for young people between 18-21. It operates using outreach teams, hitting key spots around Atlanta where vulnerable young people find shelter under bridges and in parks.

Leaders here have seen more young people showing up for help. The group has expanded the crisis shelters by putting up to a dozen mats on the floor to get more young people off the streets.

At the vigil, Rabbi Joshua Lesser, of Congregation Bet Haverim in Atlanta, used the biblical story of Jacob forced from his home to mirror the plight of kids forced onto the streets. He said the story reveals how God isn't only found in a place but is carried in people's hearts.

In the young people who survive street life, "we see that spark of God. We see what is awesome," said Rabbi Lesser.

Thursday was also the annual "Sleep Out, Executive Edition" where some 125 business leaders take the challenge to raise $5,000 for the program. They experience for a brief time living outside, sleeping with a cardboard box and a sleeping bag on a November night. They also gathered in small groups to learn from the young people about their lives before Covenant House and how the organization has set them up for the future.

In addition to offering shelter, Covenant House provides educational opportunities, job readiness programs and wellness and mental health services.

Different school and parish ministries in the Archdiocese of Atlanta have adopted the Covenant House, often taking over the kitchen to cook meals for the young people.

Gina and Carter Rude, and their three grade school children, stood out in the crowd of vigil attendees. Their children appeared to be the youngest at the event. The family attends the Cathedral of Christ the King, Atlanta.

The Rudes pitch in where needed at Covenant House. The family has put down gardening mulch, straightened bookshelves and played basketball with residents.

Gina Rude said serving at the shelter allows her kids to see how others live and to befriend people who are different, she said. They also make the connection between the young people of the Covenant House and the family's nightly prayers for those who are homeless, Rude said.

"The city we live in is our community. It is a community we need to support," she said.