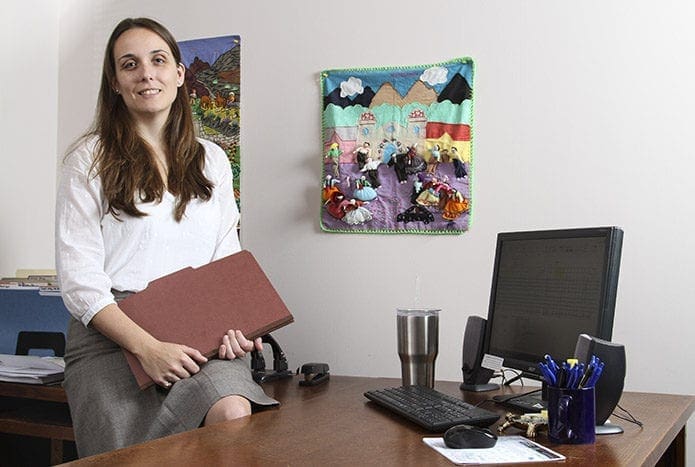 By ANDREW NELSON, Staff Writer
|

Published October 19, 2017

|

En Español

ATLANTA—Amy Fairchild Haer was a newly minted lawyer when she found herself handling cases based on obscure sections of the country's complex immigration laws.

"I was doing whatever walked in the door," she said.

That turned out to be doing a lot of talking with natives of Central America who had fled violence. Some were eligible for protection from deportation by a 10-year-old law to help Nicaraguans, Cubans, Salvadorans and others. She was their advocate in the labyrinth of this country's immigration system.

"When something weird comes up in the office, I've seen it," said the 36-year-old.

Haer returned in the summer as the senior program director of Catholic Charities Atlanta (CCA) Immigration Legal Services. Her first job out of law school was with CCA. Haer left Atlanta after four years for a position as the associate director for immigration and refugee services at Catholic Community Services of Southern Arizona.

The Catholic Charities Atlanta office is among the few nonprofit law practices in the area providing immigration legal services. Its staff serves more than 6,000 clients annually.

Haer replaced Jennifer Bensman, who stepped down to open a private immigration law office after a dozen years working at Catholic Charities Atlanta.
Political climate spawns fear
Haer takes the helm in a charged political environment surrounding immigration.
In September, President Donald J. Trump suspended the Deferred Action for Childhood Arrivals program, which gave work permits and legal immunity from deportation to young adults, called Dreamers, brought to the United States illegally as children. At the same time, political leaders have raised the prospect of new legislation to make the Dreamers' status legal.
As of March 31, some 24,000 people in Georgia have been approved for the DACA program, according to the U.S. Immigration and Citizenship Services. Nationwide, that number is 787,580.
Haer sees an immigrant community in fear. People are reluctant to talk with lawyers out of concern they will appear on the radar of immigration officers, she said.
"There is a lot of fear out in the community. We are trying to do more community engagement now," said Haer.
At the same time, advocates face a challenging immigration court in Georgia. By some measures, the courts in the state deny applications to stay about 90 percent of the time, according to data from the Transactional Records Access Clearinghouse at Syracuse University. Nationwide, the number is 57 percent of applicants who are ordered deported.
Haer said that helping the 10 percent of applicants who succeed in court fuels her passion.
"We are called by our faith to respect the inherent dignity of each person who we encounter," she said.
The immigration laws are second only to tax laws in complexity, Haer said. And misunderstandings about the laws have been a constant in the dozen years she's worked in the field.
"It is very rare for me to encounter someone who does not have status because they don't feel like it or they don't want it," she said. "Many Americans do not understand how difficult and complex the immigration system is."
Bensman said Haer brings a passion to the work.
"She's been a long-time advocate for immigrants," said Bensman of her successor. "She has extensive experience working with domestic violence victims. She's definitely passionate about working with the underserved population."
Dedication for serving refugees, immigrants
Raised in Virginia, Haer enrolled at Georgia Tech. The oldest daughter of parents trained as engineers at Georgia Tech, Haer earned a bachelor's in international affairs and modern language.
Law school was a goal. She worked in a Buckhead law firm to get a taste for it. But it was time spent out of the office that convinced Haer where to specialize.
"I really like the law. But at night I was assisting in refugee resettlement and tutoring a refugee teenager," she said.
Helping those in need became her passion. She enrolled at George Washington Law School in Washington, D.C. She interned at the Capital Area Immigrant Rights Coalition where she spent a summer in detention centers in Virginia talking with immigrant detainees at "know your rights" presentations.
After graduation in 2008, she returned to Georgia and worked with Catholic Charities Atlanta. An opportunity to work with survivors of domestic and sexual violence took her to Arizona.
About a dozen people work at CCA immigration legal services when it is fully staffed. The staff includes six attorneys, three paralegals and three accredited representatives.
Haer continues to settle into the office near Northlake Mall. Still unpacking from the summer move, she knows the memento that'll hang on her office wall in a place of honor. It is a hand-drawn picture of a Mini Cooper car by a refugee she tutored during law school.
"I keep it on my wall in my office to remind me why I was drawn to the work that I do," she said.
Faith has been both a guide and motivation for Haer in her work. She and her husband worship at St. Luke's Episcopal Church, Atlanta.
"My faith is with me throughout the workday," said Haer. "By providing the services that we do here at immigration legal services, we are living out one part of Jesus' call to love our neighbor."