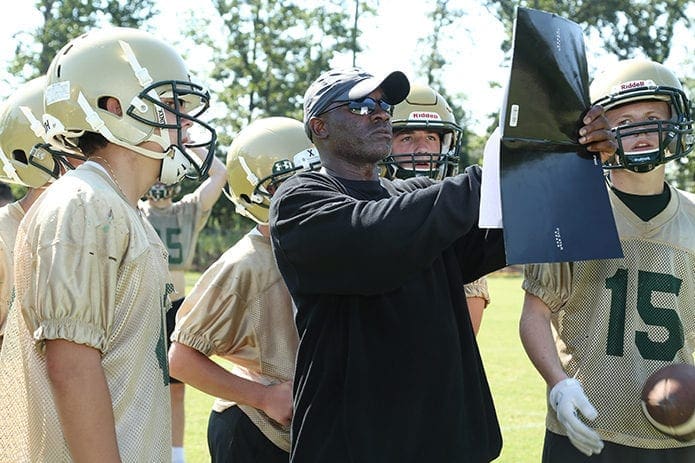 By MICHAEL ALEXANDER, Staff photographer
|

Published August 24, 2017

CUMMING—Quick out, slant, hook, post and corner are routes all too familiar to Pinecrest Academy's new varsity football coach, Terance Mathis.

The independent Catholic school's new coach is a former All-Pro NFL wide receiver most people will remember from his eight seasons (1994-2001) with the Atlanta Falcons. During his Falcons tenure, Mathis caught 573 passes for 7,349 yards and 57 touchdowns, second only to former Falcons receiver Roddy White in all three categories.

Mathis was actually drafted by the New York Jets in 1990 and spent four seasons there before coming to Atlanta. He played the final season of his professional football career with the Pittsburgh Steelers in 2002.

Mathis was born in the Motor City, but Terance, his mother and three sisters moved from Detroit to the Atlanta area when he was 12. He played football at Stone Mountain's Redan High School, and from there he went west to play at the University of New Mexico, Albuquerque. The university will honor Mathis Sept. 9 when he will become the fifth athlete enshrined in its Football Ring of Honor. The event will take place during halftime of the New Mexico-New Mexico State game. Mathis still holds seven school records for receptions and receiving yards.

Mathis and his wife, Arnedia, have a daughter, Terae, and a son, Terance Jr. Mathis also has three other children, Sydney, Erik and Vanessa. The family attends World Harvest Church in Roswell.

On Friday, Aug. 25, Pinecrest Academy will travel 1.4 miles down the road to South Forsyth High School for its first game of the season. The new head coach has been busy preparing the team for the 2017 season, but he took 10 questions from The Georgia Bulletin during a recent email Q&A.

GB: I read that you were named offensive coordinator at Savannah State University in 2011, but is this your first head coaching job and, if so, where else did you coach before coming to Pinecrest Academy?

Mathis: This is my first head coaching job. Most recently I was coaching the freshman team and was assistant wide receiver coach for the varsity at Lambert High School in Suwanee.

GB: What is your personal coaching philosophy for football?

Mathis: My philosophy is keep it simple and have fun while playing hard.

GB: Who are the coaches (any sport and any level) you look up to and why?

Mathis: There are two coaches. Dan Reeves (Atlanta Falcons' head coach from 1997-2003) because he taught me to pay attention to details. The other one is Seattle Seahawks' head football coach Pete Carroll for his fun-loving attitude and approach to the game.

GB: Pinecrest went 5-5 in 2013 and they have had a winning record the past three seasons. Based on your early assessment of this year's team, what will it take to achieve another winning record this season?

Mathis: To achieve another winning season the team must trust and believe in the things they have been taught.

GB: You played quarterback at Stone Mountain's Redan High School. When and how did your transition to wide receiver come about?

Mathis: I made the transition to wide receiver during my freshman year of college at the University of New Mexico because there were three upperclassmen quarterbacks in front of me on the roster.

GB: Were you a multi-sport athlete in high school or college? If so, what other sport did you play, and when did you know football would be your primary sport?

Mathis: I played football, basketball and ran track in high school. I briefly played basketball in college. But in high school I knew football was the sport that would take me farther in my career. 

GB: As a 5-foot-10, 185-pound wide receiver in the National Football League, you didn't fit the tall receiver prototype, the likes of the Carolina Panthers' Kelvin Benjamin (6-foot-5), the Cincinnati Bengals' A.J. Green (6-foot-4) or even the Atlanta Falcons' Julio Jones (6-foot-3); yet, you had a productive NFL career for 13 seasons. What were the mental and physical attributes that were most essential in shaping your success?

Mathis: I made sure I was in the best shape every season. My work ethic was second to none, and I studied the game. I was also afraid of failure.

GB: As an NFL player, you had a chance to play at the highest level in your chosen profession. When you were playing, whom did you admire and respect as a player on the offensive and defensive sides of the ball and why? And who would such a player be in today's game?

Mathis: In my opinion, former San Francisco 49ers wide receiver Jerry Rice is the best ever. Current Atlanta Falcons receiver Julio Jones reminds me of him. On the defensive side of the ball, former NFL cornerback Deion Sanders is the all-time best, and there is no one in today's game that compares.

GB: Do you have a favorite hobby or pastime outside of football?

Mathis: I love to golf in my free time.

GB: What type of music do you like these days, who are some of your favorite artists, and who were you listening to during your high school days back in the 1980s?

Mathis: I listen to all types of music across the board. When it comes to gospel, I like Marvin Sapp. If it's jazz, put on some saxophonist Boney James. If we're talking a little hip-hop, it's Jay Z. If it's rhythm and blues (R&B), I like listening to vocalist Jill Scott. Back in the 1980s, I was into Michael Jackson.