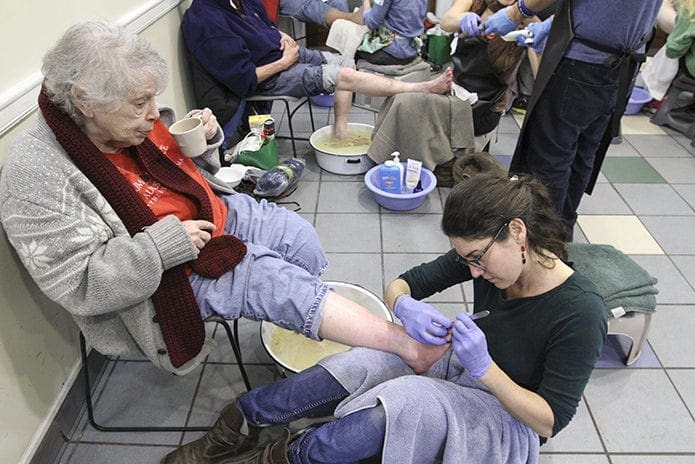 By ANDREW NELSON, Staff Writer
|

Published January 12, 2017

ATLANTA—On a December evening, residents and volunteers in Open Door Community's dining room prayed aloud and ended with a verse of "Go Tell It on the Mountain." They shared a dinner of yellow rice, turkey meatloaf, bite-sized macaroni and cheese balls and salad. Large black and white banners of the faces of executed death row inmates hung on the walls.

James Walker, who is in his 70s, sat among the dozen men and women around the tables. His life was very different before the Open Door Community. He lived on the streets and was on the losing side of battles to be free of his drug addiction.

"My life was falling apart," he said, wearing a Navy baseball cap. He found this community when his desire for more than life on the streets was greater than a drug high.

There was no straight line from finding Open Door and his recovery. He turned to drugs four times, the last time in 1999, he said. The community stood by him.

"When I relapsed, there was no judgment, no 'you need to go.' There was, 'You need to get up and try again. We'll be here for you.' This place really saved my life."

To his sadness, the community is shuttering its ministries after three and a half decades of being a haven in Atlanta for the homeless and marginalized and an outspoken advocate for those on death row and for peace.

Most Open Door services ended in the middle of December. Indoor showers for "friends on the street" have been turned off. The foot clinic, where the homeless could bathe their feet in perfume-scented water while volunteers gave them care, served its last client.

The final community gathering at "910"—the Ponce de Leon Avenue address by which the century-old apartment building is known—is a party called "Radical Memory and Radical Hope." True to its mission, one of the last acts of supporters will be marching around the state Capitol on Sunday, Jan. 15, in opposition to the death penalty. Then the community and friends will share a communal supper and a celebration of "lies and laughs."
"Totally turned my life around"
The closure weighs heavily on Walker, who cleaned the showers, served food and did all the "fixer-upper" jobs needed to keep this place operating. He recently moved to an apartment down the street.
"There is no distance between us. Here, there are people who serve you food, people who talk to you. They want to know what's going on with you. Other places, they are really impersonal," he said. "I didn't do a 180 (turn) on my own. I did a 180 at Open Door. I love this place."
David Payne, 50, is a native New Yorker. Open Door volunteers met him during a Bible study as he spent time in jail for a drug conviction. Once released, he walked from the downtown Atlanta bus station to 910. That was more than three years ago. Today, he is a leader managing the house.
"The Open Door has totally turned my life around," he said, sitting in the living room with worn furniture where folks read, talk, sip a cup of coffee. The closure is sort of like an "amputation," he said.
Payne intends to move to Baltimore, Maryland, where one of the community's founding couples will move closer to family and continue the ministry there. This is also a new beginning. "We are not going to do another home, but we're going to get involved with what's already there."
The Open Door nonprofit expects to continue its prison work. The community was honored in October for 40 years of death penalty abolition work in Georgia. The community will keep shipping packages of soap, peanuts and snacks to Georgia inmates. The monthly newspaper Hospitality will continue to share the message of this radical Christian community with its nearly 30,000 subscribing households, Payne said.
Jason Ebinger showed up at the community as a student at Marist School, Atlanta. He was involved for three years starting in 2010. He said the community allowed people to "share, learn, grow and build community together."
While helping individuals is important, he said its primary goal was to raise questions and "dismantle the systems that caused people to be homeless and put people behind bars in the first place."
"Open Door has advocated for so many people over the years. Atlanta will lose one of its truly safe spaces for homeless folks, and the immense support that many folks in prisons have gotten from Open Door will surely be missed. Atlanta will lose a place for suburbanite Catholic school kids to come hear the truly radical message of the Gospels," said Ebinger, who recently was with Native Americans and other "water protectors" to protest the Dakota Access Pipeline.
Protestant Catholic Worker house
People who served at the Open Door and lived there are moving on. Co-founders Ed Loring and his wife, Murphy Davis, with "engaged hope" believe the Christian mission for justice that inspired the founders will be transformed, although admittedly "dispersed and on a smaller scale."
"We never ever wanted to offer services without the cry for justice. That's why we began. That's why we've raised hell about the homeless in the city. It's a matter of injustice. We are not going to serve a bowl of soup and not raise justice," said Davis. She and Loring, both Presbyterian ministers, started Open Door in 1981 with Rob and Carolyn Johnson, all of Clifton Presbyterian Church. It was a gritty Ponce de Leon Avenue at the time, but the rough spots have been polished into a hip neighborhood. A former hub for sex workers is now a fancy high-end pizza shop and a motel for people down on their luck is to be a boutique hotel.
Davis joked Open Door was the only Protestant Catholic Worker house. Their mission was modeled after the movement started in 1933 by Peter Maurin and Dorothy Day, journalist and pacifist, who loudly called for justice for the marginalized. She is being considered for sainthood. Once Davis and Loring attended Mass with Day while visiting New York's Catholic Worker house. Open Door is one of about 240 autonomous Catholic Worker houses worldwide where people live simply in community, serve the poor and oppose war and injustice.
In the early days, the community relied on the Trappist monks at Holy Spirit Monastery in Conyers for a weekly delivery of monks' bread. The support helped the community serve the homeless. In addition, the community hosted visiting monks. One monk wrote the Open Door Community was where "Christ-in-the-poor was housed, clothed and fed!"
"An oasis of love and service"
Community leaders shared the community's future in an open letter last summer. "This is a letter we never thought we would have to write and it's breaking our heart," it began.
The leadership team—now in their 70s and 80s—has worked to train younger people to take over the primary roles in ministry but there are not enough able-bodied members to continue the services and care for the elders. The 100-year-old facility is also in need of expensive upkeep. And the neighborhood has changed during the 35 years, making the location less of a hub for the homeless.
At one time serving 10,000 to 12,000 meals a month to the homeless, seven days a week, now even holiday meals draw only 300 people.
"Our area is fully gentrified and it has become an inhospitable place for the homeless poor," the letter stated.
"Hundreds of community members over the years have prayed and worked hard for Open Door to be an oasis of love and service, of prayer and sacrament, of forgiveness, healing and transformation. We have never been alone or without help and encouragement," the leaders wrote.
Davis and Loring are moving to Baltimore to be close to family. Gladys and Dick Rustay are relocating to Vancouver, Washington. Nelia and Calvin Kimbrough live now in Nashville, Tennessee. The expected sale of the house—which is co-owned by the Presbytery of Greater Atlanta—will pay a stipend for the couples to afford low-income housing, insurance and a modest pension income.
Tackling causes of inequality
Volunteers on this December Wednesday cleared the dining tables to make room for the foot clinic.
Homeless people, most of them men, filled seven chairs set around the room. The clinic volunteers crouched as they treated foot ailments and give the feet some TLC with massage and rubbing lotions.
The men could choose wool socks to replace worn ones, in addition to a knitted scarf. Apple cider, gingersnap cookies and popcorn were for the taking. Christmas tunes played on the radio.
Christine Overrocker, 58, serves at the clinic and also helps on the one day a week when the public showers are open to women.
"It amazes me their resilience and their resourcefulness, their stamina, their fortitude, their inner strength and outer strength," she said about the people who came in off the streets to Open Door. "It touches my heart in a very strong way. I'm so grateful I've been able to help and participate."
For 10 years, Lorna Mauney-Brodek has organized the foot clinic. She said in an email that feet, while often overlooked, "are what get us to our goals in life." Without the ability to walk, people cannot access food, work or shelter.
"There is an intimacy and trust that is established when you sit with someone and take their feet in your hands," she wrote.
While discussions are underway to relocate the foot clinic elsewhere, the Open Door Community is unique and irreplaceable, she said.
"There are several places that do offer services to the homeless. Very few tackle the deeper issues that are often responsible for causing such inequality," she wrote. "The Open Door Community sees this bigger picture. I appreciate their deep respect for humanity, in all its shapes, sizes and orientations."
Not just talking but doing the Gospel
The community has attracted volunteers, from as close as neighbors in Grant Park to international visitors.
Rev. Connie Bonner and her husband, Clive, have been regulars for 15 years. She is a retired minister of the United Reform Church in Scotland and he retired as a village police officer.
"You come here and you're doing it. Not just talking about (the Gospel message)," said Clive, with a bushy, white beard.
Over a cup of tea, they talked about lessons learned and how to move forward. Said Rev. Bonner, "I realized the importance of hospitality. I've realized the value of food to break down barriers."
When their Scottish village suffered a spasm of crime, she led her church community to throw open their doors to offer police, firefighters, social workers, anyone touched by the violence a place for a meal and company.
Sharing memories, Clive told how as a new arrival he bent over backwards to accommodate all requests. That was until a long-timer took him aside. He was told his efforts made life more difficult, both for the people asking and volunteers.
"Ninety percent of the time I say no. I was taught to say no, with hope."
For Rev. Bonner, the future means creatively serving people in need. "The ministry for the homeless goes on. The work goes on."
---
A $10 donation helps to cover a one-year subscription to the monthly newspaper Hospitality for oneself, a friend or for a prisoner. Send the request beginning Feb. 1, 2017, to Open Door Community, P.O. Box 10980, Baltimore, MD 21234, along with the donation and name, address, email and phone number of the person to receive the mailing.