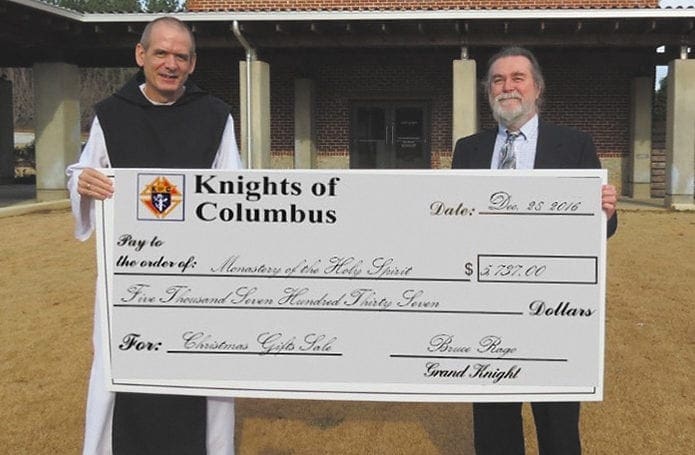 Published January 12, 2017
LILBURN—The Knights of Columbus from St. John Neumann's Archbishop Thomas A. Donnellan Council 7923 sold bakery items from the Monastery of the Holy Spirit in Conyers after Masses during the Christmas season. The total sales came to $5,737. This was the first year for a sale of monastery items at the parish by the Knights.
These proceeds were delivered to Abbot Augustine Myslinski at the monastery on Jan. 4 by Grand Knight Bruce Rago.
The monks operate a bakery offering fruitcake, fudge and biscotti—items that help to financially support the monastery. The operation also fosters personal development, promotes health of mind, body and spirit, and contributes to the common purpose of the community, which is to be self-supporting.
Many Knights councils also support the monastery through "Pennies for Heaven" program, where members are encouraged to donate their pocket change at every council meeting. For more information, visit www.gakofc.org/pennies.htm.