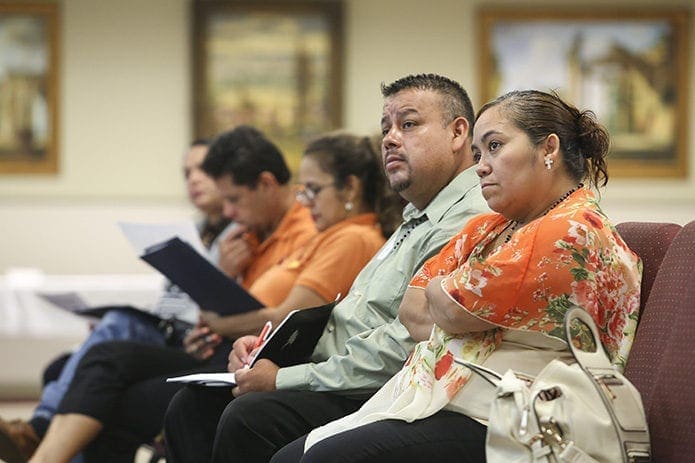 By PRISCILLA GREEAR, Special to the Bulletin
|

Published August 18, 2016

|

En Español

SMYRNA—Over 90 Spanish-speaking leaders from about 30 parishes participated Aug. 6 in the annual Encounter of Hispanic Ministries, where they received formation, practical resources and inspiration to more intentionally grow and integrate their ministries in parishes and deaneries.

They were then sent forth to catechize and evangelize the faithful and fortify Hispanic ministries across north and central Georgia where 68 of 100 parishes offer Mass in Spanish and nearly half of all Catholics—44 percent—are Hispanic.

The 12th annual Encounter was held at the Chancery in Smyrna.

Jairo Martinez, director of the archdiocesan Office of Intercultural and Ethnic Diversity, spoke on marriage and the family and the document titled "Amoris Laetitia," which Pope Francis wrote to the church in April on the challenges and beauty of family life and how the church can assist couples and families.

Christopher Oppermann, social studies teacher at Holy Spirit Prep School, Atlanta, gave a presentation on environmental stewardship and Pope Francis' encyclical "Laudato Si': On Care for Our Common Home." Father Carlos Mario Bustamante, of Our Lady of the Americas Mission, Lilburn, spoke on the Theology of the Body and apologist Francisco Morera gave a presentation on the Eucharist.
"It was a challenging morning"
Martinez also discussed Hispanic ministry goals in light of the Archdiocesan Pastoral Plan. The goals include training programs to prepare people to be leaders, strengthening communications, and striving to enhance the value of deaneries and share best practices and resources among parishes in the same deanery.
Hispanic leaders were encouraged to take ownership of ministries and to take advantage of resources such as the Spanish program leading to a certificate in pastoral theology sponsored by the archdiocesan Office of Formation and Discipleship and offered online through the University of Dallas. The first class of 60 people graduated and received their certificates in January 2016 and a new class is starting this fall. A Theology of the Body course is also sponsored by the OFD.
New communications tools include the archdiocesan website in Spanish (http://archatl.com/es/).
Martinez said the session was designed to motivate people to action.
"It was a challenging morning for participants. The goal was not to come and sit down and receive information, but the goal of this conference was to tell them, you have resources. You have to use the resources. You have to work with your parishes and the structure of your parish, to work with your deanery, to work together with different groups just to move forward with our ministries and work all together based on the Pastoral Plan. We need to work proactively," said Martinez.
At last year's Encounter, "we were trying to help Hispanic leaders to understand concepts of the Pastoral Plan. This year the main goal was to provide them with tools and resources they can use with their parishes."
Learning to "dive deep"
Speaking on the environmental encyclical, Oppermann discussed the archdiocesan "Laudato Si'" Action Plan and how to use social media and hashtags developed by the archdiocese to spread awareness.
"It's a really great resource and I don't think that many people know about it. I wanted to show them that was a tool available to use in their parishes," said Oppermann.
He challenged individuals and parishes to reflect on their consumption and practical ways they can care for creation, noting the pope's warning against viewing environmental degradation and global warming in purely scientific terms.
"We're not going to solve anything if it's just a scientific issue. It is a moral issue," he said.
"You're helping to build up the church and community when you are showing respect for God's creation," he said. "The parish can make a huge impact if they start to recycle or create a garden or do sustainable initiatives."
The bilingual young adult, who lived as a child in Mexico City, was inspired by the large turnout, including many volunteers.
"To see so many leaders come from so many places, to me that was really inspiring to see their level of engagement, energy and interest in ministry," said Oppermann. "They were willing to sacrifice their time and energy to learn what it really means to dive deep and spread the Gospel at their parishes."
Spanish certificate in pastoral theology
Vangie and Miguel Zumaran, who have been presenters for over 20 years in the archdiocesan Spanish marriage preparation program LLASU, also appreciated the opportunity to connect, share resources and receive catechesis.
Vangie Zumaran said, "We take it to our ministries and our churches and it enriches us as couples and as Christians."
"Just being there with other people involved in other ministries makes it even richer. And we never stop learning. We should never think we know everything about our faith. It's a constant search for the word of God and the meaning it has in our lives," she said. "We'd love to learn more and are very interested in the certificate in pastoral theology and the Theology of the Body course."
The three-year certificate program was launched in the Atlanta Archdiocese in 2013. The archdiocese offers two scholarships per parish for those nominated by pastors and individuals can also enroll independently. In addition to the 60 graduates, 63 more people will finish in December of 2016 and 58 people are beginning the program this fall. Martinez urges churches to make full use of program graduates.
"Now more people have received training for the ministries. We have to use them to bear fruit for pastoral theology," he said.
Leaders to work "as one community"
Martinez believes the program will be particularly beneficial for family catechesis.
"One of the biggest challenges is we need to work toward the formation of the parents as the first catechists of their children and to understand and support their family," Martinez said. "We have many, many people just living together. They think that it's not important to marry. The problem is they are Catholic by tradition but not by formation. How are they going to pass these moral values to their children?"
But alongside all the pastoral needs, Martinez has seen Hispanic ministries grow "exponentially" over the past decade and transition to a new level of maturity. The archdiocese has Bishop Luis R. Zarama, a native of Colombia, as one of its auxiliary bishops and 71 bilingual priests, including Hispanic and non-Hispanic Spanish-speaking priests. Sixteen now serve as pastors or administrators and are shepherding all the parishioners in a multicultural parish. Likewise, the next generation of youth is bilingual. All are challenged by the Pastoral Plan to rise up and become bridges between cultures in their parishes and deaneries.
"The Encounter showed me that now we are dealing with a more mature leadership. Although there is still a lot of work, I can see how they are motivated to work with each other without cultural barriers," Martinez said. "Hispanics are not anymore working separately from the parish. We are all one community in our parish. The only difference is it's a parish with different cultures. It is one community, and we need to work together."