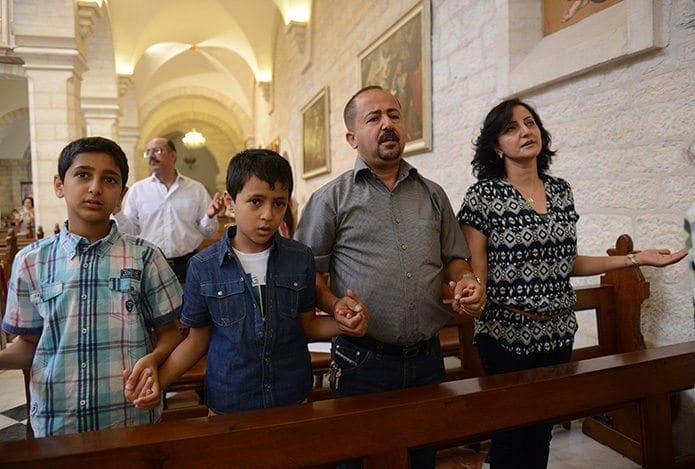 By PRISCILLA GREEAR, Special to the Bulletin
|

Published June 23, 2016

ATLANTA—The Franciscans have faced a host of challenges in the Holy Land as custodians of Christian shrines ever since St. Francis of Assisi traveled there in the 1200s during the Crusades and established a rapport with the ruling sultan.

But in their sandals-on-the-ground view, today's challenge is monumental with eternal relevance: to reverse the plummeting of the Christian population in the land of Christ before it dies out.

Christians and other minorities in neighboring Iraq and Syria are fleeing violence and persecution. Those in the Holy Land of Israel and the territories of Palestine face long-simmering challenges of economic and political marginalization that have forced Christians to emigrate for decades.

On a fund-raising trip across the United States, Franciscan Father Peter Vasko spoke by phone April 22 on a stop in Atlanta about the Franciscan Foundation for the Holy Land's mission to restore the dwindling Christian population through support for education.

With an estimated 300 families leaving yearly, the Christian community now numbers 150,000 or 2 percent of the total population of 9 million, according to FFHL. That is down from 25 percent in the 1950s. Bethlehem's population has gone from 70 percent Christian and 30 percent Muslim in 1946 to 10 percent Christian and 90 percent Muslim.

"The Franciscans have been 800 years in the Holy Land. We've faced up to many challenges, but this challenge is very important. A lot of young people are leaving and going to places in the U.S., Canada and South America," said Father Vasko, FFHL president. "Our church is dying and it needs to be rebuilt. And who is going to do it? It's going to be the brothers and sisters in the mystical body of Christ who are going to do it through education. This is the way that is going to become the solution for our young people to remain in the Holy Land."

While Judaism began in Ur, Iraq, and Islam in Mecca, "this is the cradle of Christianity," he emphasized. "We have a stake in this land. This is where it all began. It's a sense of history, who we are and where we came from, which is extremely important."
Scholarships aid young Christians
Based in Washington, D.C., the Franciscan foundation was established in 1994 by the Franciscan Custody of the Holy Land. Its ecumenical Christian outreach includes subsidized housing, child sponsorship and social services. Its cornerstone project, the scholarship program, funds the university education or two-year vocational school training of selected applicants. It has awarded 350 college scholarships—up from 130 in 2007—with 85 percent securing professional jobs and only one immigrating to the United States. "Most of the Christians leaving are leaving for economic and political reasons," Father Vasko said. "The foundation and the church are there to say, you may not have economic power, but we're here to help you."
"It's open to any Christian in the Holy Land," he continued. "Our program is so unique in the fact that we are actually providing four years of college. The cost is only $6,000 a year or $24,000 for four years to go to one of the best colleges or universities in Israel. These are the young people who are going to lead."
Karen Carroll, a member of St. Andrew Church in Roswell, sponsors an architectural student at Hebrew University. In 2003 St. Andrew also established a covenant relationship with the Franciscan-affiliated St. Catherine's Church in Bethlehem of the West Bank, providing financial and spiritual support. Sixty-five percent of Palestinians, 3 percent of whom are Christian, live in poverty, under $3,000 a year.
The architecture student "sent me photos of some things he's designing," Carroll said. "A lot of us have sponsored elementary school children a number of years. We're sent photos and they write us notes. It means a great deal because they're Christians in the Holy Land and we want them to be able to learn and stay there."
A FFHL board member, Carroll first met Father Vasko on a pilgrimage.
"The people really need some support. Many of us don't realize what is happening over there. We hear things in the news, but none of that really means anything. The foundation has done such a marvelous job with all the children of all ages, scholarships and housing," she said. "It's a joy in my life, and Father Vasko has done wonders. I don't know of any person that has changed the lives of so many people. He's doing God's work."
She feels a sense of privilege and responsibility.
"When you do something you should do, you always feel a peace inside," she said. "These people are extremely spiritual and we need to help them. This is what our Lord wants us to do."
Christians try to bring peace
Father Vasko said that Palestinian Christians are "caught in the middle" between Muslims and Jews in the territorial conflict over the West Bank and Gaza. But in the tradition of St. Francis, Franciscans strive to live in brotherhood with neighbors, witnessing Christ through their lives.
"The Israeli soldiers look upon Christians first as Arab, then as Palestinian, and hence the enemy, whereas the militant Muslim neighbors of Christian Arabs look upon them as pro-West and as traitors to the Islamic cause," Father Vasko said. "We always have ongoing backroom talks and dialogue with some of the leaders of the Palestinian Authority and with the Israeli government. Christians have always been moderate emissaries trying to bring peace between the two parties."
At the same time, Holy Land Christians have been protected from the Syrian civil war by the extreme border security of Israel and by Hamas in Gaza, said Father Vasko. Amidst Syria's horrific violence and scarcity of food and electricity, the rebel group Al-Nusra Front has confiscated about seven Franciscan and other Catholic parishes in its territories around Aleppo and Damascus and prohibited all expressions of Christianity, including crucifixes in homes.
FFHL has set up a special program to work with the Franciscan Custody to serve Syrian refugees with the basic necessities and medical services in health clinics and a hospital in Aleppo.
Christians "have been suffering. A lot have left and gone to Jordan. A lot of Christians are still staying there in Aleppo and Damascus and outlying areas. We are just giving them support through food, clothing" and other emergency aid, Father Vasko said.
Travel to Holy Land encouraged
Saving Holy Land Christians has become the life mission of the Franciscan, who previously worked in marketing and public relations and lived in Marietta.
"I sold all my belongings and left everything and followed Jesus. The Lord called me to Jerusalem and I've been there 31 years," he said. "The custodians of the Holy Land said they needed more supplemental income to help with Christian needs, so would I go to the U.S. with my marketing background to see if it's a viable solution. So I did go and spoke to many bishops and priests and lay people, and they said, yes, we'll supply that. So that's how it all began."
He appreciates the generous support of parishes and individuals of the Atlanta Archdiocese, first under the late Archbishop John F. Donoghue and now under Archbishop Wilton D. Gregory. He encourages Catholics to consider a Franciscan Foundation for the Holy Land pilgrimage where they can live their faith and meet with local Christians.
"I'd urge the people of Atlanta to pray for the situation and come on pilgrimage, and do whatever they can do to support us. It would be so appreciated. The Christophers used to say it only takes one candle to light the darkness. I'm asking people to be a candle that lights the darkness of those young people who are desperately seeking our help."
Carroll, for one, looks forward to her fifth pilgrimage.
"It's hard to think of what would happen to all the sacred spaces if they did what they're doing to the churches now in Syria. It would be unbelievable," she said. "I can't wait to go back again. I want to make sure all these sites still remain available and in good condition."
---
For more information about the Franciscan Foundation for the Holy Land, visit the website.