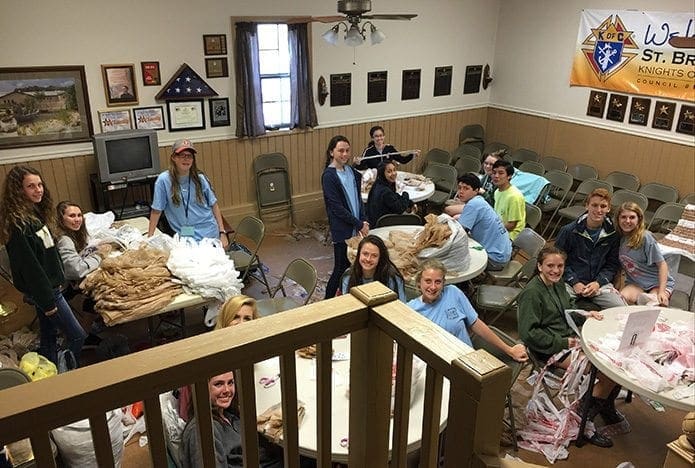 By CHRISTINE FARRIER, Special to the Bulletin
|

Published June 23, 2016

CUMMING—Once a month, a group of industrious craftswomen comes together in an empty classroom of Good Shepherd Church Parish Life Center. They flatten, cut, loop and crochet plastic bag strips into sleeping pallets for the homeless, but their artistry resembles richly colored carpets, woven of hemp, upon which kings reclined long ago.

Karen Blaser began the ministry in January to honor her best friend, Stacy, who passed away on Christmas Day. While assisting the family after the funeral, Blaser discarded a large number of grocery store plastic bags, which Stacey had been collecting, hoping eventually to repurpose them.

"I felt so sad just throwing them all out," Blaser said. "So I did a little research and found lots of videos online showing plastic could be substituted for yarn and crocheted into sleeping mats. I then began to think about collecting bags and making mats for the homeless."

Blaser was encouraged to move forward on the project through the spiritual direction and support of Father Frank Richardson, pastor of Good Shepherd.

Research published by the Crochet Guild of America suggests that the art of crochet may have originated with Italian nuns in the 1500s who were creating fabrics for vestments and altar coverings. The pieces were called "nun's lace" or "nun's work."

Since January, over 20,000 bags have been collected and cut into strips by Blaser, a dozen volunteers at Good Shepherd and 50 teenagers from two parishes. High schoolers processed over 800 bags at a "Souper Bowl" service project at Good Shepherd on Jan. 7, led by Garry Lee, middle school coordinator, and Michael Gagnon, senior high coordinator. Teenagers from St. Brendan the Navigator Church, Cumming, and Good Shepherd, led by Gagnon and Amanda Brice, youth ministry leader at St. Brendan, processed 1,500 bags at their overnight "Box City" event, during which they experienced homelessness by sleeping in cardboard boxes in the church parking lot.
Mats are flexible, light
A crafter for 45 years, Blaser has crocheted countless scarves so transitioning her skills to a mat pattern was fairly easy. She's developed a detailed instruction page for each stage of the process and has taught parishioners from ages 6 to 92.
Each mat is 6 feet long by 3 feet wide and requires 500 to 700 bags. The process begins by separating the bags by color, size and thickness. Blaser suggests grouping bags together by brand. Same color bags are straightened and stacked, four deep, atop each other. Static Guard can be applied to clothes to keep bags from clinging.
The handles and bottoms are snipped off, leaving four flat squares. The squares are then cut into four even-width strips, providing 16 circles or rings, like rubber bands. Looping two of the plastic strip circles together, pulling them tight and repeating the process creates a chain of plastic, referred to as "plarn." As the plarn chain lengthens, it's rolled into cantaloupe-sized balls ready for crocheting.
Blaser recommends using a size 10 or larger crochet hook. The hook size chosen depends upon how tightly a crocheter works. The simple mat pattern is approximately 128 single crochet rows, each 3 feet long, until the mat length reaches 6 feet. The completed pallets are very flexible and lightweight and provide a thick, warm barrier against cold, damp ground. Blaser also crochets a 6-foot-long plarn shoulder strap for carrying rolled-up mats.
During this Extraordinary Jubilee Year of Mercy, Blaser is answering Pope Francis' call to the church to perform corporal works of mercy. The mats are being delivered to the Veterans Center in Lawrenceville and distributed to those in need.
Additionally, the pontiff addresses the degradation of the planet by a "throwaway culture" in his 2015 encyclical on the environment, "Laudato Si´: On Care For Our Common Home."
In the United States, 100 billion single-use plastic bags are produced annually and over 1 trillion worldwide. Only a fraction of them are ever recycled, and it is far less expensive for industry to make new bags than to use recycled materials. This means disposable plastic bags are clogging landfills, leaching toxins into the soil and entering the oceans. Plastics never disintegrate even after 1,000 years.
When the encyclical was released, Archbishop Wilton D. Gregory asked environmental scientists at the University of Georgia to create an archdiocesan action plan in response to "Laudato Si'." Among many recommendations, the plan urges parishes to "reduce, re-use and recycle" plastics and other items as much as possible.
Blaser is available to teach other parishes, churches and charitable organizations how the mats are made. She also welcomes contributions of dry, clean, empty bags and suggestions of other possible mat distribution channels.
---
To contact Karen Blaser, email kblaser89@bellsouth.net. To view the Laudato Si´ Action Plan for the Archdiocese of Atlanta, visit archatl.com/catholic-life/refreshatl/. Christine Farrier is an environmental journalism student at Georgia State University and a member of Good Shepherd Church, Cumming.