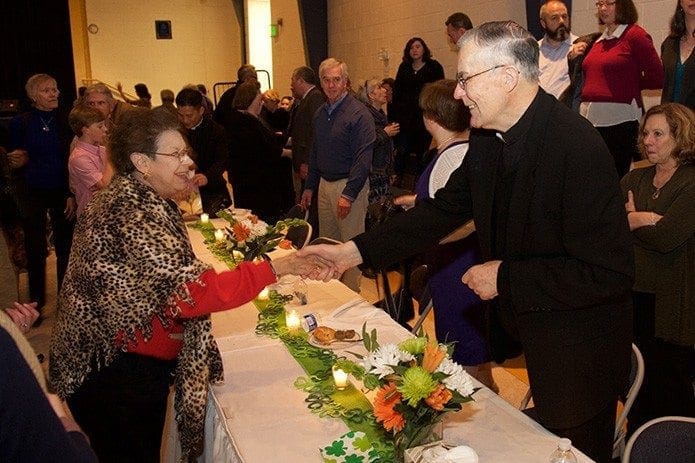 By GRETCHEN KEISER, Staff Writer
|

Published March 3, 2016

DECATUR—People from his first parish to the last where he's been pastor crammed into St. Thomas More Church as Msgr. Paul Fogarty retired after more than 48 years of active priestly life in Georgia.

An estimated 700 people came to the Friday night Mass Jan. 29, which was followed by a bountiful reception, affectionate roasts from fellow priests, a video of comments by dozens of STM parishioners and the singing of the Irish national anthem by family members who were surprise guests.

Msgr. Fogarty could be dubbed "the quiet man," but that did not deter his parishioners, both past and current ones, from showing their gratitude.

Founding families of St. Pius X Church in Conyers came to Decatur to show their continuing affection for their first pastor in the mid-1970s.

Kay Lowe, who has belonged to St. Pius X from its founding, said she went to see the priest when her marriage was in difficulty 40 years ago. He helped her through that time and encouraged her to become a CCD teacher in the parish, which she kept doing for decades, long after her two children were raised.

"He did a lot of things for me in his kind, gentle way. I owe him a lot," Lowe said. "He was just Jesus to me, really. That was a time I really needed someone to support me."

The host parishioners warmly greeted everyone from Msgr. Fogarty's decades of priestly life and acknowledged watching him retire had been an emotional time. Jesuit priests began pastoral care of St. Thomas More on Feb. 1.

Handing out Mass programs, Peggy Burgess said of St. Thomas More, "This is the most active parish I have ever been in and the most cohesive parish I've ever been in. … I wasn't here six months and he said, I have something for you to do."

"He has just helped to make this parish such a welcoming, warm, vibrant parish," said Burgess, a transplant from Florida three years ago.

"There've been tears," said Joan Ward, a 12-year member of St. Thomas More.

"He has always been very good to me and my family. He was always open if you needed to talk to him. He's very kind, very modest, very unassuming and very competent. This is a big place, and he runs it very well."
"People have always come through"
Born on a farm in County Tipperary, Ireland, the youngest of eight children, Msgr. Fogarty was drawn to the mission territory of the South by the persuasive vocations work of the late Msgr. P.J. O'Connor, who drew many Irish priests to Atlanta.
"He was very positive, he emphasized the need for us. He was a good salesman," Msgr. Fogarty said.
He was ordained on June 10, 1967, after studying at St. Patrick's College in County Carlow, arriving in Atlanta to serve at Immaculate Heart of Mary Church and then St. Jude's, before becoming founding pastor of St. Pius X in July 1974. Following his nine years in Conyers, which also included the mission church in Covington at the time, he spent 12 years as pastor of Holy Family Church in Marietta and then pastored Holy Cross Church in Atlanta. His final assignment was at St. Thomas More. He was named a monsignor in March 2001.
Msgr. Fogarty will live in retirement at St. George Village in Roswell, where he hopes to catch up on his reading.
In an interview a few days before the Mass of thanksgiving, he said he never sought out being a pastor, but "it happened and it evolved. Archbishop (Thomas) Donnellan was the one who trusted me enough to send me out to a parish. All the assignments have been different but good."
He credited the mentoring of three pastors he worked with at the beginning of his priestly life: the late Msgr. Michael Regan, Father Eddie O'Connor and Msgr. Don Kiernan. "All three were good pastors."
He said that it's meant the most to him to see people in each parish where he's served take on the work of building up the church.
"I would say working with people, seeking their help and support in accomplishing our goals in the parishes" has been the most rewarding part, Msgr. Fogarty said.
"People have always come through, volunteering for the different ministries. That is what I get my most joy out of is watching that and watching people grow in their faith as well," he said.
St. Thomas More music director Joe Messina said "music was very important to him" and the priest wanted the entire music department involved in the Mass.
"He was always about engaging the assembly," Messina said. "He was all about being inclusive."
Bill and Kay McHugh, parishioners of Holy Cross, said they have known him since he was a young priest and appreciated his wisdom when he was assigned as pastor there after many years of Dominican leadership.
"He was a great listener," Kay McHugh said. "He didn't come in and change one thing. He was just a marvelous listener and healer."
"His has been a steady hand"
Celebrating the Mass, with over 20 priest concelebrants, Archbishop Wilton D. Gregory spoke of the time of the priest's ordination when the Second Vatican Council had recently concluded and the archdiocese had just been established. The pastoral concerns must have been significant, he said, "but like the man of faith that he is, he managed to face each one with serenity and hope."
"Now almost 50 years later, we gather to applaud not only his faith and determination, but his many pastoral successes which have benefited this local church in countless ways," the archbishop said.
"His has been a steady hand in guiding many parish communities over the years. He has been a calming influence in the lives of countless thousands of people. … Our own Paul has witnessed the mustard seed-like growth of the Archdiocese of Atlanta over the span of his priestly life," he continued.
"With priests like our own Paul, we have become a significant religious presence in North Georgia," Archbishop Gregory said.
While the St. Thomas More parishioners "have known the most recent blessings of his priestly service, you will not be surprised to know that countless others in the Archdiocese of Atlanta hold him in high regard as well," the archbishop said.
"An intrepid young Irish priest has become for us all a skilled and generous pastor of souls."
He told Msgr. Fogarty, "I trust that you will remember that nothing will ever separate you from the love of Christ or from the love and respect we have for you."
The homily was applauded and as the archbishop gave a hug to Msgr. Fogarty, the congregation gave him a standing ovation.
"I told Msgr. Fogarty I was going to ask all of his former associates to come up and say a word," Archbishop Gregory quipped. "He never said no to me until I said that!"
However, some of his priest colleagues did get their chance, as Father Brian Lorei, Father Neil Herlihy and Msgr. Hugh Marren were invited to roast their colleague at the reception, skewering his cooking, frugality and mismatched socks, along the way.
Three family members from Ireland surprised Msgr. Fogarty with their presence that day, after hiding with the help of Ann Dugan, stewardship coordinator of the parish.
A video made by parishioners gave many people an opportunity to say their personal thanks to the pastor. The packed hall, filled for hours with hundreds of people and served by the St. Thomas More community, vibrated with laughter and held off the end of the evening as long as possible.
Among many tributes was a toast by parishioner Bryan Danilovich, who said that the priest had helped him come back to the church and impacted his wife, Lilian Leong, who is in this year's RCIA class. Msgr. Fogarty baptized their three children and convalidated their marriage.
"Monsignor has meant the world to me," Danilovich said by email afterward. "He helped me find my way back to the church and stay on track, meeting with me whenever I needed direction. He found ways for me and my family to get involved in parish life and was at every parish event offering encouragement. More than anything, I learned from his example what a life of service really means."
His wife said, "There are no words to describe the impact he has had on our family and the gratitude we feel for him. All I can say is we are truly blessed to have him in our life."
Thanking everyone at the celebration, Msgr. Fogarty said simply, "It's been a wonderful journey."