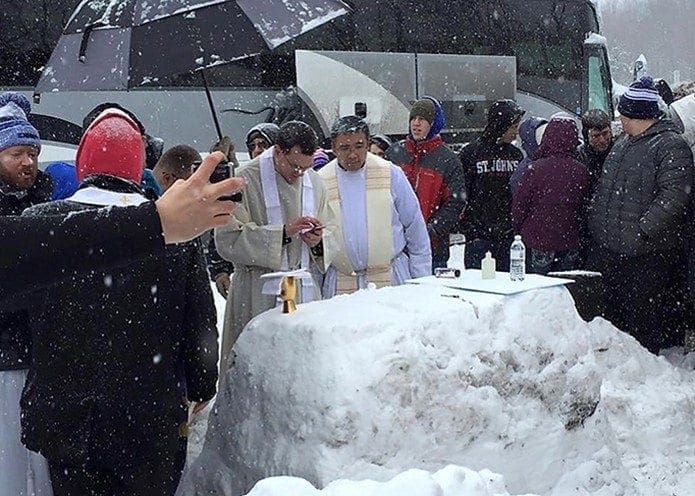 By JOANNE FOX, Catholic News Service
|

Published February 5, 2016

SIOUX CITY, Iowa (CNS)—Father Patrick Behm of Le Mars confessed to being overwhelmed by all the attention.

"I'm just happy being a simple priest," he insisted.

That "simple priest" went viral on social media for celebrating Mass Jan. 23 on the Pennsylvania Turnpike.

Father Behm was returning with others from the Diocese of Sioux City following the annual March for Life rally Jan. 22 in Washington, when Winter Storm Jonas consumed the East Coast. The bus—and many other vehicles—had to stop on the turnpike because of an accident on the road.

"We were at mile-marker 132.9, and we couldn't go anywhere," he told The Catholic Globe, Sioux City's diocesan newspaper. "We were just biding our time and twiddling our thumbs."
A knock on the door of the bus changed it all for Father Behm and about 500 others.
"It was Bill Dill from the Archdiocese of St. Paul and Minneapolis who told us some people had constructed an altar out of the snow and would I want to celebrate Mass," he said. "I was caught off guard. I thought they had probably found a garbage can and turned it over."
Father Behm added, with a laugh, "Those Minnesotans really know how to build stuff out of snow!"
Although there were about eight priests available to celebrate Mass, the honor of principal celebrant went to Father Behm, "probably because I had my travel Mass kit," he speculated.
When all of the priests gathered to work out the particulars, Father Behm asked who was preaching.
"They all looked at me and said, 'You are,' but I hadn't looked at the readings," he said, referring to the day's Gospel from Matthew. "Thankfully, Father Shaun Haggerty of the Diocese of Sioux Falls (South Dakota) had, and said it would be easy to preach because the Gospel was about how everyone thought Jesus was crazy and they probably thought we were, too."
Distributing Communion to several hundred individuals was next on the to-do list for Father Behm and reminiscent of another Gospel story.
"I guess it was kind of like the loaves and fishes because we did have to break up the hosts into small pieces," he said. "I would guess about five pieces were not consumed. We talked about it and I think there was representation from dioceses in Iowa, Nebraska, Minnesota, Missouri, North Dakota, South Dakota, Wisconsin, Ohio and Pennsylvania."
The inclement atmosphere did take a toll on Father Behm, who attributed weathering the cold to "many years of working in the frozen-food section at Hy-Vee (supermarket)."
"I had my coat on under my alb and stole, but I had no chasuble," he said. "When it came time to distribute Communion, I told the others my hands were too numb and they took that on."
Father Behm recounted that the response to the 35-minute service, which started at noon, was gratifying.
"Seeing that faithfulness and that joy from everyone was very positive," he said. "It certainly made the 22 hours of being stuck doable."
Father Behm returned to Plymouth County about 11 p.m. local time Jan. 24 to discover the event had taken on its own media life.
"I have spent a lot of time doing interviews," he said. "In each one, I've been trying to credit Bill Dill and the pilgrims from the Archdiocese of St. Paul and Minneapolis with the idea and trying to remind everyone that I had six or seven brother priests concelebrate with me."
Father Behm also stressed the reason behind that Mass was initially the reason for the trip—the March for Life to overturn the 1973 Supreme Court Roe v. Wade decision, which legalized abortion.
"Make no mistake about it, the tide is changing and I believe, this is the generation that will see Roe overturned," he said. "Every time I go to the March for Life, the crowd gets younger and younger. Christ was with us in this storm. He's with us in every storm, and it is he who will ultimately bring the victory."
---
Fox is managing editor of The Catholic Globe, newspaper of the Diocese of Sioux City.