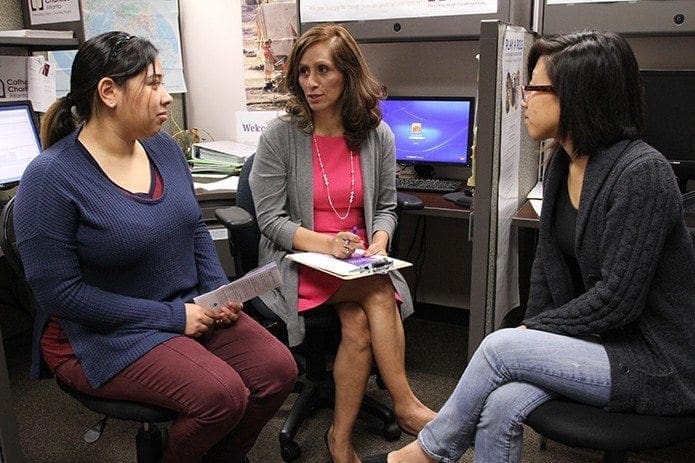 By PRISCILLA GREEAR, Special to the Bulletin
|

Published January 7, 2016

ATLANTA—For over a decade, legal advocate Rosa De-Kelly of Catholic Charities Atlanta has helped over 2,000 immigrants escape violence by spouses, parents and others who, as permanent residents or U.S. citizens, abused their power over them.

For her dedication, De-Kelly received the 2015 "In the Trenches Award" from the Georgia Commission on Family Violence. The honor was given at the 21st annual statewide Family Violence Conference held in Athens.

The award has renewed her sense of mission to help clients understand and exercise their legal rights and guide them to safety and a new life. She is the first CCA staff member to be given this award.

De-Kelly fell into the position of immigration counselor and coordinator of the Violence Against Women Act cases 11 years ago after previously working as a corporate management consultant and then leaving the workforce to raise her family. She holds a master's degree in management and organizational development.

"God just put me here, and I don't know how it happened. … I love to come to work every day," said De-Kelly, a native of Peru who grew up in England.

"The award is a confirmation that I'm doing what I'm meant to do, and it's time to do more," she said. "It's a huge privilege for me to be the voice for others with legal knowledge."

On the Immigration Legal Services staff, De-Kelly helps immigrant abuse victims find remedies under immigration law to break away from domestic violence and sexual or emotional abuse. Under the Violence Against Women Act, they can self-petition for legal status.

Having received legal accreditation from the U.S. Department of Justice, she represents women and children who are victims of human trafficking, domestic violence, sexual assault and other violent crimes in proceedings of U.S. Citizen and Immigration Services and in Immigration Court. In many cases the abuser with permanent residency or citizenship sponsors a spouse, parent or child to come to the United States but then refuses to complete immigration paperwork to legalize the victim's status.

Undocumented immigrants who are crime victims, including those who came with visas and fell out of status, may qualify to legalize their status through cooperation with law enforcement under the Victims of Trafficking and Violence Prevention Act of 2000.
Violence 'disables a person'
De-Kelly had been a stay-at-home mom raising her two children when she attended an All Saints Church career program and the position caught her eye. She decided to give it a try for a year with her interest in advocacy for women and children. After going through intensive legal training, she soon saw many women and children facing abuse, from wives raped in marriage to children victimized by stepparents. One of her first cases was a 20-year-old girl who had "suffered an incredible amount of abuse from her father" and run away. Most had no knowledge of their rights.
The bilingual De-Kelly sees more than 200 clients a year who often are referred by partner organizations around Georgia. Last year her clients represented 37 different nationalities.
"We are a main point of call for … humanitarian relief for immigrant battered women and children," she said, noting the persisting lack of shelters for battered women.
She witnesses firsthand how violence "disables a person."
"I see a child that suffers alone for a long time, and the father is a U.S. citizen and then this child has no way to be here or work or study. Immigration is a very abusive tool," she said. "And the U.S. citizen or green card holders, they use that as a way of abusing them."
"What do you do in a country where you have no family or friends and can't work and can't drive? You don't count. I become a voice for that person so that person can be able to stay here, away from that abusive situation, and have a choice to provide a healthy environment and be self-sufficient."
De-Kelly strives to give equal effort "to provide justice to everyone equally."
"It takes a heck of a lot of effort, persistence, focus, resilience, to do this job with the incredible determination that you should have," she reflected.
'Big-picture advocacy thinker and case-by-case champion'
David Schaefer, director of policy and advocacy at the Latin American Association, described her as "an invaluable asset for Catholic Charities."
"I know her to go above and beyond for all of her clients. She is creative, compassionate, tactful and courageous," he said in an email. "She leaves no stone unturned to assist those who come to her for aid. Rosa is the quintessence of client advocacy and also understands the bigger dynamics (global, national, local) that form the context and meaning for her work. She is a rare mix of big-picture advocacy thinker and case-by-case champion."
Attorney Monica Khant, executive director of the Georgia Asylum and Immigration Network, noted her effectiveness in representation.
"Georgia is a tough state for immigrants. She's been experienced in not only representing persons but with working with law enforcement and other communities in representation," said Khant. "What she does is vital to helping a victimized population in accessing immigration relief if they've been abused or assaulted."
De-Kelly has the right mix of compassion and resourcefulness, Khant said.
"It's a volatile environment, not only working with a client who has suffered something horrendous, but if authorities and other agencies are involved, you have to work with clients at the most critical time in the case. It takes someone who is compassionate and empathetic," Khant said. "She cares deeply about her clients, and to do this work as many years as she's done it shows she's committed to it. We're proud of her for this recognition."
'Small acts of love and compassion' move the world
De-Kelly works to build partnerships with parishes and the larger community to raise awareness and financial support—a major challenge. She is a member of the Catholic Charities Leadership Class of 2015 and has spoken around the state, including at the Stop Violence Against Women Day at the Capitol. She invites supporters to witness their work.
"I need to make sure I'm learning how to use resources and acquire more funding as I can and networking and building more coalitions, because at the end of the day what I can do will benefit somebody who can knock on the door at Catholic Charities," said De-Kelly, stressing that even the smallest donations make a difference.
"When we do these small acts of love and compassion, we are really moving the world to a better place. So I'd encourage all of them to contribute in giving," she said.
De-Kelly recently saw one client of three years who came by smiling to pick up her green card. The mother of three had been divorced and left homeless.
"She said to me, you know I can't believe this is happening. Before I was going to be kicked out, I begged my husband, I kneeled and said, 'Help me file those papers.' She had been married to this person for 14 years. He was a very mean person that wanted to control her. Now she's a mother who is going to be able to find proper work," De-Kelly said. "Their faith, their tenacity, their hope, it's incredible. … If somebody comes to my office totally devastated, I know in two to three years' time they will be a different person."
---