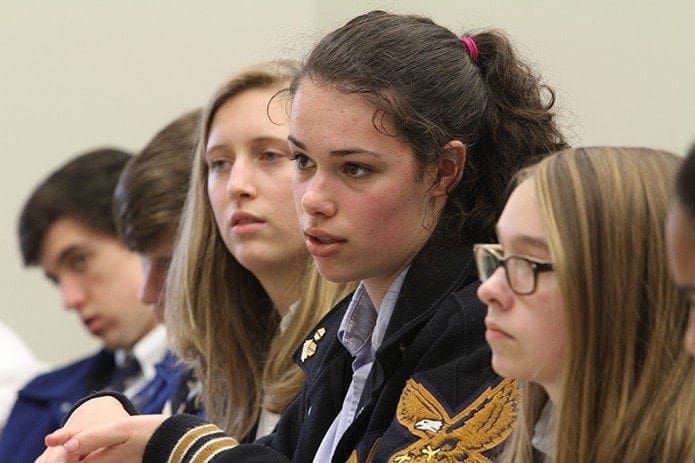 By NICHOLE GOLDEN, Staff Writer
|

Published January 21, 2016

ATLANTA—Students at Marist School in Atlanta marked the birthday of Dr. Martin Luther King Jr. Jan. 15 with a visit from Ernest Green, one of nine students who integrated Central High School in Little Rock, Arkansas, in 1957.

The Office of Inclusion and Diversity, new to Marist, hosted a morning assembly featuring Green as speaker in the school's Centennial Center.

Green, the first African-American to earn a diploma from Central High, spent the day on campus and joined students for lunch. He also participated in two question-and-answer sessions with smaller groups in the Ivy Street Lecture Hall in the afternoon.

Leigh Torrence, associate director of inclusion and diversity at Marist, introduced Green as "our living link to the past."

A member of the Little Rock Nine, Green went on to earn a bachelor's degree in social science and a master's in sociology from Michigan State University.

He is managing director of public finance for Lehman Brothers in Washington, D.C., and served as assistant secretary of labor for employment and training during President Jimmy Carter's administration. President Bill Clinton appointed him chairman of the African Development Foundation, an agency that provides grants to small business endeavors in Africa.

In the question-and-answer sessions with students from history, government and theology classes, Green encouraged the young people to think about what they believe the future should look like.
"What would you change?" he asked them. "There are some other questions I would ask you to think about. What contributions do you think that Dr. King made to this society? Why should we celebrate his birthday? What does that mean for the rest of us?"
Green told the audience of students, with a few faculty members sitting in, that he was the same age as many of them when he became part of the desegregation of Central High his senior year.
He remembered a newspaper column saying that the face of the South was likely to change.
"Good, because I want the face of the South to change," he recalled thinking. "I didn't see it including me in a lot of things."
In 1954, the U.S. Supreme Court ruled in Brown v. Board of Education of Topeka, Kansas, that racial segregation of schools was unconstitutional. By 1957, Green and eight other students were enrolled in Central High as the federal government mandated desegregation. On Sept. 4, Arkansas Gov. Orval Faubus used the state's National Guard to block them from attending. President Dwight D. Eisenhower ordered the 101st Airborne to escort the students through a hostile crowd into school later that month.
Green pointed out that desegregation in Little Rock took place before the elimination of Jim Crow laws, the Civil Rights Act, the Voting Rights Act, and fair housing laws mandated following the work of King and others.
Green's mother was 'very strong supporter'
As moderator, Torrence asked about Green's upbringing and his family's willingness to knock down walls.
"We all want to be prepared for our Little Rock moment, but I know that didn't just happen," emphasized Torrence.
Green came from a family of educators.
"My mom was a teacher. My aunt was a high school teacher," he said.
Many of the school desegregation cases in the South, Green explained, arose from teacher pay equity issues when black teachers were paid less than white teachers regardless of qualifications or course load.
"That was the norm in many communities," he said.
In Little Rock, a teacher was fired after bringing a lawsuit against the board of education regarding pay.
"My mother was part of a group of teachers that supported the teacher who brought the suit," he explained.
The group helped raise money so that the fired teacher "could continue to support herself and her family," said Green.
"The lawyer who handled that case was Thurgood Marshall," said Green. "Thurgood Marshall was not staying at the Holiday Inn or the Hyatt Hotel. He stayed with families. And our family was one of those that he stayed with."
Green said he pointed out this story about Marshall, who later became the first African-American U.S. Supreme Court justice, only to show his mother's commitment to civil rights.
"At the end of the day, my mother was obviously a very strong supporter of what I wanted to do, but also had a vision of what the future ought to be and was willing to step up and stand out and challenge the status quo," said Green.
Prior to being registered at Central High, Green had a summer job at a country club as a locker room attendant.
While on the job, he became acquainted with a young man his age.
"The moment the local newspaper underscored who the transfer students were going to be, he came into the locker room and said, 'what are you doing?' This is the first time I thought, this is something that the world is not going to applaud. And he was very upset and said this was going to change our relationship," said Green.
The more Green thought about it, he realized the acquaintance's reaction must mean he was on to something important, and that it wouldn't be a parade.
"We certainly never thought the rough spots were going to be as rough as they turned out to be," he added.
Green knows history buffs like to talk about "what ifs" and that the big "what if" for him is why the Arkansas governor used the moment for gain and promotion of segregation.
"I always thought that if Faubus had been more of a statesman than a politician, then it would have been pretty much a non-event and a lot easier for more places in the South," he said.
Optimistic about younger generation's ideas
Although it has been 50 years since the Voting Rights Act passed and a century and a half since the Emancipation Proclamation, Green said in his view the country has not shaken off all vestiges of slavery. But he is optimistic and believes the younger generation has a better idea than adults of where we can go as a nation.
"My hope is that you stay optimistic," said Green.
During two hour-long sessions, Green fielded questions about elections, state flags with Confederate symbols, affirmative action, and the Black Lives Matter movement.
One student asked if the Black Lives Matter movement, which works to prevent violence against blacks and raise awareness about racial profiling and police brutality, could be directly tied to the civil rights March on Washington of 1963.
Green agreed the movement is an appendage of the civil rights movement. He noted there is a lot of opportunity to express concern, yet the real question is "How do you follow up to make something change?"
One should not overlook that desegregation didn't happen quickly, he said, and related it to the issue of policing in communities.
"The issue of police in communities demands a number of things," said Green. This includes, he said, the quality of officers recruited, pay issues and equipping departments with technology.
"There's enough to work on and it's community by community. There's no national proclamation that's going to make it all right by tomorrow morning," he said.
Green added he is disappointed that community policing and related issues, including violence, have not been discussed much in the presidential campaign.
"It's a question of resources and attitude," he noted. "Many of the communities don't want to spend the money, whether it's body cams or additional technology they need to have in the police cars or more community policing in communities that need help."
One teacher asked if Green was discouraged that schools remain racially separated although not segregated by law.
"Schools to me are a reflection of housing patterns," Green said. "The most difficult social issue we have in this country is access to decent housing."
Green said society benefits as a whole when everyone feels they can contribute. When any group feels marginalized, this creates rancor for all, he said.
Efforts on diversity have to be taken beyond King's birthday, said Green. He even highlighted Marist's efforts to recruit students who are diverse as a program "affirmative" in nature.
"This is a marathon, not a sprint," he said.
The ideals that we as a nation regard as important include making others feel they can contribute.
"If you look at the rest of the world, they would rather be here than somewhere else," said Green. "And why is that? Is it all fool's gold that looks better outside than when you get inside? I don't think so."
"I hope you're ready to receive the keys"
Green also talked about his lasting friendships with members of the Little Rock Nine.
"We didn't start out to be symbols," he said. "As a teenager I had an idea that this school I passed every day was one that if I had the opportunity to go there, I wanted to."
For a teenager to dream of something and have it materialize early is something Green wishes for more youth.
Eight members of the Little Rock Nine reunite often. Jefferson Thomas, one of the original students, died in 2010. All received the Congressional Gold Medal in 1999.
"We are a tightly bonded group. Our families sort of clear the room and just leave us together," he said.
The group appeared on Oprah Winfrey's talk show years ago, and the host had some of the antagonists on the program as well.
One previous tormentor was pictured in a famous photo, spitting on and using racial slurs against group member Elizabeth Eckford. While the woman recanted her once racist views on the show, the photo still exists, and nothing can change that moment.
"This picture is a picture for life," said Green. "So I'm telling you, watch out for life and pictures. … Forever as long as she's on this earth, they will show this picture of her being the antagonist to Elizabeth and trying to keep her out of school."
Marist student Max Jewell, who attended both the assembly and the afternoon program, said what stuck with him most about Green was "how calmly he handled himself."
Jewell, a senior, is considering pre-law studies and has an interest in politics.
"He answered every question with the same demeanor," said Jewell about Green's graciousness.
Chinyere Gonzalez is director of the school's office of inclusion and diversity. The office's purpose, she said, is "to foster a community which respects, understands and celebrates the beauty and blessings of individuals' differences."
The department implements programs throughout the year. The all-school Diversity Assembly is one example and is held the Friday before the King holiday.
"Also, in preparation for Mr. Green's visits, several teachers showed clips on his legacy and held in-class discussions," said Gonzalez. "In addition, our Mosaic Club hosted a screening of an 'Eyes on the Prize' film on integration of schools following the Brown v. Board of Education landmark decision, along with a post-film discussion among students and faculty."
Ultimately Green's message was one of encouragement to Marist students—to propel not only themselves but also society forward and to help others feel they belong.
"It sounds trite," said Green. "But they're about to hand you the keys to the car. And I hope you're ready to receive the keys."
---
To learn more about the history of desegregation in Little Rock, Arkansas, or the work of the Little Rock Nine Foundation, visit www.littlerock9.com.