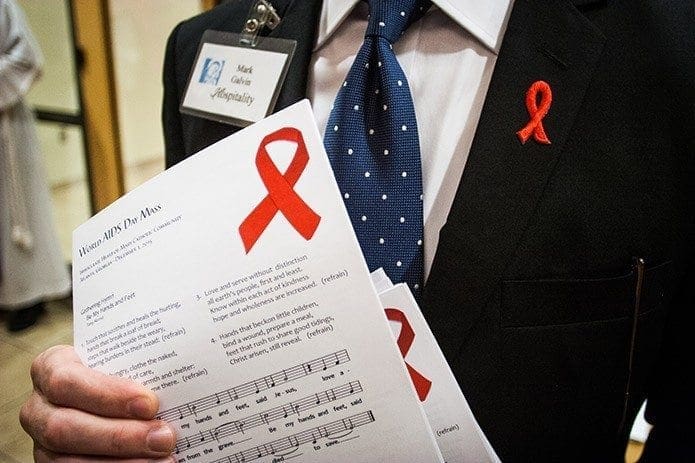 By NICHOLE GOLDEN, Staff Writer
|

Published December 10, 2015

ATLANTA—Worshipers reached inside a small basket of red lapel ribbons as they walked into Immaculate Heart of Mary Church in Atlanta for the archdiocesan World AIDS Day Mass Dec. 1.

Organized by Justice and Peace Ministries of the archdiocese, the annual Mass is hosted alternately by one of the parishes with active HIV/AIDS ministries.

Joining leaders of Immaculate Heart of Mary's ministry in a banner procession were representatives of ministries at St. Philip Benizi Church in Jonesboro, the Basilica of the Sacred Heart of Jesus in Atlanta, St. Ann Church in Marietta, and Most Blessed Sacrament Church in Atlanta.

Dr. Nancy Koughan, coordinator of IHM's AIDS ministry, said the Mass "brings us together in a space that makes us realize our ministries are not working in isolation."

Msgr. Al Jowdy, IHM pastor, was celebrant for the Mass. Msgr Jowdy presented those attending with Archbishop Wilton D. Gregory's "promise of solidarity." The archbishop, originally scheduled to celebrate the Mass, was unable to attend.

The World AIDS Day Mass is an opportunity for people from across the archdiocese to remember and pray for lives lost to HIV/AIDS, for people living with the virus, for their families, friends and caretakers, and for all who work to find a cure.
Response to AIDS 'alternately horrifying and inspiring'
In his homily, Msgr. Jowdy emphasized the first reading of the Mass from Isaiah 11, which offers the prophet's vision of a peaceable kingdom.
"The lion need not control and the lamb need not fear," he said.
On this special night, all gather "to draw encouragement from the prophet and the Lamb himself," he added.
The response to AIDS in the last 35 years in the United States has been "alternately horrifying and inspiring," said Msgr. Jowdy.
Although public discussion and awareness of AIDS has increased significantly, there are still people who wish to withhold compassion from those with this diagnosis, he said.
"We have lived with bigotry like that for all of human history," said Msgr. Jowdy.
He encouraged prayer for the "softening of the heart of the human family."
The Catholic Church's response both locally and universally to the AIDS crisis, while not perfect, has been a face of compassion, said Msgr. Jowdy.
All those who care for people with AIDS provide a "glimpse of Isaiah's peaceable kingdom."
"May we enter the new year 2016 with more hope than fear," he said.
IHM ministry has long partnership with Living Room
The AIDS Ministry at IHM focuses on educating the parish community and mobilizing parish support for those affected by the disease.
Parish volunteers accomplish the mission by partnering with Living Room, a program founded in 1995 by Adrian Dominican Sister Mary Jane Lubinksi. Living Room addresses housing needs and provides emergency financial assistance for HIV/AIDS patients. This year, ministry members assembled and distributed 80 welcome baskets for homeless individuals living with HIV/AIDS. A basket is presented when a client receives a first apartment through the Living Room. The team also raises funds and homelessness awareness for the Atlanta AIDS Walk as a sub-team of the Living Room.
The ministry provided 150 meals to people living with HIV/AIDS through Open Hand and hosted a back-to-school party for children at Jerusalem House. The children served by Jerusalem House have mothers who are HIV-positive.
IHM parishioner Sue Amsden started the parish AIDS ministry at the request of Sister Lubinski.
Koughan has been involved for more than eight years and has led it for two years.
A public health physician in DeKalb County, Koughan said working in a faith-based ministry is a different experience. "It really helped feed me … my soul," she said.
"I believe it is extremely important for the archdiocese to continue sponsoring the World AIDS Day Mass as long as HIV/AIDS remains a crisis in our community. Fulton, DeKalb and Clayton counties are some of the hardest hit counties in the U.S. for new HIV infections, especially among young black men ages 16-24," Koughan added in a follow-up email.
"Many of the individuals lack access to affordable health care and end up with a late diagnosis of AIDS. The broader HIV epidemic in the South is not homogenous and the recent rise of injection drug use among people of all races/ethnicities is particularly worrisome," she wrote.
HIV, the human immunodeficiency virus, causes AIDS, acquired immunodeficiency syndrome. First described in 1981, HIV interferes with the body's ability to fight disease. HIV does not automatically lead to AIDS. While there is no cure, drug regimens have been developed that help people with HIV to live longer.
Following Mass, the ministry hosted a reception in Immaculate Heart of Mary's historic church building with piano music provided by Michael Mullink, director of discipleship development for Prince of Peace Church, Flowery Branch.
A parish HIV/AIDS grant from Justice and Peace Ministries enabled the display of a quilt panel from the NAMES Quilt project, which memorializes those who have died. The panel included a portion made by former Girl Scouts at IHM in remembrance of children of the Mustard Seed Community in Jamaica.
Dr. Ken Dominguez, medical officer from the Centers for Disease Control and Prevention, highlighted the continued need for education and advocacy with a presentation at the reception.
In addition to parishes in the banner procession, others with active HIV/AIDS ministries include Holy Cross Church, Holy Spirit Church, Our Lady of Lourdes Church and St. Anthony of Padua Church, all in Atlanta, St. Lawrence Church in Lawrenceville and St. Oliver Plunkett Church in Snellville.
---
For information on volunteering with Immaculate Heart of Mary's AIDS ministry, contact Dr. Nancy Koughan at nkoughan@comcast.net. For details on HIV/AIDS parish grants for awareness and advocacy programs, contact Kat Doyle, director of Justice and Peace Ministries for the archdiocese, at 404-920-7897.