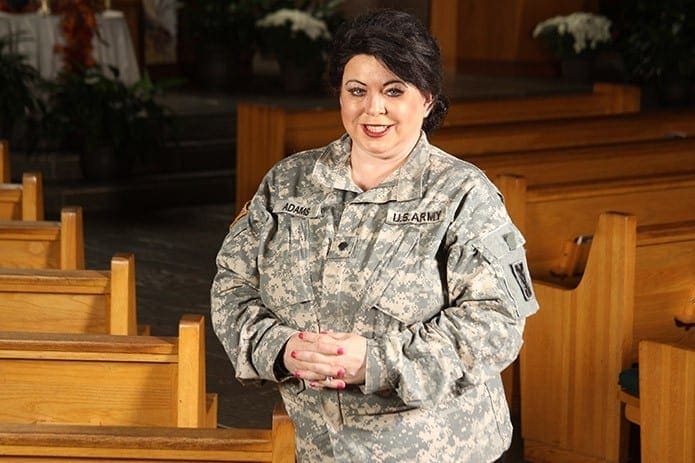 By MICHAEL ALEXANDER, Staff Photographer
|

Published November 12, 2015

ATLANTA–For Veterans Day, five Catholics who have served or are serving in branches of the military were profiled by staff photographer Michael Alexander.

They are Maria Faustina Adams, U.S. Army; Gary Curry, U.S. Air Force; Jose Salvatierra, U.S. Marine Corps; Kristin Pujals, U.S. Navy; and Truong Mai, U.S. Army.
Maria Faustina Adams
Parish: St. Philip Benizi, Jonesboro
Age: 45
​Hometown: Virginia Beach, Virginia
Military Branch: U.S. Army
Enlisted: 2007
Expected discharge: 2017
Maria Faustina Adams is a single mother of a 17-year-old son and among these five profiles, she's the only one on active duty. Adams is not the only person in her immediate family to serve in the military, but she's the only female.
Adams has been deployed to Iraq twice. When she's stateside she works in operations/human resources. In Iraq she worked in the intel area and civil affairs. Civil affairs was one of her favorite assignments.
"It allowed me to work with the Iraqis in rebuilding their country and it also allowed you to see the good that is/was being done over there, as that side of war is not always reported on in the American media," she said.
Serving in the military gives you a different perspective on life.
"I see things totally different and war changes a person," said Adams. "When I came back from Iraq, I felt more humble and grateful for the things we have, such as our basic needs, like being able to drive down the road and not have to worry about an IED (improvised explosive device). People don't realize how good we have it."
Patience and tolerance of others are two of the things she's taken away from her military experience.
"Being in the military you realize just how much everyone is different and you learn to respect their feelings and thoughts," said Adams.
Adams said the best part of her military career to this point is the honor and privilege it's given her to serve the people of the United States and knowing that she's done her part to help secure her son's civil liberties.
Gary Curry
 Parish: St. Philip Benizi, Jonesboro
Age: 71
​Hometown: Waterloo, Iowa
Military Branch: U.S. Air Force
Enlisted: 1963
Discharged: 1986
Gary Curry is part of a family steeped in military service. His uncle served in the U.S. Army in 1917. One son retired from the U.S. Air Force in 2003, another retired from the U.S. Coast Guard in 2011, and he has a grandson presently on active duty service in the Air Force.
Curry did his basic training at Lackland Air Force Base in Texas and his first assignment was at Malmstrom AFB in Montana. After that he did three tours in Korea, one tour each in Japan, Athens, Greece, the Philippines, Louisiana, Texas, North Dakota, Colorado and two tours in California.
"My most memorable assignment was Athens, mainly because I loved ancient history," said Curry. When he was in Greece he also went to some of the places St. Paul visited as a missionary. Curry said the best thing about serving was the travel, but leaving your loved ones was hard.
He said the military taught him to think with a strong conviction about what is right and good against what is easy and safe.
"Before I went into the service I was a young man that was headed for real trouble, and it was a combination of things that changed my life," said Curry. "First I was in Father Flanagan's Boys Town for seven years where I became a Catholic, and I joined the Air Force after I left Boys Town."
Married for 15 years, this father of eight children (four biological and four step-children) held a job with the Department of Defense Police at the Yuma Proving Grounds in Yuma, Arizona, before retiring in 2004.
 Jose Salvatierra
Parish: Our Lady of the Americas, Lilburn
Age: 35
​Hometown: Distrito Federal, Mexico
Military Branch: U.S. Marine Corps
Enlisted: 2001
Discharged: 2008
Jose Salvatierra did his basic training at Parris Island, South Carolina, but his first tour of duty was in Okinawa, Japan. He was also stationed in Thailand for Cobra Gold, an Asia-Pacific military exercise that takes place annually in the country, and he was in Iraq for Operation Iraqi Freedom. Salvatierra was part of the security detail in Iraq. At one point he and his brother were both deployed to Iraq under the same company and same platoon.
He said the best thing about serving was being exposed to new things, meeting new people and experiencing different cultures and religions.
"The most difficult part was deploying and leaving my young kids behind," said Salvatierra.
He said once he joined the Marine Corps in his early 20s he was a changed man.
"I became more responsible, structured and I exercised better time management," said Salvatierra. In fact, time management and being tactful are the two things he took away from the military that he still implements in life today.
Salvatierra currently does accounts receivable work for a local erosion control company. He's been married for 11 years and he has three girls, ages 2, 8 and 10.
 Kristin Pujals
Parish: St. Peter Chanel, Roswell
Age: 47
Hometown: Gainesville
Military Branch: U.S. Navy
Enlisted: 1988
Discharged: 1992
Kristin Pujals enlisted during her sophomore year of college when she was a cadet at North Georgia Military College (today the University of North Georgia). She was the only child to follow in her late father's military footsteps, a U.S. Army colonel who earned two Purple Hearts and a Bronze Star.
Pujals was first stationed in San Diego, but the majority of her service time was at the Naval War College in Newport, Rhode Island. She worked in the War Gaming Department where military and civilian leaders from the U.S. and foreign nations came to play out strategies that would later be used in battle. At the time the NWC was very advanced in its technology and this was part of the reason that they were the host for large-scale war games that attracted dignitaries such as then-Vice President George H. W. Bush. When the late author Tom Clancy was a guest speaker at the NWC, she was his driver for two days. She noted he wrote specifically about the War Gaming Department in his book "The Sum of All Fears."
Pujals said she was immature and a little selfish before entering the Navy, but she soon learned the meaning of teamwork and being selfless, something she strives to impart to her own children.
"I have stayed in contact with a few of my Navy buddies and extended family members who have served in other branches as serving really connects people," she said.
Married for 18 years, this mother of triplet boys and two girls currently teaches Spanish at Queen of Angels School in Roswell.
Truong Mai
Parish: Our Lady of Vietnam, Riverdale
Age: 28
​Hometown: Thanh Son, Vietnam
Military Branch: U.S. Army
Enlisted: 2006
Discharged: 2012
Truong Mai came to the United States when he was 10 years old, and he lived in Maryland and Virginia before moving to Georgia in 2001. His father and grandfather served in the Vietnamese Army prior to the fall of Saigon, and an older cousin and uncle through marriage served in the U.S. Navy.
Mai enlisted after high school and did his basic training at Fort Knox, Kentucky. After his initial training, he was stationed at Fort Hood, Texas. From there he had the opportunity to do tours of duty in places like Iraq, Afghanistan, Kuwait, Germany and Italy. He was also stationed at U.S. bases in California, Florida, Georgia, Maryland, North Carolina and Virginia, to name a few.
His first military job was as a mechanic, specializing in recovery mission and transportation. His second job was as a transportation coordinator. Being a part of a recovery team specializing in recovering downed vehicles and aircraft in northern Iraq from 2007-2009 was his favorite assignment.
"I got to see a lot of the country that many troops didn't get the opportunity to see," said Mai. "Plus, through the hardship I made a lot of friends and made a lot of memories that will last a lifetime."
"The military made me become a stronger person mentally, emotionally and physically," said Mai. "It made me become a self-sufficient individual that doesn't know how to give up when times are hard. I also learned to give more and expect less."
Mai is now an Allstate Insurance sales representative and a student at Clayton State University, Morrow, where he'll earn a degree next year in supply chain management.