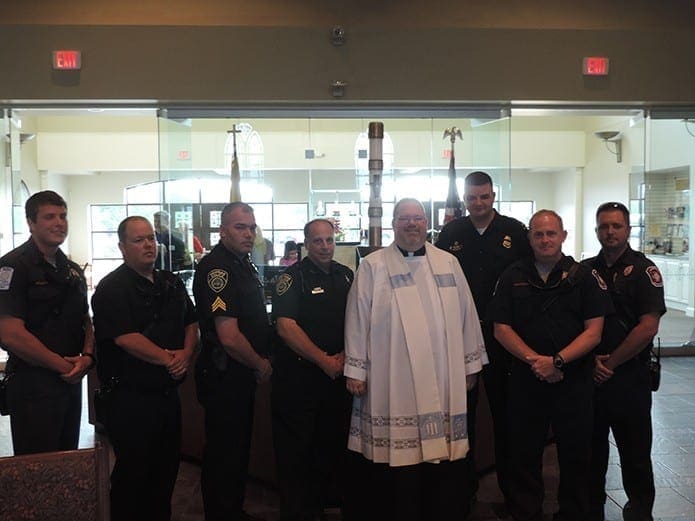 Published September 17, 2015
DECATUR—St. Thomas More School commemorated Sept. 11 as a National Day of Service Project as the school community honored the police, firefighters and emergency responders in Decatur.
It was an out-of-uniform day for students and teachers who brought teddy bears or an appreciative card for DeKalb County firemen, policemen and EMTs. The toys play a special role with the emergency workers who use the teddy bears to comfort young victims when they respond to a call. The bears and cards were given to representatives from DeKalb County in a live broadcast on Tiger News Network.
At St. Mary Magdalene Church, Newnan, nearly 100 people attended evening prayer to commemorate the anniversary of 9/11. Members of the Newnan Police Department, Coweta Fire Department, Riverdale Fire Department, New York City Police Department and U.S. Customs came to St. Mary Magdalene Church.
Father Terry Crone, pastor, thanked the first responders, who received a standing ovation. During the homily, Father Crone mentioned that first responders don't always get the proper thanks for putting their lives in harm's way. He even stated that although we should be, we are not always thankful when we see the blue lights in our rear view mirror. He pointed out how the American flag represents our first responders—red for the fire departments, white for the emergency medical personnel, and blue for law enforcement officers.
Children from St. Mary Magdalene Preschool sang "God Wants Us to Help One Another" and "Thank You, God." The service ended with a recitation of the Lord's Prayer and a robust version of "God Bless America," followed by a large round of applause. The evening concluded with a reception that honored the 343 New York firefighters who died responding to 9/11.