Published August 21, 2015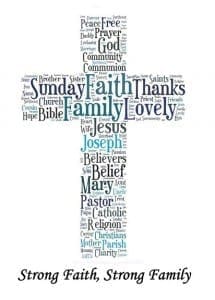 ATLANTA—The 59th annual convention of the Atlanta Archdiocesan Council of Catholic Women (AACCW) will be held Friday to Sunday, Sept. 25-27, at the Wyndham Peachtree Hotel and Conference Center, Peachtree City. All women of the archdiocese are invited to attend, along with priests and deacons.
The theme of the convention is "Strong Faith, Strong Family," and attendees will join together to pray and challenge their minds and hearts to grow, share and be open to God's call to serve.
Registration begins at 2:30 p.m. on Friday. Convention activities begin at 7 p.m. with a rosary, followed by the President's Welcome Reception.
On Saturday, registration takes place from 7-7:30 a.m. Mass will be celebrated at 7:30 a.m., and the AACCW business meeting will be from 9-10:45 a.m.
The luncheon speaker is Patricia Everett. Workshops and other activities will continue through the day, with adoration from 3:45-5:45 p.m. and a banquet beginning at 7:30 p.m., including entertainment by Greg Koerner.
On Sunday, the closing Mass will be celebrated by Archbishop Wilton D. Gregory at 8:30 a.m. Brunch will follow, with speaker Deacon Greg Ollick.
Before Sept. 11, the complete early convention package is $155. After Sept. 11, the cost is $175.
A special rate of $99 is available for hotel rooms, and reservations should be made directly with the hotel, with a deadline of noon on Aug. 25. Mention AACCW to get the reduced rates.
---
For more information and to register, contact Fern Bergeron at 706-885-9388 or wildflower604@hotmail.com, or contact Deanna Holmer, AACCW president, at 706-297-7493, or Julie Pardo at 770-321-9831.