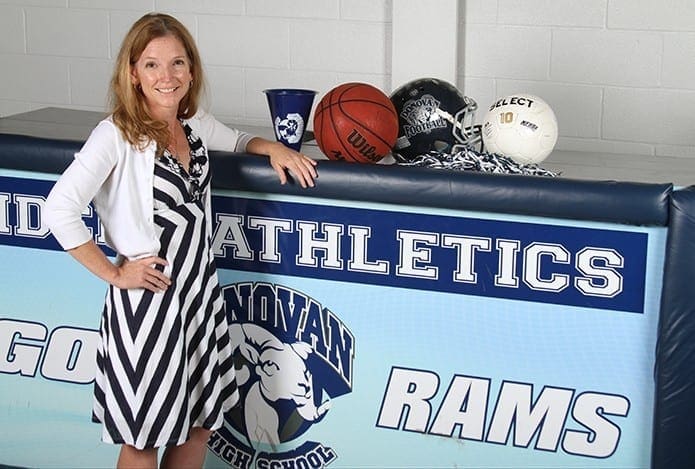 By NICHOLE GOLDEN, Staff Writer
|

Published August 20, 2015

ATHENS—Wynter Kelly, the new athletic director at Monsignor Donovan High School in Athens, is finding an "overwhelmingly warm" welcome.

"I've had so many people reach out to me," said Kelly.

A longtime coach and mother of five, including a collegiate student-athlete, Kelly moved from Rhode Island July 23 and began work at Monsignor Donovan the next day.

"I've still got boxes around," she said.

Kelly learned of the position of athletic director through the National Catholic Educational Association. "I say it was kind of random," said Kelly.

She now believes it was not a coincidence but meant to be.

"The faculty and staff here—every single member is so mission-oriented," said Kelly. "Their number one goal is to serve the students."

After several weeks of being on the job at Monsignor Donovan, Kelly learned that she is making history as the first female athletic director at an archdiocesan or independent Catholic school in the Atlanta Archdiocese.

"I did not realize it," she said. "I'm humbled and blessed."

Kelly holds a master of arts in educational leadership from the University of Notre Dame and a bachelor of science in biology from the University of West Georgia in Carrollton.

In addition, Kelly has taken advanced classes at the Harvard Graduate School of Education and the Lasallian Leadership Institute. Since 2003, she worked at La Salle Academy in Providence, Rhode Island, a Catholic high school with more than 1,400 students. Since 2009, she served as La Salle's dean of students and a class moderator while coaching both basketball and lacrosse.

Kelly was also on staff at Marin Catholic High School in San Francisco.

As a young person, Kelly was a multi-sport athlete playing basketball, volleyball and running track and cross country.

"Mrs. Kelly set herself apart from all other candidates with her extensive leadership experience in a Catholic school environment, commitment to excellence, and true understanding of the role of athletics as a part of the greater mission of a Catholic school," said Patrick Yuran, principal of Monsignor Donovan High School, in a statement about her appointment.

Monsignor Donovan, an independent Catholic high school, opened in 2003 with its first freshman class.

For her master's thesis, titled "Strengthening Gospel Values in Athletics," Kelly explored students' perceptions of athletics with regard to promoting Christian values, strengthening their faith, and deepening understanding of social justice issues in order to determine tangible ways to improve the student experience.

"I kind of looked at it through the lens of being a teacher," said Kelly about her thesis subject.

Coaches are educators and, like teachers, are called to the vocation, said Kelly.

"They have an opportunity to foster Christian values," she added.

Coaches teach how to compete but also impart life skills, including leadership.

"That alone is such a valuable skill," said Kelly.

As an educator and parent, Kelly appreciates the coaches who realize the critical role they can play in a child's life.

"They do such a great service," she said.
Will also teach chemistry, biotechnology
As athletic director, Kelly will not be taking on any coaching roles herself.
"The focus is really to be a support for the coaching staff," she explained. "Coaching is all-consuming."
Being a parent also gives Kelly many perspectives on competition she didn't realize previously and has helped her glean "Hey, this is what works" in coaching.
Kelly's husband, Martin, coaches men's lacrosse at Roger Williams University in Bristol, Rhode Island. He will be making the move at a later date due to his current coaching responsibility.
The Kellys are parents of four daughters, Molly, Maeve, Meara and Madelyn, and a son, Finn. Molly begins her freshman year this fall at The Catholic University of America, where she will play lacrosse.
"I've been through every level of sports with her and all my kids," said Kelly.
Maeve is a student at Monsignor Donovan and the other children attend St. Joseph School in Athens.
The family has attended Mass at St. Joseph Church and hopes to become involved in parish life to help the children with the transition.
The sports programs offered at Monsignor Donovan include volleyball, football, cross country, basketball, swimming, baseball, soccer, track and field, tennis, golf, and the sometimes under-recognized sport of cheerleading.
"We've got a great cheer team here," noted Kelly.
At Monsignor Donovan, Kelly will also teach science classes. Her courses will include sophomore chemistry and biotechnology, an elective for upperclassmen. Kelly designed and implemented the same biotechnology course at her previous school.
"It's a new course here at Monsignor Donovan," said Kelly. "It's a fun course for the kids. It's a lot of doing."
Biotechnology is a hands-on lab techniques class, offering an overview of trends and careers in the field.
Some may view science and the competition of sports as contrary to faith, but Kelly doesn't see it that way.
"I find myself intertwining them," she said.
As another season of sports gets underway, Kelly is grateful for the support of her new colleagues and the parents of Monsignor Donovan.
"It's a great community," she said. "I'm really happy."