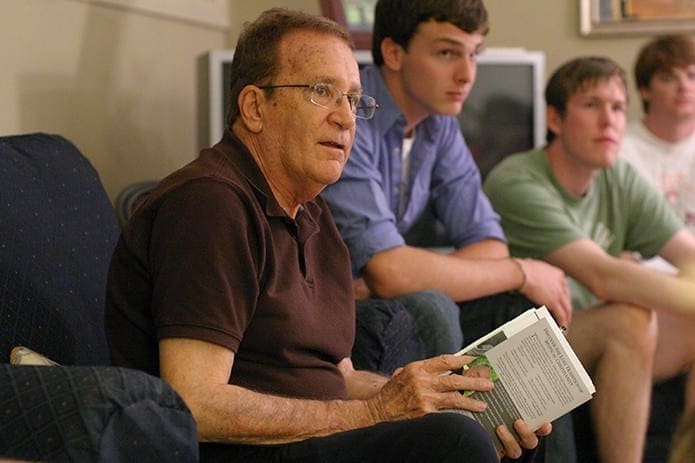 By ANDREW NELSON, Staff Writer
|

Published July 9, 2015

ATHENS—The leader of the Catholic community at the University of Georgia, Franciscan Father Thomas Vigliotta, died on July 4.

He was a member of the Franciscan community for 34 years and a priest for 29 years. The New York native also served in parishes in South Carolina, New York and in retreat ministry. Due to failing health, he had transferred to Holy Name Friary in Ringwood, New Jersey, on June 9.

Known simply as Father Tom, the 66-year-old led the UGA Catholic Center for close to 10 years. The center serves Catholic students and university faculty, with some 700 registered members.

One of the programs he ran was Thursday Night Theology, a weekly gathering of college students at the center to think deeply about an assigned book or current events. The conversation, fueled by slices of pizza, was the centerpiece of a 2010 Georgia Bulletin story about the Catholic Center.

Father Tom saw his ministry as engaging the students to stretch their faith. He wanted students to grow into mature Catholics, or, as he put it, to help them "get off the milk" and get into the solid food.

"Mostly, I'm trying to stir the pot to get them thinking," he said at the time.

Faith at the Catholic Center was about the heart and the intellect. Students and others put their faith into action working on mission trips or as tutors at Oasis Católico, a community center in Athens established by sisters serving working-class Hispanic families. He promoted the intellectual side of the church, too. He'd host speakers like best-selling author Franciscan Father Richard Rohr, theologian and scientist Franciscan Sister Ilia Delio, and New Testament scholar Luke Timothy Johnson.

Pilar Delaplane, a longtime member of the Catholic Center who attends daily Mass, said the priest was successful in "linking Gospel truth to Gospel action."

David Briones, who worked with him for several years as the coordinator of collegiate activities, said Father Tom's vision was to see students "evolve in four years and become mature Catholic adults."

"He was good at challenging them. He wanted them to think a little more. He was good at helping to see God in everything, taking them out of the chapel, so to speak, and seeing God was everywhere."

Campus minister Father John Coughlin learned from his fellow Franciscan. He arrived in 2014 in this southern city with its large secular university, after serving at a Catholic university in upstate New York. Father Tom "really helped me to understand the culture of the students here."

Father John said his colleague's demeanor attracted people. "Father Tom was very approachable and conversational. People of all ages felt very comfortable around him. He had an easiness about him and a gentleness about him. He drew people like a magnet."

"He was a wonderful mentor to me. He was a wonderful brother to me," he said.
Taught what 'true discipleship' means
Father Tom was received into the Franciscan order on June 15, 1980, in Brookline, Massachusetts, and professed first vows on June 6, 1981. He professed solemn vows on June 15, 1985, at St. Francis of Assisi Church, in New York City, and completed a master of divinity degree from the Washington Theological Union in Washington, D.C., that same year.
He was ordained to the priesthood on Oct. 19, 1985, at St. Camillus Church in Silver Spring, Maryland by Bishop James Lyke, a Franciscan.
Father Tom's first assignment in 1985 was as associate pastor and director of religious education at St. Anthony of Padua Parish in Greenville, South Carolina, where he served until 1988. He then ministered as associate pastor at St. Stephen of Hungary Church, in New York City, from 1988 to 1989. He joined the province's Ministry of the Word group in 1989, where he planned and led retreats and educational events around the country for the next 18 years.
In 2005, Father Tom transferred to the Catholic Center at the University of Georgia in Athens, where he continued his involvement in the Ministry of the Word for another two years. He was appointed director of campus ministry in 2007 and served the students and university in that capacity until 2015. During much of this time, he was also guardian of the friary and regional vocation director for the Southern region of Holy Name Province.
His funeral Mass was scheduled to take place on Wednesday, July 8, at St. Anthony Church, Butler, New Jersey, followed by burial at Mount Calvary Cemetery in Butler.
A memorial service will be held at the UGA Catholic Center at a later date.
For Pilar and Keith Delaplane, he was a "Franciscan cupid."
He helped bring this 50-something couple together through a cryptic email, a nudge at daily Mass, and even announced they'd be getting married before they had said it.
"It's a love story he's very much a part of," said Pilar, who recently earned her master's degree in pastoral studies from Loyola University, New Orleans. Keith is an expert on honeybees at the university. "Father Tom had this way, an intuition, a way of reading of hearts," she said.
Pilar said his gentleness could be disarming. It allowed him to minster to college students finding their way to adulthood in addition to older members of the community as a man of deep faith.
"He'd sometimes say things that were hard for the community to hear. But they were the hard words of Christ. And he taught us what true discipleship means."
Drew Haro, who worked with Father Tom for four years, said the priest encouraged people to wrestle with their faith. He was the wrong guy to go to seeking easy answers.
"He'd sit there with me and answer my questions with more questions. It was frustrating at times," said Haro, a 30-year-old teacher at a Catholic school in New Orleans. "But his questions always guided you to find where was God in the midst of this situation."