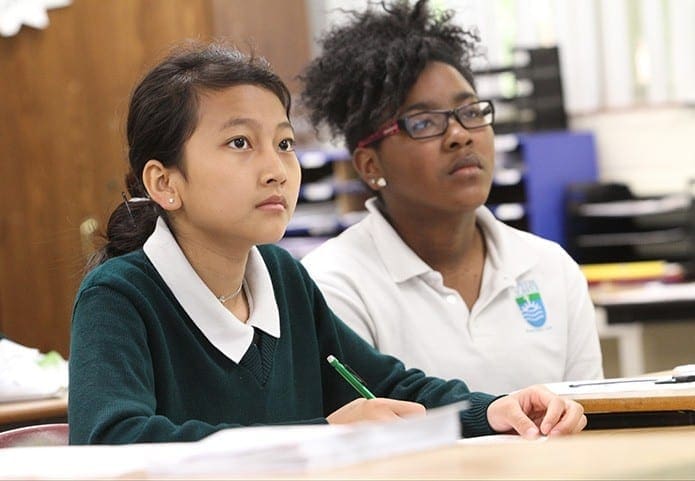 By NICHOLE GOLDEN, Staff Writer
|

Published May 14, 2015

DECATUR—Eleven-year-old Thomas Mang is all smiles when he talks about playing soccer. Mang, from the Southeast Asian country of Burma, is in the sixth grade at St. Peter Claver Regional School in Decatur. He loves math and being able to learn more about faith at school.

"They teach you about religion," said Thomas.

Burma, also known as Myanmar, is one of the top five countries of origin for refugees served by Catholic Charities Atlanta.

Often, Burmese families coming to America have spent years in refugee camps in Thailand to escape local conflicts or the military rule of the country.

St. Peter Claver Regional School has welcomed many of the families with open arms. The staff and school supporters work daily to help the Burmese students overcome barriers to staying in Catholic school.

Nineteen Burmese children had been attending St. Peter Claver, and the number has now dropped to 14.

"The reason they dropped out was because of transportation," said Deacon Peter Swan, a native of Burma.
Missionaries of Charity help families
Deacon Swan knows firsthand the challenges of the community. He came to the United States with his mother in 1971. He was just three days shy of his 21st birthday and joined the U.S. Army soon after arriving.
After serving many years in the Army, Swan worked for the federal government.
He explained that the Burmese families have generally settled in Clarkston, many living in an apartment community where the Missionaries of Charity offer summer programs and after-school tutoring.
The families are mostly Catholic and practiced their faith in a primarily Buddhist nation. The Missionaries of Charity sisters knew that the discipline and structure of Catholic school would benefit the children.
"They were instrumental in starting this influx of the Burmese attending Catholic schools," explained the deacon.
Most of the Burmese families in Clarkston have been in the country for one to five years.
"They need the support of each other," said the deacon. "They pooled their money in and bought a van."
The fathers take turns driving the children to school each morning, leaving by 6:30 a.m. to make it to school on time.
"Moving is out of the question for them," said Deacon Swan.
A deacon at St. Philip Benizi Church in Jonesboro for 14 years, Deacon Swan says assisting his countrymen is a bit of a geographical challenge.
"That's why it's so difficult to minister to my brothers and sisters," he said.
'They arrive daily with smiles'
Volunteer Theresa Mang joins him as a supporter of the community. Mang is also from Burma, works several jobs and is completing her education.
She helps translate between school staff and parents and says it's a bit easier for the students.
"In school, they have English," she said of the younger children.
There are many cultural challenges for the community as well, said Mang. She noted that the openness of Americans was unfamiliar to her. It was odd for her to walk down the street, and hear "Hello, how are you?"
In Burma, residents do not greet strangers warmly in public, noted Deacon Swan.
Thomas Mang, older brother to three young sisters, knows his family came to America for a better life and education.
"Most of the people in my country didn't go to school," he said.
St. Peter Claver Principal Susanne Greenwood said the Burmese students have a desire for learning coupled with a strong work ethic.
"They arrive daily with smiles and a desire to please and achieve," said Greenwood. "They love their Catholic faith, which is revealed daily in their reverence and classroom demeanor. What more could we ask for?"
Greenwood said that while the families are supporting one another, transportation and tuition assistance remain primary needs.
"Our vision includes one or two mini-buses to support or meet these families halfway with transportation," said Greenwood. "These are families with only one car and a father working an hourly job in the poultry industry. Shift work makes transportation a challenge for morning and afternoon carpool."
Deacon Swan said the principal even asked her colleagues from other schools for leftover uniforms for the students.
"Our Burmese families have added so much to our community that it is a pleasure to do all we can to support them," said Greenwood.
High hopes for their children
Margaret Niang and Regina Ciin are both 13, and seventh-grade classmates. They ride to school with Thomas.
All three students started at St. Peter Claver this school year. The girls were previously attending a public middle school in Stone Mountain.
"You have more opportunity," said Regina about Catholic school.
Margaret doesn't seem to mind the early morning commute to school. "I just sleep in the car," she said.
The three students are parishioners of Holy Cross Church in Atlanta and value the faith component of their education.
Deacon Swan explained that Christianity has had a presence in Burma for nearly 500 years.
"We were so blessed in February of this year the Holy Father created the very first Burmese cardinal," said Deacon Swan. "The world is looking at Burma."
The deacon said that the annual Burmese American Catholic Conference would take place this year in Atlanta. The conference will be Sept. 4-7 at Corpus Christi Church in Stone Mountain and the North Atlanta Trade Center in Norcross.
Deacon Swan, who is president of the conference's executive committee, said that many Burmese families attend Mass at Corpus Christi on a regular basis.
"Corpus Christi has been very, very generous," he said.
While the community hopes to explore new avenues of assistance for the students, they have high hopes for the children who already value their Catholic faith and education.
"The Burmese kids are very smart. It gives me a sense of pride," said Deacon Swan.
"Hey, these kids are going to make it."
---
For more information on supporting students in need at St. Peter Claver Regional School, contact Meaghan Schroeder, director of admissions and development, at 404-241-3063, ext. 119. Learn other ways to contribute at www.spc-school.org by clicking on the "Support Us" tab. The school participates in Box Tops for Education and various shopping card partner programs.