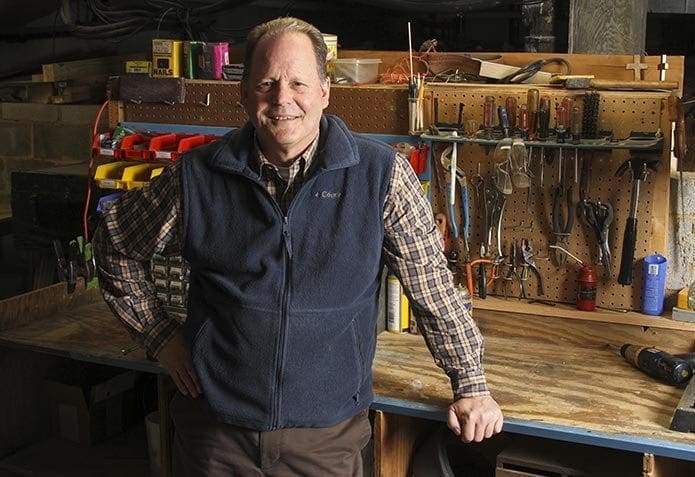 By NICHOLE GOLDEN, Staff Writer
|

Published February 5, 2015

ATLANTA—A walkie-talkie is Chris Brown's constant companion on the job as facilities manager for both Christ the King School and the Cathedral of Christ the King.

It frequently crackles as he walks throughout the Peachtree Road campus with a question or a summons.

Brown handles problems ranging from plumbing to electrical in the buildings, oversees landscaping on the grounds and cleaning of the facilities and the room set-ups for school and church events.

Keeping 77-year-old buildings in good shape is quite a task.

"You call it job security," said Brown.

Prior to becoming the facilities manager, Brown was in the ice cream business.

"I owned Baskin-Robbins' franchises for 15 years," he said.

Brown sold the businesses and began to explore other jobs.

His wife, Janet, was a physical education teacher at Christ the King School, and he learned of the facilities position there.

"It's just a fun place to work," said Brown. "It's a dynamic church with a dynamic, thriving school."

The Browns also knew then-Cathedral pastor, the late Msgr. Tom Kenny, very well. He married them as pastor of their former parish, Corpus Christi Church in Stone Mountain.

Msgr. Kenny gave Brown a new dog when his beloved boxer, Sally, died. When Brown lived next to the school, Sally would make rounds with him.

On the school's Jan. 29 Jersey Day, Brown had to forego wearing the jersey of his alma mater, the University of South Carolina. Instead he opted for dress shirt attire to meet with officials from GEMA—the Georgia Emergency Management Agency—regarding emergency contingency plans for the school.

Brown knows every nook and cranny of the school and its history. Started in 1937, the school had the Grey Nuns as its first teachers and administrators. He even shares design details about the school's St. Margaret d'Youville Chapel with guests. His favorite stained glass panel depicts a nun in the classroom setting.

The most recent addition to the school building was constructed in the mid-1950s.

"We still call it the new building," said Brown.

Directing the landscaping and selecting plants and flowers is "one of the fun parts," said Brown.

At the school, Brown supervises a facilities crew of two people. At the cathedral, he has a staff of three. "I'm the only person who works for both," he said.

Christ the King Principal Patricia Ward calls Brown friendly and easygoing.

"He has a great, wry sense of humor and is quick with one-liners that always evoke a smile from the people engaged in conversation with him," said Ward. "Nothing really ever ruffles his feathers, except when his beloved South Carolina Gamecocks lose a football game. He has been the facilities manager for the school and cathedral for 14 years."

On the weekends, work is at a "come-and-go" pace based on events such as meetings, baptisms in the school chapel, or athletic events.

A history buff, Brown also enjoys working on his classic car, a 1963 blue Sunbeam Alpine.

"I love the Civil War. I was going to be a history teacher," he said.

While his career ideas changed in college, Brown ended up working at a school after all.

Brown's Catholic faith has always been central. He celebrated his first Communion at St. Peter's Basilica while his father was in the military.

"He was stationed in Rome, Italy, at the embassy," said Brown.

His father was informed of the chance to have a semi-private audience with Pope Paul VI. Brown's family attended and he wore a suit with a satin arm bow, indicating he had received his first Communion.

The Holy Father presented him with a special gift after seeing the bow. "I got a box with the papal seal on it and a rosary," he said. His mother whisked away the box for safekeeping.

Brown enjoys being part of the life of the school and church, including Easter and Christmas, weddings and the buzz of everyday activities.

"One of my favorite things is to walk through recess," said Brown. "If you get hit by a ball, it's your fault."

Working at the campus provides "a lot of good material" for stories. One night while investigating an alarm, he and the police rounded a corner to see a woman in a flowing white gown and veil coming toward them.

Brown was startled to see the ghost-like figure in the hall, but she turned out to be a confused woman who had been locked in at school closing time.

The work varies from day to day and can include selecting new pavers, replacing windows, or finding retirement spots for statues with missing fingers.

"It just goes and goes and goes," said Brown of the workload.