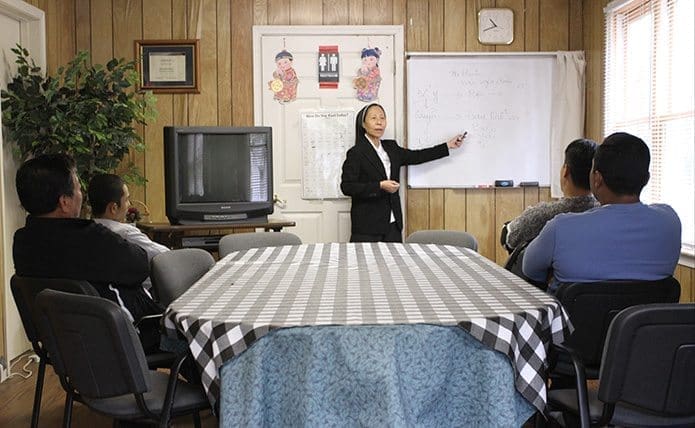 By NICHOLE GOLDEN, Staff Writer
|

Published November 13, 2014

ATLANTA—There are many organizations in metro Atlanta that work to assist victims of domestic violence.

Karelis Ferrer is Latino outreach coordinator at the YWCA of Northwest Georgia in Marietta.

"We have the only shelter in Cobb for the women and children," said Ferrer. "We have transitional housing. We have counseling as well."

The ultimate goal of the YWCA's programs is for women to become independent emotionally and financially.

Numbers of abuse cases fluctuate, but they see more instances around holidays and during sporting events.

"Alcohol is not the cause, but contributes," said Ferrer.

The Cobb program recently added a dozen new transitional housing apartments for victims of domestic violence and sexual assaults. The YWCA and its volunteers launched a capital campaign to complete additional renovations to its existing 32-bed shelter. Ferrer said the campaign remains $400,000 short of the goal.

The YWCA works closely with victims' advocates and Cobb County police and has a 24-hour/seven-day-a-week crisis line.

"I'm passionate for working for this community," said Ferrer, who is Catholic.

According to Ferrer, abusers sometimes use citizenship issues or custody issues as a means of control.

Despite those threats, women who are being abused have recourses, she said.

"There are a lot of things they don't have to be afraid of," she said.

VAWA, the Violence Against Women Act of 1994, said Ferrer, provides legal relief for immigrants who are survivors of domestic violence, even those without immigration documents.

Ferrer said, on average, women endure seven to 10 incidents of violence before leaving the home.

"We cannot judge why," she said.

Part of Ferrer's job is to raise awareness of domestic violence as well as what the YWCA offers. She is available to make presentations to clergy, parishes and ministry groups.
Catholic Charities Atlanta program
Under VAWA, Catholic Charities Atlanta serves immigrant women and young children who have been abused by a permanent resident, U.S. citizen, spouse or parent.
Rosa de Kelly is Catholic Charities' VAWA coordinator and accredited legal representative for immigration issues.
Catholic Charities' staff helps victims to self-petition for permanent residency without relying on their abusers.
"We specifically work with vulnerable communities," said de Kelly.
De Kelly came to the agency a little more than 10 years ago, only expecting to stay for a year.
"I came to do this job by accident. I became so involved," she said.
Not too long ago, de Kelly had a "priceless" experience when a former client came to the Catholic Charities' office with her daughter and presented a $500 donation in gratitude for helping her escape violence.
"I meet women who have really given up hope. They come back two years later and you can see the difference," she said.
For some of their clients, the deportation process has already started, while others are afraid to call police out of fear of being arrested themselves. The clients, with the extra barrier of limited language skills, have no knowledge of how to get a green card or work permit.
"They don't know how the system works. That's where we come into play," said de Kelly.
Although Catholic Charities works with immigrants, de Kelly believes that domestic violence is found in all types of families.
"I think domestic violence has no race, no social status, no gender," she said.
For 10 consecutive years, the Georgia Criminal Justice Coordinating Council has been the agency's funder for this particular branch of work.
Donations are also welcome, by visiting www.catholiccharitiesatlanta.org, specifying VAWA. Overall, Catholic Charities benefits from the second collection in the Archdiocese of Atlanta at Christmas Masses.
Catholic Charities also provides needed counseling for the women and children who have been victims of violence.
De Kelly said they are working to establish relationships with parishes and already partner well with police, shelters and immigration officials.
"We can never work alone," she said. "We have an incredible amount of great partnerships."
Sister requests awareness Mass
On Oct. 25, the Archdiocese of Atlanta celebrated its first awareness Mass for domestic violence at Holy Cross Church in Atlanta. Bishop Luis R. Zarama celebrated the Mass.
Prayers of the faithful included petitions for all homes to be free of violence of any type—emotional, physical and verbal—and that God would guide clergy and laity to understand that violence is never an act of love.
It was Sister Christine Truong My Hanh, executive director of Good Shepherd Services in Atlanta, who suggested such an awareness event.
Sister Christine and representatives of other agencies gathered after Mass and distributed information about their respective programs. Good Shepherd Services for families includes domestic violence intervention and anger management, as well as parenting classes.
In her 24 years in Atlanta, Sister Christine, a Sister of the Good Shepherd from Vietnam, has worked primarily with immigrants and refugees whose native cultures and governments look the other way when family violence occurs.
"This kind of violence in the family is nothing," said Sister Christine about the cultural practices.
"I see more and more problems. It's all over," said the sister. "Everyone in the family is shocked when they get arrested."
The staff has also seen instances of elder abuse in families, sometimes when an adult child is not equipped to be a caregiver of an elderly parent.
"This is very sad," said Sister Christine.
Good Shepherd tries to share resources with its clients, many of whom don't speak English. They also have programs for young people.
"We do a lot for children. I believe in prevention," said Sister Christine.
Sometimes clients, including victims of domestic violence, simply need someone to talk to about their struggles.
"I feel very blessed to be able to listen to problems," said Sister Christine.
Donations are always welcome to help Good Shepherd Services further its work in reaching out to others.
The U.S. Conference of Catholic Bishops has pastoral resources for clergy wanting to offer homilies on the subject of domestic violence, or on speaking with parishioners about violence whether it's during the sacrament of reconciliation or during counseling.
Sister Christine believes more discussion about the victims and their spiritual needs should be taking place within in the church.
"I feel like crippled. I think if we work together we can get somewhere," she said.
---