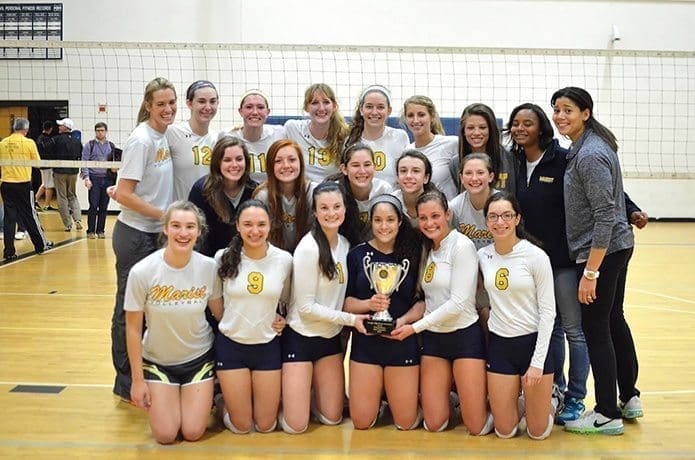 By MICHAEL ALEXANDER, Staff Photographer
|

Published November 13, 2014

MARIETTA—Defeating Westminster in the Class AAA state volleyball finals in three straight sets (25-17, 25-22, 25-13), Nov. 1, the Lady Titans of Blessed Trinity High School captured their third state volleyball championship in five years. Junior Annie Dempsey and senior Maggie Rick led the team with 11 and 10 kills, respectively. Sophomore Morgan Stalcup was named the player of the match. Stalcup had six kills and four blocks.

"I'm just so proud of these players and this team at how hard they worked in practice and how composed they were during the match," said head coach Paul Stevens.

The team from the archdiocesan high school, located in Roswell, finished the season with a record of 52-11, its third consecutive season of 50 or more wins.

The Lady War Eagles of Marist School (36-10) won the Class AAAA state championship. They defeated Buford High School in a five-set match. Marist dropped the first set 22-25. They won the second and third sets 25-19 and 25-16, respectively. Buford won the fourth set 25-20 and Marist closed out the match with a fifth-set victory of 15-12.

Senior Sydney Leimbach led the team with 24 kills, followed by junior Kate Connolly's 16 kills. Junior Leila King had seven of the team's 18 blocks.

This is the program's 10th state title and the first since 2007. It is also the first for fourth-year head volleyball coach Kendall Crum at the Atlanta independent Catholic school.

"I was confident that if we just played our game and executed at the level that we usually do, we would be OK, and we were. I am so proud of the girls and all of their hard work," said Crum.