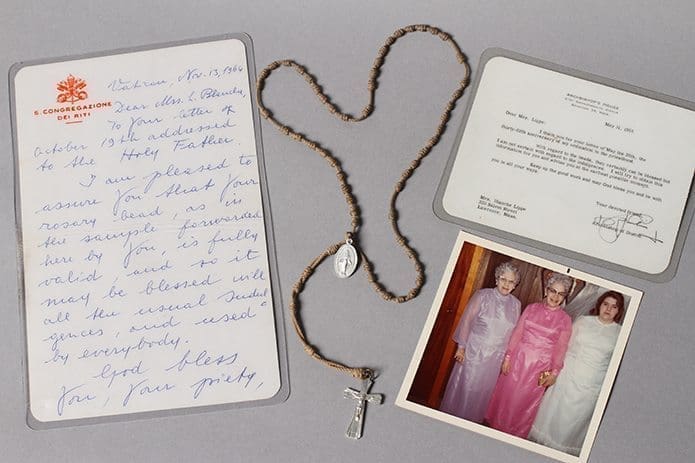 By NICHOLE GOLDEN, Staff Writer
|

Published October 30, 2014

NEWNAN—In Claire Berube's childhood home, it was not unusual to see dozens and dozens of cord rosaries draped over the arms of chairs.

Berube, a parishioner of St. George Church in Newnan, grew up in Lawrence, Massachusetts.

During the Korean War, Berube's mother, Blanche Lippe, began making cord rosaries to send to American soldiers.

"I remember her making them when I was real little," said Berube. "I helped her sort out the colors."

First Lippe made the rosaries from black, navy and brown cord, and eventually she used other colors.

Now, 60 years later, Berube recalls connections with relatives and friends, and experiences that have strengthened her faith—those happenings that some would term coincidences, but she likes to call "God winks." She wonders if others did the same for soldiers, if her memories can be put in a larger context.

Even after questioning her older brothers, Berube has no idea how or why her mother decided to become a rosary maker during those war years.

Berube does know her mother made thousands of rosaries and continued to do so after the Korean War ended in 1953.

"It was very important to her," said Berube of her mother's faith and this particular apostolic work.

Lippe, who was one of nine children, also made vestments for priests in the 1960s.

Berube still has one of the rosaries her mother made, and she said it was likely made for a child. The rosaries that Lippe created for soldiers were made large enough for them to wear around their necks.

Berube still has the tool her mother used to knot the cords to form beads.

"She could whip through one of those probably in an hour," she said.

Blanche Lippe and her husband, Leo, did not have a great deal of money, and so Berube is unsure if the cords, crucifixes and miraculous medals for the rosaries were donated or purchased. The crucifixes and medals her mother used were made of a lightweight metal.

Both of her parents worked at the local shoe factory, Cardinal Shoe.

"He was what you called a laster. He did that for years," said Berube about her father.

Blanche Lippe left work at Cardinal Shoe after an injury while on the job. An epileptic, Blanche would never admit she had a real health problem. "They always had hospital bills," said Berube.

Later Lippe befriended a Jewish woman who owned a knit shop and went to work there.

Berube, whose full name is Marie Claire Bernadette Agnes, is interested to learn if other women of her mother's era undertook work to make rosaries for those in the armed services.

After the Korean War, Lippe wrote to then-Archbishop Richard Cushing of Boston and to Pope Pius XII with questions regarding indulgenced rosaries and blessings, receiving warm replies from Archbishop Cushing, the archbishop's secretary, Father Lawrence Riley, and on behalf of the Holy Father, Msgr. Pietro Galavotti of the Sacred Congregation of Rites at the Vatican.

Berube has the letters, which were preserved and laminated by family members.

"Keep up the good work and may God bless you and be with you in all your ways," wrote Archbishop Cushing in a letter dated May 31, 1956.

Father Riley wrote one week later to Lippe with additional information and further congratulations from the archbishop for her apostolic zeal.

"God will reward you for your devotion to His Mother," he wrote. "Continue your practice of spreading devotion to the rosary."

After receiving a sample rosary, Msgr. Galavotti replied to Lippe.

"God bless you, your piety, your charity, missionary work," he wrote.

Berube said her mother never mentioned the letters, which were discovered later. In fact, her work to make rosaries was not widely known outside the family.

"My mother was not like that," said Berube of her mother's humility. "I tell everything to everybody," she added with a smile.

Throughout the nation's history, soldiers have drawn courage and comfort from having a rosary.

According to U.S. veterans' accounts, Korean War chaplain Father Emil J. Kapaun led fellow prisoners of war of all faiths in daily prayers, even praying for their captors. Among the chaplain's favorite prayers were the rosary, prayers from Mass, and Stations of the Cross.

The Vatican Congregation for the Causes of Saints declared Father Kapaun a Servant of God and he is being investigated for sainthood. Father Kapaun was a priest of the Diocese of Wichita, Kansas.

Father Kapaun died from pneumonia after seven months as a POW in North Korea, and fellow prisoners indicated in narratives that he fashioned a rosary from barbed wire on his last Easter.

According to the U.S. Department of Defense, more than 36,500 Americans died while serving in Korea between 1950 and 1953.

Blanche Lippe died at the age of 61 when Claire was 31. She has her mother's letters, as well as a signed apostolic blessing from St. Pope John XXIII for the Lippe family.

The Lippes sent their daughter to Catholic schools and faith was central in their home life.

"I thank God now I had a Catholic education," said Berube.

Berube, who recently retired as an activities director from a Newnan nursing home, grew up seeing her mother involved in activities at St. Patrick Church in Lawrence. Berube's husband Billy attended a neighboring parish and although they grew up a few blocks from one another, they didn't meet until a blind date when Claire was 24.

They dated about a week before deciding they wanted to get married and the wedding occurred a few months later.

The Berubes moved to Newnan in 1979. She started attending Mass at St. George after tagging along for an Ash Wednesday service with a Catholic co-worker.

"I had been away from the church for 20 years," she said. "This is what I call divine intervention."

The rosary continues to be important in Berube's life.

"A lot of times when I'm driving I'll say the rosary," she said.

Berube would often pray the rosary with a French/German patient at the nursing home.

"We'd say it in English," she said.

When the woman died, her daughter gave her mother's rosary beads to Berube.

"I treasure them. It seems like my life lately is about rosary beads," she said.
---
Contemporary Rosary Makers
Founded in 2003, Rosary Army is a ministry dedicated to making, praying, and giving away all-twine knotted rosaries and encouraging others to do the same. In that time, thousands of free, all-twine, knotted rosaries have been distributed around the world to anyone who requests one from the ministry's website. It is the goal of RosaryArmy.com to collect and distribute thousands of rosaries a year. Visitors to RosaryArmy.com can also watch a video on how to make a rosary or download printable instructions.