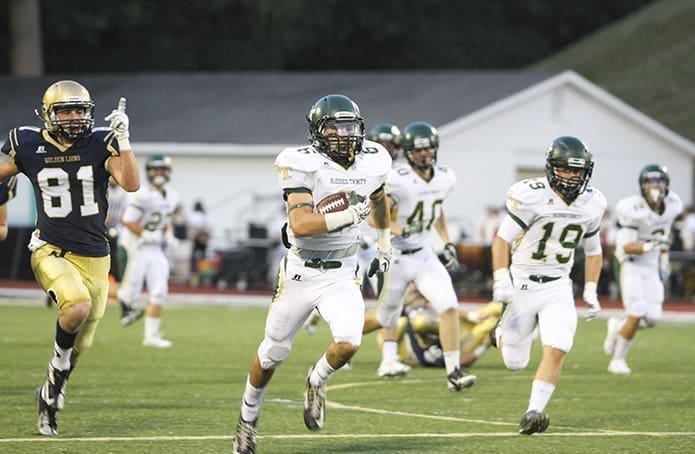 By MICHAEL ALEXANDER, Staff Photographer
|

Published September 4, 2014

ATLANTA—A capacity crowd of energetic fans saw the visiting Blessed Trinity Titans of Roswell defeat the St. Pius X Golden Lions 42-20 at George B. Maloof Stadium on Aug. 29. It was the season opener for both teams during this year's "Crosstown Showdown."

Blessed Trinity scored its first touchdown halfway into the first quarter when junior running back Milton Shelton ran the ball in over the right side from three yards out. Just before the end of the first quarter, Blessed Trinity quarterback Conor Davis threw a 33-yard pass to wide receiver Chris Siebert to set up their second score. In the first 94 seconds of the second quarter, Davis threw a short pass to Patrick Jasinski and he scampered in to give Blessed Trinity a 14-0 lead, after kicker Mitchell Rostowsky converted the extra point.

With 6:07 remaining in the second quarter, St. Pius found the end zone on a 37-yard run by fullback Lawson Cooper. The Pius team erupted on the sidelines and its fans did the same in the stands, but it was short-lived. On the ensuing kickoff return, Blessed Trinity junior Matthew Higgins ran the ball back 96 yards for a touchdown, and in just 15 seconds Blessed Trinity was back on top by 14 points. Blessed Trinity scored its final touchdown before the half when Shelton took it in from eight yards out.

St. Pius was down by 21 points, 28-7, at halftime. On the first play from scrimmage to start the third quarter, Blessed Trinity fumbled the ball, and St. Pius took over on the BT 25-yardline. It set up their second score, a touchdown run by junior running back Ransom Klinger. After a missed extra point, they trailed 28-13. Blessed Trinity responded as Shelton scored his third touchdown in the third quarter.

Both teams scored touchdowns in the fourth quarter. Blessed Trinity scored through the air on a touchdown pass from Davis to fullback Jake Bogosian. St. Pius tight end Cameron Fannon scored the team's final touchdown on a 15-yard catch and run.

Lawson was the leading rusher for St. Pius with eight carries for 69 yards. Shelton was the leading ball carrier for Blessed Trinity with 150 yards on 20 carries. Rostowsky was also perfect on all his point-after-touchdown kicks.

This was the seventh time the two Catholic schools have played each other since 2002. St. Pius still leads the series 5-2, but Blessed Trinity has won the last two. St. Pius (0-1) travels to College Park to face Woodward Academy (1-0), Sept. 5. Blessed Trinity visits Canton to take on Sequoyah High School (0-1), Sept. 5.