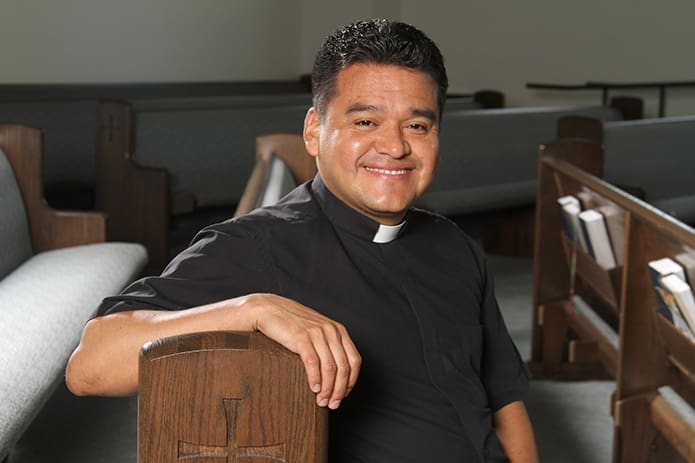 By PRISCILLA GREEAR, Special to the Bulletin
|

Published August 7, 2014

CARTERSVILLE—In his sixth year of priesthood, Father Juan Francisco Anzora feels right at home in his first pastorate at St. Francis of Assisi Church, having come a long way by faith from his home in a farming village in El Salvador.

Father Anzora and nine siblings grew up on a farm outside the capital of San Salvador with a looming sense of danger during civil war between the military and guerilla insurgency, always traveling with caution and never leaving at night. The violence hit home when his uncle with seven children was shot dead in his house down the road.

But by 1992, peace accords were signed, and the teen saw more hopeful times in his quiet religious town of Tona Capeteque where his father grew beans, corn and tobacco and raised cattle and horses. There he was inspired in faith by Jesuit Father Rafael DeSivatte, who engaged the youth and taught about the martyrdom of Salvadoran Archbishop Oscar Romero, who defended the human rights of the poor and repressed and decried government injustices before being assassinated in 1980 while celebrating Mass.

Father DeSivatte "was a man of God. He was very good with the youth in my parish. That was the first thing that made me think that maybe I would be a priest someday," Father Anzora recalled. "This priest always talked about martyrs, how they are a gift to the church. … Oscar Romero was somebody I adored as a teen. He was killed while celebrating Mass. … It was a beautiful image of the sacrifice of Jesus and the sacrifice of a priest that was motivating me."

Father Anzora continues to draw inspiration from Archbishop Romero as he begins serving as a pastor. Ordained for the Atlanta Archdiocese in 2008, he previously served as a parochial vicar for four years at Immaculate Heart of Mary Church in Atlanta and then for the past two years at Prince of Peace Church in Flowery Branch. He also served during the summer of 2003 at St. Francis and recalls often joking with the secretary, who is still there, that he would one day return as pastor. The church now welcomes him back and is hosting an ice cream social Aug. 10 for his 38th birthday and his mother's visit from El Salvador.

"I knew that I wanted to take another challenge, but I didn't know if it was as a pastor. But coming here, I liked the idea. I remembered the community is small. You can know them, work with them, and be with them," he said. "Life is interesting."

Father Anzora began his journey as a Vincentian postulant in Guatemala. But in 1999 he visited a friend in Atlanta and attended Our Lady of the Americas Mission, then in Doraville. He started volunteering then and on subsequent trips, answering phones, buying food for a pantry there and cleaning the showers made available to the homeless. There he felt maybe God was calling him to serve, as he saw how lonely many were and heard their hard stories of crossing the border.

"The diocese didn't know what to do with the Hispanics emerging everywhere. I saw the need—with a lot of immigrants coming—as somebody to take care of their pastoral and spiritual needs," he said.

He went on to become a candidate for the archdiocese in 2001, earning degrees from St. Joseph Seminary College in Covington, Louisiana, and St. Vincent Seminary in Latrobe, Pennsylvania.

In his first assignments, his pastors encouraged him to be a priest for everyone, not only the Spanish-speaking community.

"I was able to work with both communities and love both communities, and that was reciprocated to me by them," Father Anzora said.
Pastoral plan is a priority
At St. Francis three of the four Masses are in English each weekend and about 1,500 come to worship. One of his first priorities is to take simple steps to build community and respond to the archdiocesan pastoral plan now being developed.
"We are trying to create a mission and vision for the parish, who we are as St. Francis of Assisi, to make sure everybody understands—the staff, finance council, parish council— … where we are and set goals on where we want to be in the next three years," he said.
He also prays for El Salvador as he hears of the dramatic increase this year in undocumented youth arriving at the U.S. border and speaks with his family. He lamented the "extremely sad" conditions where gangs linked with drug traffickers increasingly dominate and intimidate Salvadorans. His mother advised him not to come home for a visit last January due to lack of security, and a brother recently told him gangs will leave people alone only if they give them money and ignore their crimes.
Father Anzora said he continues to learn from Archbishop Romero and reads his writings weekly. He's glad that Pope Francis has reopened the archbishop's cause for canonization and believe that he is a powerful Christian witness with his "passion for the church and the teachings of the church but also his care about the poor people who are marginalized."
"He became a voice of those who didn't have a voice. … He spoke against the oppressors and defended the dignity of every human person," he said.
As for his own call to serve, Father Anzora now joyfully forges ahead in his new ministry in Cartersville and feels blessed to serve and learn from the people of St. Francis of Assisi. When he needs to de-stress and reconnect with his rural roots, he knows where to go.
"God is good to me. Red Top Mountain is now about 10 miles," the pastor said. "I've been several times already. I will go by myself if I have to and start to walk and just sit down and pray. I wish I had more time—it has lakes and mountains."
The pastor of Prince of Peace Church, Father Eric Hill, said that some of Father Anzora's greatest assets are his prayerfulness and sense of humor. And he's good at "listening and striving to do the best for others."
"He was great to work with, very willing to serve, and was available to minister to the people of God," he said. "I'm sure that what he has learned during his priesthood, and also the gifts that God has given him, will help him to be a wonderful pastor, and I believe that he is ready. There will still be a lot of on-the-job training to come, but as long as he remains open to it, God will guide him."