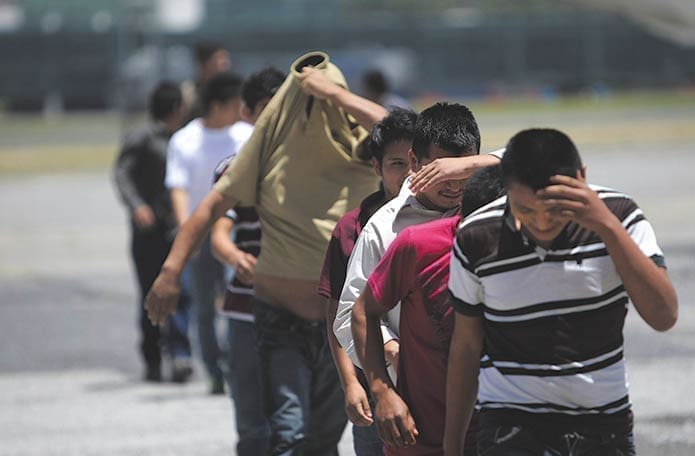 By ANDREW NELSON, Staff reporter
|

Published July 17, 2014

ATLANTA—Parishes in the Archdiocese of Atlanta are being encouraged to tap the expertise of their members and identify resources to help the wave of children crossing the United States' borders.

Officials from the archdiocese and Catholic Charities Atlanta attended a weeklong immigration conference in Washington, D.C., with a focus on the crisis of tens of thousands of unaccompanied children crossing the border.

Finding a solution is complex and many Catholics are "struggling" with what the church teaches and other concerns, said Kat Doyle, the director of archdiocesan justice and peace ministries.

"That's certainly understandable. The struggle is who we are as humans," she said.

People can weigh fiscal issues, public policy, and other considerations, she said, but faith must also be placed on the balance. "These are children of God. Each of them has a face and has a story," she said.

Archdiocesan officials spoke on July 15, 16, and 17 at three parishes, giving insights from the national conference and talking with Catholics.

The effort now is to "empower the parishes to take action," said Doyle.

People need to "be unafraid to share what we have," she said.

Frank Mulcahy, the executive director of the Georgia Catholic Conference, said dioceses on the border with Mexico face the challenge now, but he believes there will be a ripple effect across the country.

Georgia will likely have to deal with the influx of children and women at some point in the next year, and the people will likely be turning to parishes and charities for assistance, he said.

Helping the people crossing is complex, as the children are either driven from their native country because of poverty and fear of violence or "pulled" by lies fed to them. Laws in place help judges and others to aid people with legitimate requests for help, Mulcahy said.

It isn't enough to just send all who've crossed the border back, he said. Instead, he quoted Pope Francis who called for a "culture of encounter" with migrants and who also called for greater economic development in Central America.

Many of the children are reportedly coming from Honduras and Guatemala.

One concern of church leaders at the national level is that federal funds dedicated to helping those classified as refugees, people who have been already identified as fleeing persecution in violent areas of the world, not be utilized to address this new crisis.

These women, men and children who are in refugee programs receive only temporary support and very rapidly become contributing members of the community, Doyle said.

Catholic Charities Atlanta, which is a designated refugee resettlement agency, is in need of donations of furniture, sheets and other basic items so refugee families they are currently sponsoring can establish a household here.

That need should not be overshadowed by the new crisis at the border, Doyle pointed out.

Often politicians talk about immigration reform in a different way than Catholic Church leaders, she said. Comprehensive immigration reform covers a range of problems that need solutions, from the number of visas that are granted to enter this country to border control, she said. Church leaders agree revising the programs can be piecemeal, she said, as long as the process of reform doesn't stop after only one or two components are addressed.

The group also spent time on Capitol Hill talking about the church's immigration position with members of Congress. Doyle said her conversations went well, although no positions were substantially changed.  One area of agreement was that the influx of children and families at the border cannot be resolved by the United States alone but has to be a regional issue, with the countries from which people are fleeing also taking responsibility.

"It wasn't great because we agreed on everything. It was great because in the past we hardly agreed on anything. Now there was at least one thing we agreed about," she said.
---
The U.S. Conference of Catholic Bishops has a small, self-funded program to house migrant families. If you would be willing to host a family and would like more information, contact the USCCB staff at hchester@usccb.org and jpore@usccb.org.