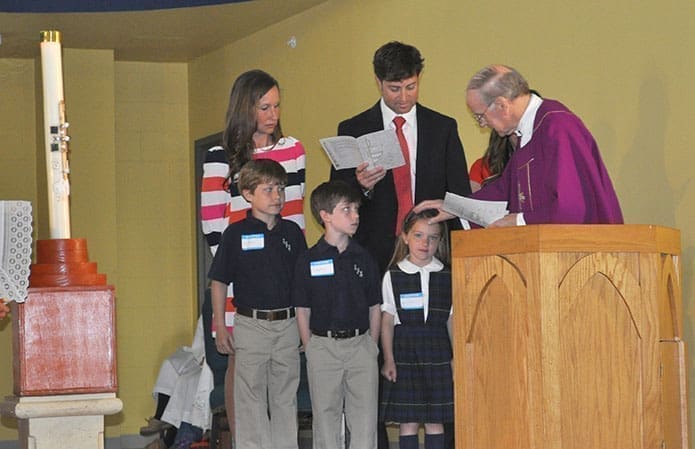 Published May 1, 2014
Three youngsters were the first baptisms at the new campus of St. Joseph Church and School.
The Athens school community celebrated the event with the Scott family on Friday, April 11.
Jackson Scott, who is in second grade, Clayton Scott, in kindergarten, and Anniston Scott, who is in the preschool, were baptized by Father David McGuinness, pastor of St. Joseph Church, during the school's weekly Mass.
The youngsters' parents are Derek and Nichole Scott. The godmother is Theresa Napoli, a teacher at the school.
Nichole Scott, 34, said the couple chose not to have the children baptized as infants because they wanted to give them the choice on their own.
The oldest has attended St. Joseph School for four years and wanted to join his friends to receive first Communion, said Scott, who is Baptist. The couple explained the meaning of baptism with their children, who then choose to enter the church, she said.
Father McGuinness made the experience very nice for the family, she said, and, in addition, all the other students watched and learned about the sacrament.
Napoli taught all the young Scotts and is a close family friend.
St. Joseph Church was founded in 1881 with the school starting in 1949. In 2013, the school moved to its new campus at 958 Epps Bridge Parkway, Athens.