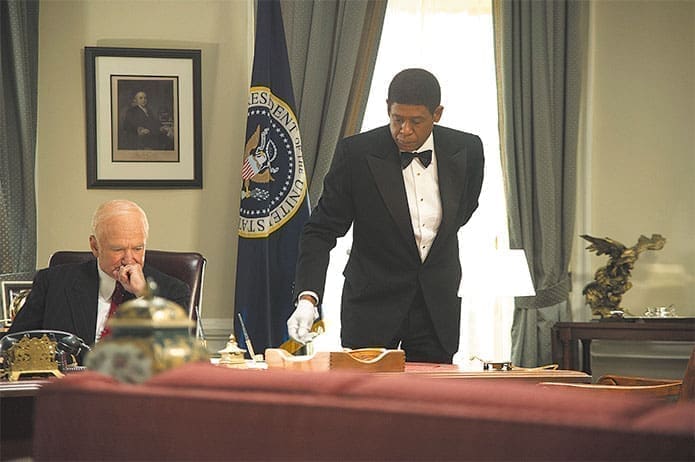 By JOHN MULDERIG, Catholic News Service
|

Published February 21, 2014

NEW YORK (CNS)—For much of 2013, Hollywood seemed to be in the doldrums, turning out a good deal of product, but very little of quality.

With the approach of year's end, and the looming awards season, however, things improved remarkably. So much so, in fact, that by Christmas, there were an unusual number of worthwhile movies to choose from at the multiplex.

That seasonal shift is reflected in the lists below, the Media Review Office of Catholic News Service's top 10 movies—and top 10 family films—for 2013. Among the score of outstanding pictures cited, in alphabetical order, only six were released in the first half of the year.

Unless otherwise noted, the Catholic News Service classification for the films on the first list is A-III—adults, and their Motion Picture Association of America rating is PG-13—parents strongly cautioned. Some material may be inappropriate for children under 13.

As for movies in the second category, with the exceptions indicated, their CNS classification is A-I—general patronage, while their MPAA rating is PG—parental guidance suggested, some material may not be suitable for children.
Top 10 films overall for 2013
In the engrossing, complex and compassionate docudrama "Captain Phillips," the skipper (Tom Hanks) of a giant container ship is taken hostage by Somali pirates (led by Barkhad Abdi). Director Paul Greengrass skillfully re-creates the harrowing maritime ordeal while keeping the humanity of all those concerned in the foreground.
The uplifting historical drama "42" recounts the 1947 reintegration of professional baseball, a breakthrough made possible by the collaborative efforts of Brooklyn Dodgers general manager Branch Rickey (a splendid Harrison Ford) and Negro League star Jackie Robinson (Chadwick Boseman). Writer-director Brian Helgeland's film is buoyed by Rickey's feisty righteousness and by the inspiring example of Robinson's forbearance in the face of hate.
In director and co-writer Alfonso Cuaron's thrilling adventure "Gravity," a Russian missile strike destroys the space shuttle and maroons its only surviving crewmates (Sandra Bullock and George Clooney). The nearness of death provokes reflections on mortality and the afterlife, which are used as steppingstones toward a resolution that viewers of faith will find refreshingly pro-life.
The satisfying action sequel "The Hunger Games: Catching Fire" follows the further adventures of the two victors (Jennifer Lawrence and Josh Hutcherson) of a survival tournament in which youngsters from an oppressed underclass must battle to the death. In adapting the second volume in Suzanne Collins' best-selling dystopian trilogy, director Francis Lawrence decreases the intensity of the violence on screen, and his film's moral center is solid.
The personal collides with the political in the affecting fact-based drama "Lee Daniels' The Butler" which tells the story of a plantation worker (Forest Whitaker) who makes his way to Washington, where he finds coveted employment on the domestic staff of the White House. Appealing performances, especially Oprah Winfrey's complex portrayal of the main character's wife, keep the unfolding events from feeling like a checklist of postwar history.
In the wrenching and profound multigenerational saga "The Place Beyond the Pines," directed and co-written by Derek Cianfrance, a motorcycle stuntman (Ryan Gosling) re-encounters his ex-lover (Eva Mendes), who reveals they have a baby son. Determined to provide for his newfound offspring, he embarks on a spree of bank heists. The film offers a powerful message about temptation and relativism, as well as the role of conscience (L—limited adult audience, films whose problematic content many adults would find troubling; R—restricted. Under 17 requires accompanying parent or adult guardian).
In director Denis Villeneuve's powerful drama "Prisoners," a seemingly decent family man (Hugh Jackman) turns vicious vigilante after his 6-year-old daughter and a playmate are kidnapped. Though it presents the facade of a thriller, Villeneuve's film—which also features Jake Gyllenhaal as the lead detective on the case—is primarily a richly symbolic exploration of morality, the human condition and the role of religious faith in a fallen world (L, R).
Director John Lee Hancock's fact-based film "Saving Mr. Banks" recounts the behind-the-scenes circumstances surrounding the making of the classic 1964 musical "Mary Poppins," a process that involved an intense battle of wills between Walt Disney (Tom Hanks) and author P.L. Travers (Emma Thompson), who penned the tales on which the movie was based. The sincerity and wholesomeness of this comedy-and-drama blend make for a welcome change at the multiplex (A-II—adults and adolescents).
"Star Trek Into Darkness" is director J.J. Abrams' snappy follow-up to his 2009 reboot of—and parallel story to—the long-lived sci-fi franchise. Dynamic, impetuous Capt. Kirk (Chris Pine) and his seemingly emotionless first officer Spock (Zachary Quinto) lead their intrepid crew on a morally fraught crusade against an intergalactic terrorist (Benedict Cumberbatch). The underlying warning against employing immoral means to overcome evil is both scripturally resonant and timely.
A free black man (Chiwetel Ejiofor) living happily with his wife and children in antebellum upstate New York is lured to Washington, then kidnapped and sold into servitude in "12 Years a Slave," director Steve McQueen's harsh but absorbing account of America's "peculiar institution," based on the eponymous 1853 memoir by Solomon Northup. A searing depiction of the endurance of the human spirit against crushing odds (L, R).
Top 10 family films for 2013
"Cloudy With a Chance of Meatballs 2" is a cheerful animated comedy in which the young inventor (voice of Bill Hader) of a machine that turns water into food learns that the device, which he thought had been disabled, has continued to function. Directors Cody Cameron and Kris Pearn's sequel serves up colorful fun while elevating friendship and teamwork over egotism (A-II, PG).
Beautifully rendered and refreshingly good-humored, "The Croods" follows the adventures of the Stone Age family of the title—voiced by Nicolas Cage, Catherine Keener and Emma Stone—as they face the perils of climate change. Directors and co-writers Chris Sanders and Kirk DeMicco spin a diverting tale that also carries an intriguing Christian subtext.
In the sweet animated sequel "Despicable Me 2," the never very wicked and now thoroughly reformed villain of the original film (voice of Steve Carell) teams with a secret agent (voice of Kristen Wiig) to identify the perpetrator of a crime of global significance. Co-directors Chris Renaud and Pierre Coffin's thoroughly endearing comedy showcases the transformative power of both romantic love and family affection.
"Ender's Game," an enlightened and well-wrought science-fiction movie, focuses on a 12-year-old (Asa Butterfield) chosen to lead Earth's military forces against an alien race that 50 years earlier tried to colonize the planet, resulting in the deaths of millions. Director and screenwriter Gavin Hood highlights a salubrious message about the moral pitfalls of war (A-II, PG-13).
"Epic" is a pleasant animated fantasy in which a 17-year-old girl (voice of Amanda Seyfried) finds herself magically transported to a miniature world within nature where the champions of growth and life battle the dark forces of decay. Enhanced by some lovely imagery, director Chris Wedge's cheerful journey into the undergrowth sends messages about environmental stewardship, teamwork and responsibility.
In co-directors Chris Buck and Jennifer Lee's animated musical "Frozen," the new queen (voice of Idina Menzel) of a mythical kingdom accidentally unleashes her power to create ice and snow, causing an eternal winter. This good-natured film has a nice message about the enduring bonds of family as well as a few religious overtones likely to please believers.
"The Hobbit: The Desolation of Smaug," director Peter Jackson's second installment in a trilogy of films based on Catholic author J.R.R. Tolkien's novel, finds a once-timid hobbit (Martin Freeman) continuing his courageous quest to help a group of dwarves (led by Richard Armitage) recapture their ancestral stronghold from the terrifying dragon (voice of Benedict Cumberbatch) who displaced them. Implicit warnings against the corrupting influence of wealth and power accompany his adventures (A-II, PG-13).
"Jack the Giant Slayer" is a fun fable in which the romance between a peasant boy (Nicholas Hoult) and a princess (Eleanor Tomlinson) is imperiled when a beanstalk of his own unwitting creation suddenly sprouts up, carrying her aloft to a land of people-eating giants. Director Bryan Singer's faith-tinged retelling of the classic fairy tale is set in an alternate version of the Middle Ages where characters freely acknowledge God (A-II, PG-13).
"Monsters University," director Dan Scanlon's animated prequel to the 2001 hit "Monsters, Inc.," centers on two best pals (voices of Billy Crystal and John Goodman) were not, it seems, always so fond of one another. This tale of the duo's college years reinforces familiar but important messages for young people (and their parents): Make friends, study hard and apply your unique talents for the greater good (G—general audiences).
Aesop's fable of the tortoise and the hare gets a Formula One makeover in the rollicking animated comedy "Turbo" as a garden snail's (voice of Ryan Reynolds) wish for super speed is unexpectedly granted after a freak accident. Director and co-writer David Soren's warmhearted family adventure champions the underdog and upholds the bonds of familial love.
---
Mulderig is on the staff of Catholic News Service.