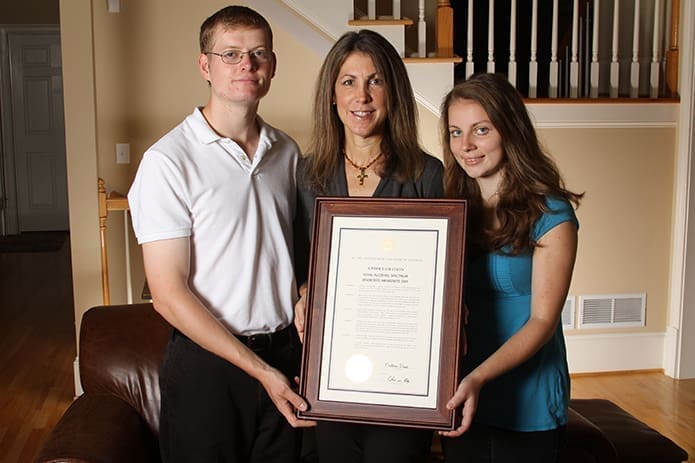 Published August 30, 2013
ATLANTA—Sept. 9 is being recognized by the state of Georgia as Fetal Alcohol Spectrum Disorders Awareness Day, thanks in part to a parishioner at All Saints Church.
Melissa Jacobus Cook hopes churches and other houses of worship in Georgia will join a global effort to ring bells at 9:09 a.m. on Sept. 9 to signify abstaining from alcohol for the nine months of the pregnancy and as a sign of support to families confronting the disability.
Cook's family has dealt with this "invisible disability" for 16 years. As an adoptive mother, her mothering instincts kicked in when something just didn't seem right. Her research into FAS disorders began, and the prayers continued.
From six to 22 infants with fetal alcohol syndrome disorders are born each day in the United States, and as many as 87 to 103 more are born with other impairments resulting from prenatal alcohol exposure, according to the Centers for Disease Control and Prevention.
The disorder is preventable by a woman abstaining from alcohol while pregnant.
According to a 2004 report, studies "reveal that it is one of the most costly birth defects." The lifetime cost for one individual with FAS in 2002 was estimated to be on average $2 million. It is estimated that the cost to the United States for FAS is over $4 billion annually, according to the CDC.
The proclamation, signed by Gov. Nathan Deal on July 1, reads in part: "Children are Georgia's greatest resource and blessing. Fetal Alcohol Spectrum Disorders not only threaten members of our younger population, but all age groups, and pose a risk to our state's future. … Children and adults with FASD can succeed with treatment and appropriate strategies. Increasing public awareness of the effects of prenatal consumption of alcohol for primary prevention and the need to support individuals with FASD and their families will contribute to the productive development of individuals with fetal alcohol spectrum disorders, family stability, and quality of life."
Cook, who serves on several advocacy organizations for the disability, said parents wrestling with the disability can take heart that with the right intervention individuals with the disorders can succeed and be productive community members.