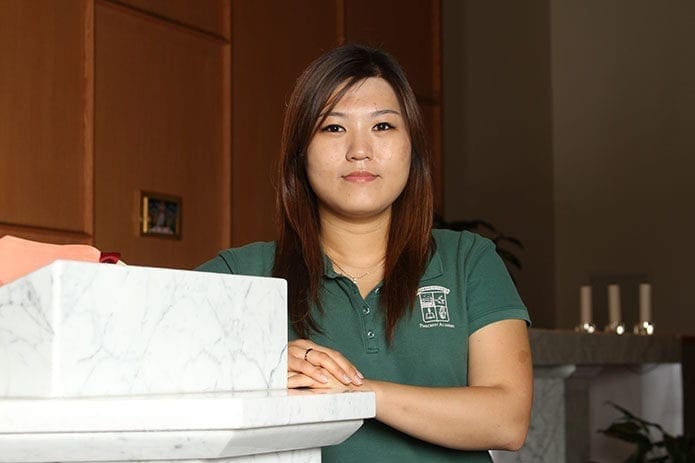 By STEPHEN O'KANE, Staff Writer
|

Published May 9, 2013

CUMMING—When Jinny Kim entered Pinecrest Academy, she was in a new school and in a new country, surrounded by people who measured success in a different way.

Kim, whose full name is Jin Sol Kim, was born and raised in a town near Seoul, South Korea. She had lived in the Philippines for a few years before arriving in the United States three years ago to finish her high school education at Pinecrest, an independent Catholic school of the Legionaries of Christ in Cumming.

Growing up in South Korea, she was surprised not everybody in America pursues money and material success and that young people are encouraged to explore their interests.

"The teachers and schools are more interested in giving the students a chance to do what they want to do in their life," she said of American schools. "In Korea a lot of the students are … all pressed to focus only on study."

One of three children of Kunhee Choi and Juhwa Kim, Jinny said her mother wanted her and her siblings to have a more diverse education focused not only on academics but also areas such as sports and leadership. She is the first one in her family to study in the United States.

As one can imagine, being in a new place without family, friends or anything familiar can be a stressful transition, and for Kim it was no different. The language barrier caused some initial difficulty for the teen, but over the last three years she has excelled, earning a 4.14 grade point average.

She first lived with a family friend in Georgia until a family situation caused her hosts to move to New York. That left her searching for a new place to live. After requests went out to the school community, Jocelyn Sotomayor, assistant principal, and her family, who are members of St. Brendan the Navigator Church in Cumming, offered to host Kim during her remaining time at Pinecrest.

Sotomayor said, "Jinny has transformed the lives of so many people around her, starting with mine. She is caring, determined and is always looking for ways to learn more, to learn new things. Quickly after she arrived at Pinecrest, she found her place within our school and certainly she found a home in our family."

"They are my family," said Kim of the Sotomayors. "We had happy moments, sad moments together, and I learned a lot of things from them. … They are just a part of me."

Kim said she learned about the sacredness of marriage, the importance of family and also about the Catholic faith.

She became a Christian during her time in the Philippines. At Pinecrest, Kim noticed something different about the Catholic faith and was inspired by the devotion of the school community, so much so that she entered the Catholic Church two years ago.

"The first time I was inspired was at the Mass," she said, noting that she just felt something different spiritually in a Catholic Church. "I can't explain what it was … but it was beautiful."

"All of my friends are really devoted and they practice their faith," she said. "So I kind of started questioning what I was believing in … and got to know more about the Catholic faith, and then I converted."

"After that, everything made sense," she said.

Kim is planning to attend Gainesville State College in the fall. She also has a dream of serving this country through the military and hopes to participate in the Military Accessions Vital to National Interest program, which permits the enlistment of legal aliens with certain vital skills in the U.S. Army. Ultimately she would like to serve as an Army surgeon.

Her accomplishments already and the standards she sets for herself suggest she will reach her goals, a Pinecrest faculty member said.

"Jinny never settles for mediocre and always pushes herself to a higher level of understanding, of excellence," said Elizabeth Hetzel, her English teacher. "But it's Jinny's incredible grace that I find most striking. Despite her many achievements, she remains humble and approachable."

Jocelyn Christianson, high school campus minister, called her "a girl with a huge heart that she continually puts at the service of God and of others."

"I always sense a great desire in her to do something to love more, whether it be for her family far away, for her friends and classmates, for the poor and neglected, or for God himself," she said. "She doesn't settle for what she has accomplished, but strives for higher. I know that whatever she does, she will excel in, because not only is she a hard worker, but she is moved from within and there is no stopping her once she puts her mind to something."

Asked what advice she would give someone entering a new environment—whether it be high school or a new country—Kim said, "Define what success is for you and don't let success define you. … Success is different for everybody."

"And always try to be humble," she added.
---