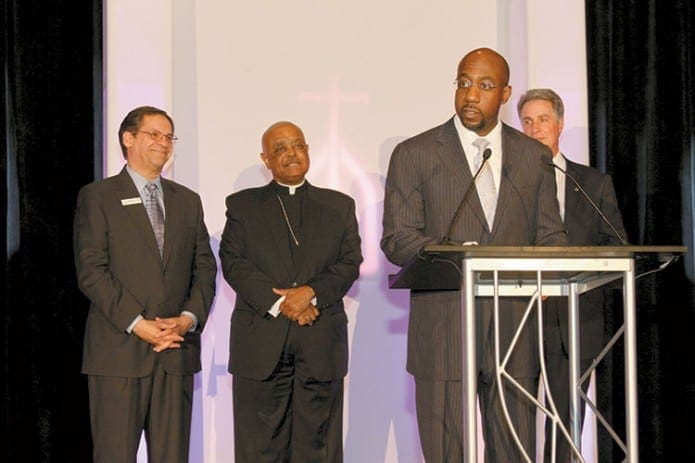 By STEPHEN O'KANE, Staff Writer
|

Published April 25, 2013

ATLANTA—Recognizing six decades of service to individuals and families in North Georgia, supporters, friends and staff members of Catholic Charities Atlanta gathered for the organization's annual gala on Thursday, April 18.

Serving as the charity's largest fundraiser, this year the gala put special focus on the 60-year anniversary of CCA, recounting its history and looking toward the future. More than 400 people attended the event, which was held at the Foundry at Puritan Mill in the King Plow district of Atlanta.

Beginning with a silent auction featuring prizes such as a dinner for four with Archbishop Wilton D. Gregory, original artwork, golf packages, overseas trips and jewelry, the event provided an opportunity for guests to visit with each other while placing bids using electronic technology.

Special guests included Miguel San Juan, the new chief executive officer of Catholic Charities Atlanta, Archbishop Gregory, the auxiliary bishops of Atlanta, Bishop Luis R. Zarama and Bishop David P. Talley, and the Rev. Raphael Warnock, Ph.D., senior pastor of Ebenezer Baptist Church, who received the Archbishop John F. Donoghue Award. The award is given each year to a person who demonstrates qualities of selfless service and devotion to helping others in need.

San Juan spoke before the dinner, briefly retelling his boyhood story, that he was aided by Catholic Charities as part of Operation Pedro Pan, which sheltered Cuban children sent to the United States by their parents in the 1960s to escape the communist government. He recalled the crucial work the organization has done throughout the country since its inception and said he continues to be inspired by the work they do.

"I am impressed by the impact of Catholic Charities," said San Juan, noting that 96 percent of the refugees aided by Catholic Charities Atlanta become self-sufficient within six months.

The charity serves nearly 1,000 ongoing clients per year, said San Juan, and has helped more than 1 million people in its 60 years of existence.

Under the umbrella of Catholic Charities Atlanta, many services and programs are offered with the overall goal of helping clients become self-sufficient. Programs include immigration legal services, which helps eligible individuals and families obtain permanent legal status in the United States, and refugee resettlement services, helping those who come into the country as refugees, fleeing violence or persecution. Services range from finding and furnishing an apartment for refugees to orienting them in the ways of the community and helping them find employment. Other CCA programs include housing counseling services, where clients are helped to develop a budget, create an action plan, and learn about the process of foreclosure and their rights as a homeowner, and disaster preparedness and response, in which CCA works with local community groups, schools and parishes to help prepare communities to respond to natural disasters and serves as a resource over the long haul in disaster-afflicted towns and cities. CCA also offers a range of counseling services to individuals, couples and families, as well as those in crisis pregnancies.

The evening's honoree was introduced by Joe Galvin, chief operating officer of Catholic Charities Atlanta.

Rev. Warnock is the senior pastor since 2005 of Ebenezer Baptist Church in Atlanta, the spiritual home of the late Dr. Martin Luther King Jr. and his father, Daddy King. Having responded to the call to ministry at an early age, Rev. Warnock became, at age 35, the fifth and the youngest person called to the senior pastorate of the congregation, which was founded in 1886.

Before coming to Ebenezer, he trained and served within the pastoral ranks of leading congregations also known for their deep spiritual roots and strong public witness. He began as an intern and licentiate at the Sixth Avenue Baptist Church of Birmingham, Ala. From there, he served for six years as the youth pastor and four years as the assistant pastor of the historic Abyssinian Baptist Church of New York City.

In Atlanta, he also serves as head of the MLK Sr. Community Resources Collaborative, which is in the process of opening a community resources complex in Atlanta's Sweet Auburn and Old Fourth Ward district to boost the economic stability of families and work alongside residents to improve financial literacy, workforce development, education and family support. Other members of the collaborative are the Center for Working Families, Operation HOPE, Casey Family Programs and Catholic Charities Atlanta.

It is for this important work that CCA chose to honor Rev. Warnock with the Archbishop Donoghue Award, which recognizes "acts of charity, compassion and other contributions that have significantly impacted individuals, families and children living in Atlanta and North Georgia."

"I want to thank Catholic Charities for this award. I'm humbled and honored," said Rev. Warnock, adding that he hopes the community resources initiative will become a model replicated in other communities around the country.

It is a great example of how "the faith community and the nonprofit community" can come together for the benefit of local people, he said.

Rev. Warnock also commented on the important work of Catholic Charities, saying that he has seen firsthand how the organization "engages" the community, and he thanked the nonprofit, its members and its supporters for being a part of the collaborative. He said he is grateful for the leadership of the Catholic Church in the community.

"Archbishop Gregory makes us all proud," he said to a round of supportive applause from those gathered at the event.

The evening also featured a short video about the history of CCA featuring highlights from the last 60 years. Many chuckled as they recognized faces and reminisced over their involvement with the organization.

The gala also placed special significance on the future as a new program was described called the "Savings Match Program" or "Individual Development Account." The program aids clients by assisting with a down payment on a home, matching up to $4,000 of the client's funds. A member of the Poudel family, originally from Bhutan, spoke of the positive impact the program has had on the life of his family, who came to the United States in 2009. The family was recently able to purchase their own home, with their savings being matched by CCA. According to the organization, a total of six refugee families, who saved more than $22,000 of their own money, have purchased homes. CCA matched their funds, so a total of $44,000 went toward down payments and closing costs.

According to CCA, in fiscal year 2012 the organization helped more than 17,000 individuals in need throughout central and north Georgia by "providing help and creating hope with a range of life-impacting services."

More than 75 employees at Catholic Charities Atlanta provide services in over 23 different languages, and in fiscal year 2012, some 1,500 volunteers donated more than 18,000 hours of service. The organization offers its services at five agency locations and 15 parishes throughout the North Georgia area.