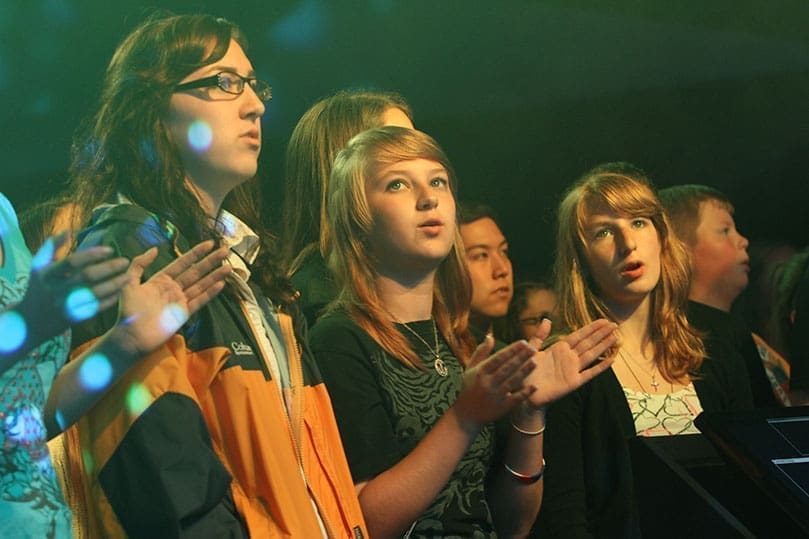 By STEPHEN O'KANE, Staff Writer
|

Published December 6, 2012

The former social hall at All Saints Church has been transformed into "Studio ONE," the new backdrop for a budding revamped XLT program for Catholic teens in the Archdiocese of Atlanta.

The November session, the third since it began in September, drew more than 400 teens from 33 parishes. XLT Atlanta features an elaborate production with sound, lights, live worship and praise music and a guest speaker addressing teens on faith. But the most powerful facet of the evening is the spiritual nourishment the teens receive during Eucharistic adoration.

Gayle Ohrenberger, director of campus ministry at St. Pius X High School, Atlanta, attended the November XLT with eight students. The opportunity to be present in silence before the Eucharist was powerful for her but also for the teens.

"For (teens) to take time in the silence to contemplate the presence of Christ is incredibly important for them," she said. "(Teens) are bombarded with music and sounds and images all day every day. XLT provides a great place that is able to draw them in through their own experience, and at the same time they step aside and let God work."

"XLT really does a good job of setting up an experience that gives them an authentic witness of the faith," she said.

The evening from 7 to 9 p.m. begins with a greeting from Adam Lindenau, the middle school youth director at All Saints and studio producer for XLT events, who welcomes the teens and introduces the musicians. Praise and worship music follows before the evening's speaker addresses the teens. XLT ends with Eucharistic adoration, sometimes in silence or with a guided meditation.

"(XLT) helps to show teens that Catholics are relevant, that they are within the age that we live in," said Lindenau, 21, an advertising student at Savannah College of Art and Design. "It's a beautiful witness to these teens that the Catholic Church 'gets it.'"

Lindenau said the program would still be successful without the extra attention paid to production. However, the fact that they go the extra mile really shows the youngsters that they are a priority and that people are dedicated to providing an authentic spiritual experience.

While Lindenau and others behind the scenes have been using social media outlets such as Facebook and Twitter to attract teens, Lindenau says the best marketing happens when teens bring their friends along. If the teens are really enjoying themselves and have a positive experience, they are going to bring others the next time, he said.

Jay Cavalli, who came in November with some friends from Boy Scout Troop 550 at Immaculate Heart of Mary Church, Atlanta, had a positive experience.

"I liked the adoration. I liked we were all together, but we were all reverent and everyone was focused," he wrote by email later. "(XLT is a) good way for teens to meet other teens who like similar things like worship and going to … church."

Parent Cindy Palmer took some teens from the troop and was impressed with Studio ONE and the event as a whole.

"It is great that the parish supports youth in such a big way," she said, adding how it was nice to see teens from so many parishes in one place. "So many parishes came together to support it. The teens got to see others' joy about their Catholic faith."

A focus has been placed on bringing talented musicians and speakers from outside Georgia. While there are great speakers and musicians in the Atlanta area, Lindenau said the exclusivity of having an out-of-town guest sparks even more interest for the teens.

"Most of them have just been blown away," said Lindenau. "All of the speakers that we have pulled in have made appearances at Steubenville conferences," so they are known by, and relevant to, the teens.

November's XLT featured Jackie Francois as the musician and speaker. Many of the teens had seen her at Steubenville conferences but had a much more profound encounter with her at XLT.

"The teens were like, 'Oh my gosh, we saw Jackie in front of 4,000 teens and here we actually got to talk to her after the event,'" said Lindenau. "So it is a very intimate space … a close encounter."

The XLT experience left Ohrenberger and her teens excited about bringing more students the next time. Their first group of eight was comprised of various grades, ages and walks of life, and she now has a goal of bringing 30 to 40 students when the program kicks off again in January.

"That is an amazing gift that the program has—to be able to reach teens of all different ages, all different levels of spirituality, and yet give the same truth," said Ohrenberger.

"We live in a culture with a lot of uncertainty, a lot of conflicting truth and a lot of relativism," she continued. "We are made for God, and our students are searching for that. They are looking for a way to be countercultural because they don't want to live a life that's duplicitous. … We have a duty and responsibility to give them the answers."

Beginning in January All Saints Church will host three more XLT nights through March. Speakers will include Mart Hart, a popular speaker and writer on faith for youth and a Life Teen national leader, with the Ike Ndolo Band, and Randy Raus, Life Teen's executive leader, with musician Greg Boudreaux.

In the subsequent series in 2013, Lindenau said they will be inviting pastors to join in an elaborate session of adoration with a Eucharistic procession. There will also be a special focus on vocations.