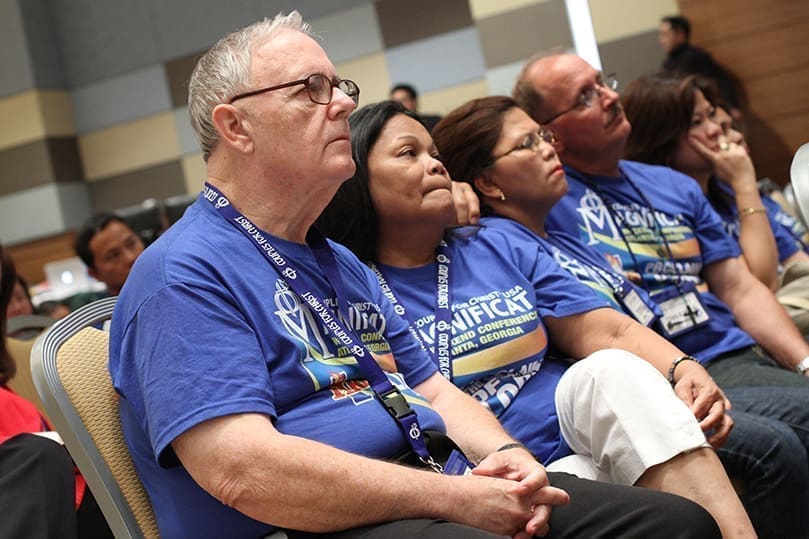 By MICHAEL ALEXANDER, Photographer
|

Published July 19, 2012

Nearly 1,000 people from 21 states associated with Couples for Christ USA attended the organization's Eastern conference at the Marriott Marquis Hotel, Atlanta, June 29 to July 1. The conference theme for the "Magnificat weekend" was "Proclaim the Greatness of the Lord." The mother of Jesus was held up as a model for couples in the way she served as the "first and perfect disciple." A Western conference also took place in Los Angeles July 13 to 15.

Here's a few facts about Couples for Christ:

– Couples for Christ is a movement designed to renew and strengthen Christian family life through an association of Christian couples committed to the Lord and one another.

– It originated 31 years ago in Manila, the Philippines, out of a local Christian community's efforts to evangelize married couples and has grown into a worldwide organization, present in 126 countries.

– Its global vision includes "families in the Holy Spirit renewing the face of the earth" and its global mission is "building the church of the home and the church of the poor."

– Couples can attain membership by attending a seminar called the Christian Life Program with 12 weekly meetings. The first four meetings address the fundamentals of Christian life, the second four present the kind of life God calls couples and families to, and the last four help couples fully commit their lives to Christ.

– Once couples become fully initiated into Couples for Christ, they become part of a small group called a "household," which is made up of five to seven couples who come together weekly in an effort to support and encourage one another in their Christian way of life.