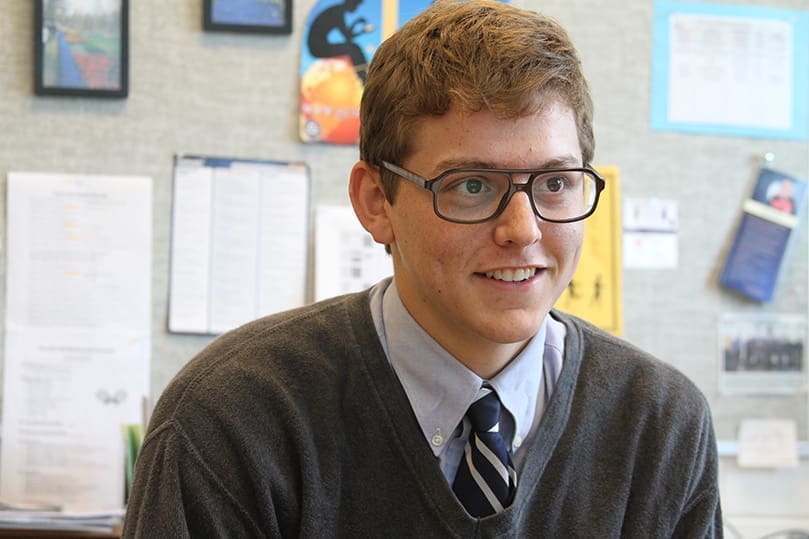 By STEPHEN O'KANE, Staff Writer
|

Published May 10, 2012

As Monsignor Donovan High School senior Ben Taylor approaches graduation, he reflects on the last four years as a time of friendship, education and preparation.

Scheduled to attend nearby University of Georgia this fall, Taylor is no stranger to making changes. The senior was homeschooled until he began attending the Athens high school where he has become used to the more defined structure of Monsignor Donovan's schedule.

"Of course, I don't like waking up early," said Taylor with a smile. "But the structure of high school … has really prepared me for college, working a job and just managing my own life."

Managing time has become an important skill for Taylor, who has been involved in the community in various ways, both inside and outside of the classroom. Between playing baseball, serving as the vice president for his class and volunteering at the Emmanuel Thrift House, Taylor has no problem keeping busy. Currently he is working with other students to organize "Ram Jam," a battle-of-the-bands style benefit concert. Proceeds will support outreach efforts in Haiti.

"All the money raised goes to Haiti, a missionary (program) in Haiti called Bethlehem Ministry," he said. "We get high school students from all around, and they play. It's a lot of fun."

Inside the classroom, Taylor has also learned some valuable lessons from his teachers about effective study habits and time management.

"All of my teachers are excellent," said Taylor, who noted that the chair of humanities, Sarah Traut, has been especially instrumental in his journey.

"She gave us helpful tips that helped me personally develop as a student and as an individual," he said of Traut.

Traut noted that Taylor has been a great addition to the Monsignor Donovan community, always putting forth his best effort and often rising to the occasion when times got tough.

"Ben brought creativity and passion to our daily discussions and the 19 writing projects produced during the 18-week course," Traut said of Taylor's performance in the advanced writing class she taught.

"Ben is an outstanding student and person," she continued. "His contributions to Donovan High School both in and out of the classroom have been exceptional."

Over the next few years, Taylor hopes to pursue a law degree from the University of Georgia, as he eventually wants to serve as an agent for the Federal Bureau of Investigation. The ideas of handling tough cases and traveling for work are attractive to him.

"I think that would be a really interesting job to have," he said. "I would really enjoy helping others and benefitting society" in that capacity.

Now that he has been through four busy years of high school, Taylor has learned enough to pass along some advice to those youngsters who will soon begin their high school journey.

"Try to take in all the experience of high school, try to have fun, but don't get yourself in trouble," he said. "If you have a good bunch of friends, they'll support you."

While he is excited to begin a new phase of his life and education, Msgr. Donovan will always be a special place for Taylor.

"I love Donovan completely. I've made a ton of friends, and I've had great times here," he said.