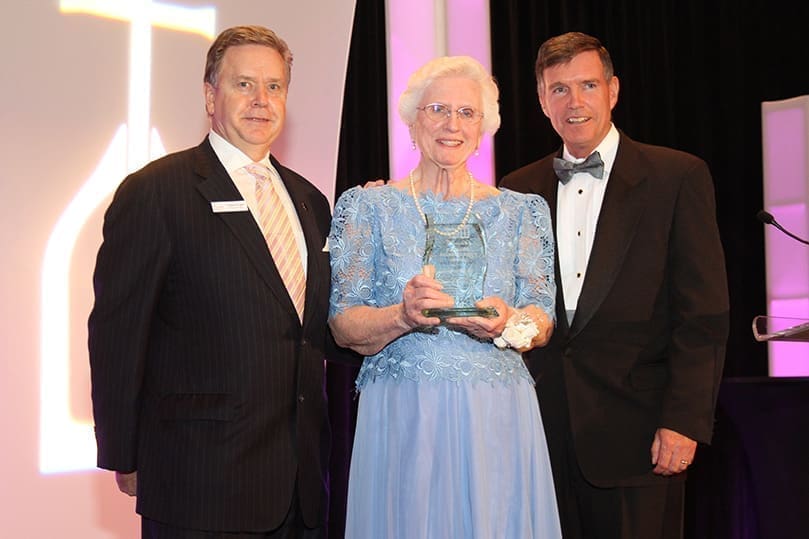 By STEPHEN O'KANE, Staff Writer
|

Published May 10, 2012

Some 500 people attended the fifth annual Catholic Charities Gala on Thursday, April 19, drawing support from friends, raising funds for its programs, and honoring Mercy Sister Valentina Sheridan.

The event is the organization's largest fundraiser, with all proceeds helping the agency serve its clients in their transitions from adversity to self-sufficiency. This year's gala raised some $315,000 with additional donations still being received.

Special guests for the evening included Atlanta Archbishop Wilton D. Gregory, Auxiliary Bishop Luis Zarama and keynote speaker Greg Willits, host of the Catholic radio talk show "The Catholics Next Door" a daily three-hour talk show on Sirius 159/XM 117: The Catholic Channel.

The gala also placed special significance on the life and work of Sister Sheridan, affectionately known to many as "Sister Val," as well as highlighting the important role that women religious play in the Archdiocese of Atlanta as a whole.

Recipient of this year's Archbishop John F. Donoghue Award, Sister Sheridan's more than 60 years of service to the church as a Sister of Mercy was honored, with friends commenting on the selfless service she has provided for the Atlanta Archdiocese during the past 45 years.

The award recognizes acts of charity, compassion and contributions that have significantly impacted individuals, families and children living in Atlanta and North Georgia.

"This evening it is my very special privilege to recognize Sister Val," said Archbishop Gregory before blessing the meal.

"Val, you are such a blessing to this local church," he continued as a loud burst of applause and whistles began among the attendees. "Sister Val is one of those people who brings joy to my heart."

A native of Macon, Sister Sheridan entered the Sisters of Mercy in 1949. Using her background in education and administration, she devoted herself to ministry in educational settings and parish work. She has an extensive career of service to the people of the church, working in the dioceses of Savannah, Baltimore, Washington, D.C., and Mobile, Ala. Sister Sheridan has served as the principal of Our Lady of the Assumption School, Atlanta, as well as the Superintendent of Schools for the archdiocese.

Most recently, Sister Sheridan led Mission Integration at Saint Joseph's Hospital for the past five years. She served as the hospital's director of pastoral care for 13 years. Saint Joseph's Hospital was established by the Sisters of Mercy over 125 years ago and was Atlanta's first hospital.

Surrounded by family and friends, Sister Sheridan expressed her thanks for the support and recognition of her devoted work over the past several decades.

"More than anything I want to thank the church of Atlanta, the people of God, who have embraced me since I first came to the archdiocese 45 years ago," Sister Sheridan said. She commented on the witness to God's love and presence the Catholics of Atlanta have provided, as she felt overwhelmed with gratitude for their recognition of her work.

"If I have made any contribution to the church in Atlanta, it is because of you, all of you, who welcomed me, who supported me and who have continued to sustain me," she said. "Thank you from the bottom of my heart."

Joseph Krygiel, chief executive officer of Catholic Charities Atlanta, also commented on Sister Sheridan's life of service, which he said exemplifies the mission of Catholic Charities.

"What a wonderful example of servant leadership she has been, serving the church for over 60 years," he said, also taking a moment to thank all of the religious men and women who have dedicated their lives to serve the church and the Archdiocese of Atlanta.

Willits, the evening's keynote speaker, shared the importance of the role that religious women played in his life as well. Weaving together humorous personal stories and heartfelt gratitude, Willits presented an entertaining and genuine expression of his faith, which was nurtured and strengthened by his family and the religious figures of his childhood.

"Throughout my life, nuns really have been some of my first examples of charity," said Willits. "Nuns have meant a tremendous amount to me."

The evening also featured a silent auction with BidPal technology allowing all to place bids electronically. Silent auction items included tickets to Atlanta area attractions and sporting events, artwork, stays at vacation homes, restaurant gift cards, home and garden items, and themed gift baskets donated by parish groups and individuals.

Catholic Charities Atlanta provides a holistic combination of accredited social services that remove barriers to self-sufficiency and wholeness. Services are tailored for the unique circumstances of the people the organization serves, and are provided professionally, compassionately, and in multiple languages regardless of background.