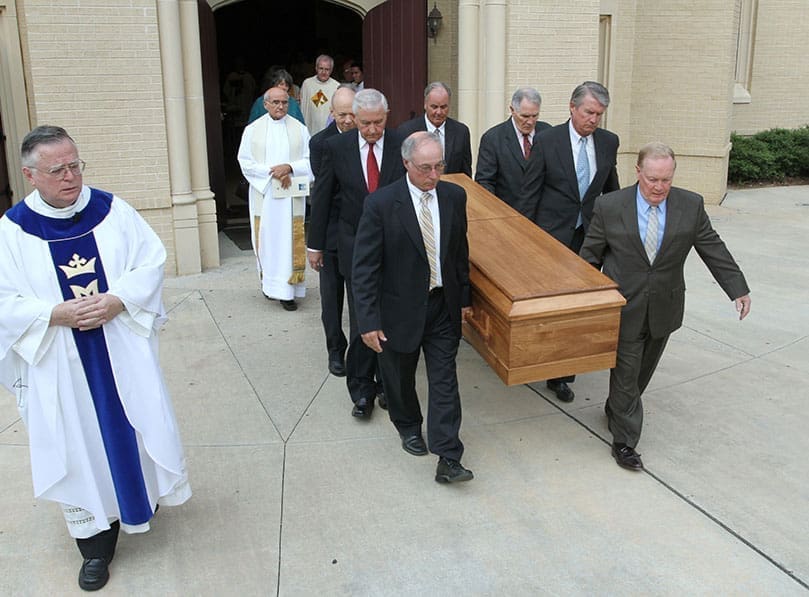 By ANDREW NELSON, Staff Writer
|

Published September 1, 2011

Father Lawrence R. (Larry) Schmuhl, a longtime presence on the campus of Marist School and at parishes around the Atlanta Archdiocese, died Aug. 22. He was 90.

A priest for 64 years, the Chicago native was a member of the Marist Fathers and Brothers religious community.

Since 1968, Father Schmuhl served in Atlanta, except for two years at St. Joseph Church in Paulina, La.

His nephew, Father Lawrence McNally, remembered "Uncle Larry" as a family favorite, one who always made the holidays more fun and someone who loved his ministry as a priest.

"Priesthood was his life. His life was the priesthood," said Father McNally during the funeral.

Father McNally said his uncle's ordination card from 1947 quoted from the Gospel of Matthew when Jesus said, "Let the children come to me."

And during his ministry, he made a point to connect with young people, sharing the faith and sharing what life had to offer.

"He made that holy card come alive," said Father McNally, who grew teary-eyed remembering his uncle. Father McNally said he served as a proud altar boy for his uncle and found his vocation by his example.

As a young person, Father McNally said he and his cousins kept an eye out to see his uncle's approaching sedan. It was an exciting time because when Father Schmuhl arrived it inevitably meant more ice cream, he said.

"Uncle Larry always made us feel very important. He always fussed over us," he said.

Nearly 50 priests from the archdiocese, Marist religious community and other religious congregations concelebrated the funeral Mass on Aug. 25. Archbishop Wilton D. Gregory presided at the Mass and the main concelebrant was Father Timothy Keating, the provincial of the Marist Fathers and Brothers, Atlanta Province.

Father Keating said his fellow Marist carried an "irrepressible joy" about life.

He said many men in the Marists know and respect Father Schmuhl from his years traveling the country as a vocation director. For himself, Father Keating said he was attracted to the Marists as a teen by meeting Father Schmuhl.

"I want to be like that guy," he recalled thinking at the time.

He lived a happy, fulfilling life, Father Keating said.

Father Schmuhl attended the seminary at St. Mary's Manor, Penndel, Pa., in 1934 and professed his vows in 1941. His theology studies were at Marist College, Washington, D.C., where he was ordained a Catholic priest in 1947.

As a new priest, he served at Our Lady of Lourdes Church, Minneapolis; Sacred Heart Church, Atlanta (with responsibility for St. Joseph Church, Marietta); and Marist College (now Marist School), Atlanta.  In 1950 he began 18 years in service to the Marists as vocation director and director of the Mission Band.

In 1968 he became superior of the Marist community at Marist School and in 1974 business manager of Marist School. From 1980 to 1985 Father Schmuhl was pastor of St. Joseph Church, Marietta, where he later returned as associate pastor through 1996, when he retired to the residence at Marist School and began a ministry as assisting priest to Our Lady of the Assumption Church, Atlanta, and many other parishes.

Ed Schafer, a friend of Father Schmuhl, remembered his history with the Marietta parish, calling it a "lifelong love affair."

Father Schmuhl left an imprint on the life of the parish that is still felt even so many years after he left. "It's amazing how many people he touched. He had thousands of names that he kept in touch with," said Schafer.

"Let us thank God to have allowed this kind, gentle, holy man into our lives," he said.

An avid golfer until recently, Father Larry played at Atlanta courses with fellow priests, Marist alumni, and other friends.

Both the vigil and the funeral Mass were celebrated at Our Lady of the Assumption Church. He was buried at the Marist plot in Westview Cemetery, Atlanta.

Father Schmuhl is survived by two sisters and brothers-in-law, Valerie and Gus Chathas of Hickory Hills, Ill., and Marguerite and Walter Pietraszak of Munster, Ind., along with many nieces and nephews. He was preceded in death by his parents, Lawrence and Valerie (Waldron) Schmuhl; his sister, Mary Jane McNally; and his brothers, Robert and James.

With his affection for the students at the Marist School and the Marist community, suggested memorials are to the Father Lawrence Schmuhl Scholarship Fund at Marist School, the Marist Fathers and Brothers (Society of Mary), or a recipient of one's choice.