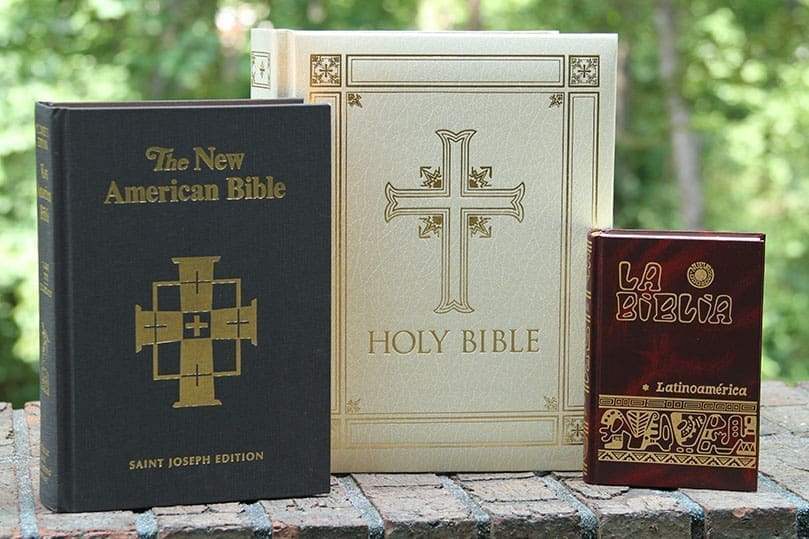 By GRETCHEN KEISER, Staff Writer
|

Published August 4, 2011

The corridors of the St. Peter Chanel Church complex hummed with voices July 22 and 23 as hundreds took advantage of the presence of national Catholic biblical scholars speaking on a tripod of themes inspired by a recent papal document on the Bible.

Some 350 people from 33 states and from Pakistan, Israel and Canada, joined lay people, adult education leaders and clergy from the Archdiocese of Atlanta at the 2011 National Catholic Bible Conference.

Using the 2008 reflection "Verbum Domini" by Pope Benedict XVI as a guide, speakers dove into how Scripture reveals God, how Scripture is embedded in the prayer and life of the Church, and how praying with Scripture, in community and alone, leads to proclaiming the Gospel. The pope's reflection came from the first Synod of Bishops he called as pope, for which he chose the theme of Scripture.

"The fact that God's words—something God has said and is still saying—is accessible in the world is the most exciting news I can imagine," said Dr. Tim Gray, quoting the pope's reflection on the importance of Scripture.

"God's word to us is an invitation, a summons to a relationship … a personal encounter with the God who speaks," Gray said in an opening address at the conference.

"What is astonishing to Pope Benedict is God has invited us into the divine texting, the divine dialogue of the God of love," he said.

The first day after Jesus' resurrection, some of his disciples encountered him as a stranger on the road to Emmaus, where he explained the meaning of Scriptures to them and then broke bread with them, which opened their eyes to his identity.

Catholics do the same every time they go to Mass, Gray said.

"Every Sunday we are present with Jesus on the road to Emmaus. We move from that Liturgy of the Word to that Liturgy of the Eucharist when bread is broken and the Word made flesh is given to us. … The word and the sacrament belong together," Gray said.

After recognizing Jesus, the disciples ran to tell others, he pointed out, and that's the "fire in your heart" that leads people to "take that message and share it with the world."

"When we approach Scripture, the fundamental beginning for us as Catholics is to approach it as the word of God," said Gray, a doctor of biblical studies and seminary professor in Denver.

Modern life offers a flood of information, constant means of staying in touch with people, and a confusing array of voices offering advice, he said.

"Do we go to the self-help section of Barnes and Noble? Do we go to the blogs? Do we go to talk radio? Or do we create space in our lives to hear the word of God," Gray asked.  "In the deluge of words, how many of those conversations are with our heavenly Father? How many are spent listening to God?"

As he experienced on a recent overnight hike with his son, a lot of silence can lead to a few minutes of real conversation.

"Do I create the kind of time where God can speak to me?" he asked.

Deacon Mike Bickerstaff, who directs adult faith formation at St. Peter Chanel Church, said Catholics approach the Scriptures in a distinct way, looking at the Bible as a whole, considering the context of each passage, not just a passage in isolation, as well as the surrounding passages, the book in which it appears and the book's place within the whole Bible.

"We should be careful to be guided by those who know how to read it and who are authorized to teach it," he said in an interview.

Catholics believe that Scripture and sacred Tradition are linked and that Scripture is seen in light of church Tradition and revealed truth, not alone.

St. Peter Chanel, which has a major Catholic speaker series and has put a lot of effort into an adult education program of Bible study, apologetics and theology, was asked to host the national conference, which was also sponsored by Ascension Press, the Augustine Institute, a Catholic new evangelization graduate school in Denver, the Integrated Catholic Life e-magazine and Catholics Come Home, Inc.

"One of the goals from my standpoint is to let Catholics know they do not have to look outside the church for study materials and for Bible teachers, that the church has everything they need," Deacon Bickerstaff said.

"Second is to plant that passion in them to spend time with (the Scriptures) in meditation," he said.

"It is most of all an encounter with the risen Christ in the sacred text," the deacon said. "If you are seeking him and encounter him in his love letter to you, you cannot help but be transformed for the good."

Other presenters at the conference included Jeff Cavins, director of the Archbishop Harry J. Flynn Catechetical Institute in St. Paul, Minn., who has developed the Great Adventure Catholic Bible study program, an interactive, practical program to teach the chronology of the Scriptures that has generated subsequent programs, including ones on the Gospel of Matthew and the Acts of the Apostles.

An estimated 40 Bible study leaders from 12 states who are using the Great Adventure series in parishes came to the conference, organizers said.

Patricia Jannuzzi, director of new evangelization at Immaculate Conception Church in Somerville, N.J., said, "These Scripture studies have been a tool through which God has totally changed the parish."

"It is explosive, that is all I can say," she said.

Facing a situation where only about 15 to 17 percent of the parish was attending Mass, Jannuzzi said about six years ago the pastor and she decided to start from the ground up in new evangelization. For two years a small group of about 20 active parishioners met weekly using the Great Adventure Bible study as a basis for faith sharing. The original group then became facilitators for new Bible study participants, now numbering 150, she said.

They've also started a Catholic book discussion group, a John Paul II cultural program of plays, and hope to establish perpetual adoration at the parish.

"It is a long haul. We are focusing on getting our house ready before we invite people back," she said, adding that the Bible study program is effective because "they are not just about the head."

"They go right here," she said, pointing to her heart.

Cavins said there are between 3,500 and 5,000 groups around the country at any given time studying the Bible using the Great Adventure series.

"There is a new springtime," he said. "The Catholics are coming to an understanding of the Bible, not only within the community but within their own lives. It is a new day. It is exciting."

In a session on the new English translation of the Roman Missal, Dr. Edward Sri showed how changes in some of the prayers and responses at Mass that will be used starting this Advent reflect scriptural texts or have greater depth in light of biblical references they were intended to invoke.

"I think this is going to provide us a chance to ponder what we are really doing. … I hope we can bring about a great catechetical renewal in the teaching on the Mass," said Sri, who holds a doctorate from the Pontifical University of St. Thomas Aquinas in Rome. "This is a great chance for parishes, dioceses, small groups to get together and study the Mass."

In a session on reaching young Catholics born between 1984 and 2002, speaker Katie Peterson said their favorite books—Harry Potter, the "Twilight" series, "Lord of the Rings"—offer a roadmap of what they are looking for, including characters they can relate to, lessons they can apply to their own lives, a connection with the author and an excellent plot line.

"Show them the captivating plot of the Bible. The youth need to know their life is part of a bigger picture, a bigger story," Peterson said. "We need to share the story with them so they can connect with the living God."

Young people who often lose friends and make mistakes need to hear "God will never abandon you" and "God forgives you and loves you even in the midst of your sinful state," she said.

"We need to help teens cultivate a relationship with the author of Scripture, with God" and "to read Scripture as a two-way conversation with God," said the communications manager for Catholics Come Home, Inc.

"The number one thing teens look for in a church is to make a connection with God," she said.