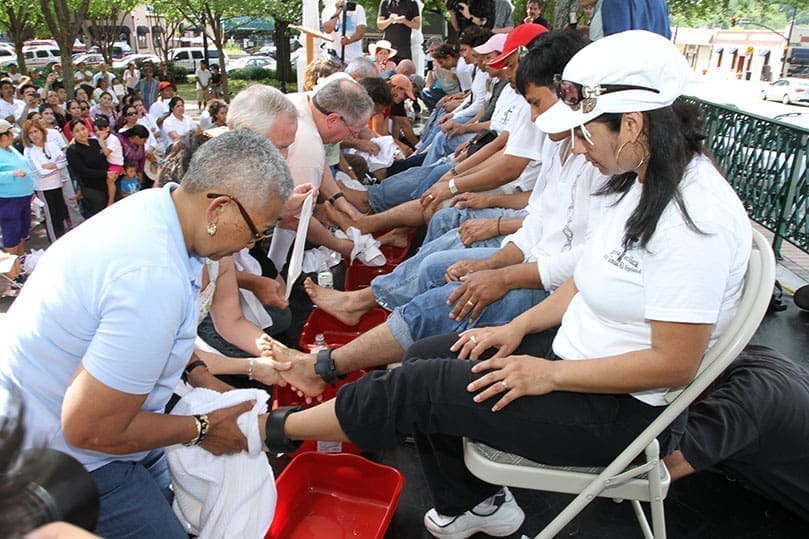 By ANDREW NELSON, Staff Writer
|

Published April 28, 2011

Juan Vazquez slipped off his sneakers and his socks. Cherilyn Larsen cracked open a water bottle and poured the water over his feet before it tumbled into a plastic basin. Using a hand cloth, she dried his feet.

"I felt very good, really blessed," said the 33-year-old Vazquez, in Spanish. "It felt like a very special act," he said, recalling the Gospel story of Jesus washing the feet of his disciples.

On Holy Thursday, hundreds of men, women, and children covered eight miles from St. Thomas the Apostle Church, Smyrna, to Marietta Square as the second to last day of a weeklong pilgrimage for immigrants.

Walking behind a large cross, the group entered the bustling square, surrounded by an Australian bakery, antique stores, the Strand Theater with flowers blooming in the lush greenery under a sunny sky.

The foot washing was meant to recall Jesus' example of serving, letting immigrants receive the care.

"It's tough because I can never really be in their shoes. I saw this as an opportunity to show them I do care and do see them as family," said Larsen, who with her husband, Pete, walked close to 30 miles over several days with the march. She said too often people look at tougher fines and jail time for those in the country illegally as justice, but the Bible calls for a different type of justice, which means understanding what drove people to take the risk of moving from their native land. People look at this as "selfish instead of self-sacrifice," said Larsen, 28, a Christian, who lives in LaGrange where she is giving a year of service.

It's the third year that immigration advocates in the archdiocese have made the pilgrimage during Holy Week.

Washing feet mimics Jesus' actions toward his disciples, which Jesus did with the mandate that it should be done by his followers, said a pilgrimage organizer, P.J. Edwards.

"We are all equal. We are serving each other," he said.

A dozen folding chairs were lined up in the gazebo overlooking the square. Sitting in the chairs were women and men, all Hispanic, who had their feet washed by kneeling American citizens. Seven of the dozen women and men face court proceedings related to deportation, and a few could be seen wearing court-ordered ankle monitoring bracelets.

Deportation of illegal immigrants has sharply increased in recent years. According to a study by Syracuse University, during the first nine months of fiscal year 2010, 279,035 non-U.S. citizens were removed from the country. The deportation rate has almost doubled during the past five years, according to the study.

The humble gesture of foot washing touched people.

"I don't have words to explain it," said Rocio Arellano, 24, whose feet were washed. She came to the country at 13 with her family. Now the mother of a 4-year-old, she was arrested for driving without a license to get to her job installing rain gutters and landscaping, she said.

Arellano, who worships at St. Thomas the Apostle Church, says the foot washing showed her another side of America.

"It means a lot to me—just having a person who doesn't think like other Americans. There is an acceptance of them for us," she said.

Faith has grown more important for her recently. Arellano said she's no longer nervous about the court appearance, handing over the decision to God's will.

"I'm willing to follow his path," she said.

Tougher laws against illegal immigrants have been enacted in recent years, including in this year's legislative session with the passage of HB87. Organizers said the lack of compassion toward illegal immigrants is disappointing but only reinforces the need for public displays of support, like the march and foot washing.

Edwards says he is dismayed to see politicians attack the immigrants, but he feels it is part of the Catholic tradition to remain faithful in the face of opposition. Meanwhile, he and others work on educating people, from churches to business organizations, about immigration issues.

"More and more people are willing to learn. That does give me hope," he said.

LaSalette Father Jim Kuczynski, the pastor of St. Thomas the Apostle Church, said, "It makes this more imperative that we keep doing this, applying the Gospel."

The walk allows people to understand each other better, he said.

"Once you become friends, you are not strangers and aliens any more," he said.

Monica Angel, 19, a student at Georgia Perimeter College and member of St. Thomas the Apostle Church, said she feels a duty to be involved.

"I know they don't have a voice, but me, as a citizen, I do have a voice," she said.

Jesus showed people how to treat each other, she said.

"We should learn from that," she said.

Tim Isaacson showed up to support the immigrant community. Isaacson lives in Doraville, which is a multi-ethnic community, he said. Many of his neighbors are Hispanic and concerned for their families, he said.

"This is an issue that's going to affect all of us and the people I love," he said. "I wanted to make a public stand with them."

"You have to be clear about what you believe, especially in Holy Week. You cannot hide in the shadows," he said.