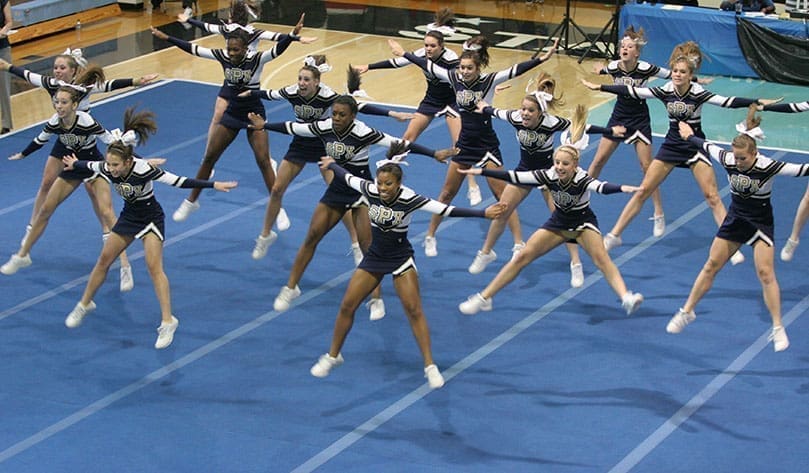 By MICHAEL ALEXANDER, Staff Photographer
|

Published November 11, 2010

St. Pius X High School captured first place in the Nov. 6 region cheerleading championship at Starr's Mill High School. Describing St. Pius' routine, head coach Alison Bruckert said, "Our routine has a high level of difficulty, incorporating group stunts, pyramids, one-man stunts, tumbling, and basket tosses." The girls also included jumps, a cheer and a dance in the routine. With the win Pius advances directly to the Nov. 13 state finals in Columbus to compete among 15 other top teams in the state. Bruckert added, "The region win puts us in a great frame of mind as we enter the state competition. Without question, it builds the girls' confidence." She also said the team is fully aware of the competition they will face at the state level, so they can't afford to take the region victory for granted.

Over 40 high schools competed in the region championships. In its first year of Georgia High School Association competition cheerleading, Pinecrest Academy, Cumming, finished in sixth place.

Blessed Trinity High School, Roswell, captured its seventh region title during the region championship at North Gwinnett High School, Suwanee, Nov. 6. They will also advance to the Nov. 13 state championships in Columbus. Head coach Chris Bordnick said, "Our routine is very difficult. Every girl on the team has running, tumbling and standing tucks. The flyers and bases are always willing to try anything we ask, and nine times out of 10 they hit whatever we ask for." Blessed Trinity finished in 10th place during the 2009 state championships.