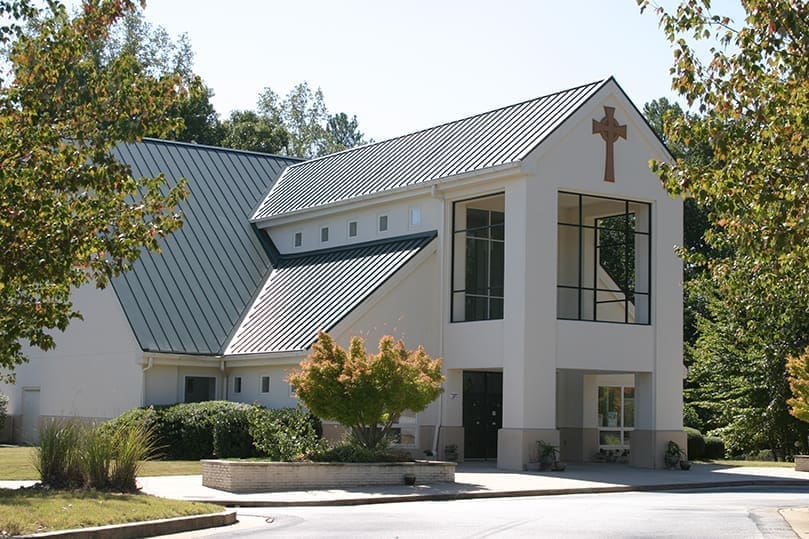 By ANDREW NELSON, Staff Writer
|

Published October 14, 2010

At its quarter century mark, members of St. Theresa of the Child Jesus Church paused to celebrate how far the multicultural community has come as it focuses on the future.

"Even though St. Theresa's is a well-established parish, it has a tremendous potential for growth. It's a good challenge to have," said the pastor, Father Fernando Molina-Restrepo.

The parish is "people from all walks of life seeking to grow in their Catholic faith journey," he said. "We are a community that cares about people."

Reaching the milestone has spurred a parish program of re-evangelization to "increase the spirit of invitation and unity within the parish," said the pastor.

The roots of the parish go back to 1973 when St. John Vianney Church opened in Lithia Springs and Catholics in Douglasville worshipped there. The numbers of Catholics in Douglasville, some 20 miles west of Atlanta, continued to grow.

In 1984, close to 300 families lived in the area. And some dozen families approached Archbishop Thomas A. Donnellan to open a new parish in Douglasville.

On Aug. 8, 1985, the parish was established. Father Edward O'Connor was its first pastor.

When Father O'Connor became its spiritual leader, people gathered in a funeral home chapel to celebrate their faith. Later, the community moved to a rented building.

Since those days, renovations and new buildings have filled the property at 4401 Prestley Mill Road.

On Aug. 6, an anniversary Mass was celebrated with many former pastors returning to the parish. Father Molina-Restrepo presided at the Mass, along with Father O'Connor, Msgr. Hugh Marren, Father Stewart Wilber and Father Richard Tibbetts. Retired Atlanta Archbishop John F. Donoghue also attended. Former parochial vicars Father Bill Hao and Father Joseph J. Shaute returned for the event. Father Eric Hill, Father Carl Zdancewicz and Father Daniel Fleming were also there.

The event continued with a special reception and dancing at The Centre in Douglasville.

Father O'Connor served for six years as the parish community grew. During his time, a new church building was dedicated.

A lovely, two-story building on South Elizabeth Drive was the first rectory. Daily Mass would bring more than a dozen people, who'd socialize afterwards with coffee and snacks.

"By noon, I had to throw them out so I could get some work done," he joked.

It was a good start for the parish to meet in the funeral home, he said. "It was quite a large chapel. It was ideal because everyone was at the same Mass. It was nice that we didn't have two (Masses) to split the parish."

It was a point of pride that the church was dedicated within four years after the parish was established at the cost of $960,000 in 1989. Its stained glass windows were created at the Monastery of the Holy Spirit in Conyers.

In a window of Jesus with children, there is a shamrock that honors Father O'Connor, who came here from Ireland. He insists he had nothing to do with the shamrock.

The church name came down to a parish vote. St. Theresa was selected by a wide margin over the other suggestions, all honoring other women saints. Father O'Connor said he was well pleased because St. Theresa is a favorite saint and he spoke often of her life in homilies.

Father O'Connor, who is retired, celebrated his 50th anniversary of ordination at St. Theresa during the summer.

"It was great. I have wonderful memories," he said.

The early community grew quickly. Attendance at weekend Masses jumped to about 630 people once the congregation moved into the new church. Five or six families were registering each week.

He was succeeded by Msgr. Marren, Father William Hickey and then Father Wilber. Father Tibbetts served the community for eight years until 2009 when the current pastor arrived.

Over the years, the parish campus was built out. First, classrooms were constructed in the church basement. Opening the education center in 1999 was the final step in a $1.7 million project that included replacing the roof on the church, the addition of a large commercial kitchen in the church's parish hall, expansion of the parking lot, storm sewer improvements, work on the rear service road and landscaping the property. In 2003, a new rectory was built.

Now, St. Theresa Church has grown to about 1,300 families. In recent years, Hispanics fill the pews, with people from many different Spanish-speaking countries, from Mexico to Costa Rica. There are two Spanish Masses on the weekends.

Father Molina-Restrepo is assisted in his ministry by Father Kizito Nkemjika Okeke and Father Michael Silloway, parochial vicars. Also four permanent deacons serve here too: Deacons Charles Patrick, Terry Holmer, Ron St. Michel and Israel Melara.

The Stewardship and Renewal Committee is spearheading the parish revitalization. It's focused on reminding church members how they can use their talents in the parish, encouraging people to share what they have and spreading the news of the community.

Father Molina-Restrepo said the church is starting small faith communities around Douglasville. The vision is to have church members meet in their neighborhoods and living rooms to discuss faith, Bible study and prayer.

"The goal is, little by little, to involve the whole parish," he said.

One of the leaders of the effort is Leslie Choo, who became Catholic in 1998 as an adult.

The goal is to "energize a greater level of enthusiastic participation in the spiritual and ministerial life of St. Theresa," said Choo, who attends church with his wife, Susan.

"Stewardship is not something we should do two weekends out of a year and forget about it," he said. It's a conversation among church members about how the community can better follow Christ, he said.

People mistakenly think stewardship is only about money, Choo said. The parish's goal is to build community first among its diverse members and get people involved in programs. Only then does money get discussed, he said.

Parish life is busy with different ways to serve. Five ministries are involved with social justice, from Respect Life and grief support to St. Vincent de Paul. The parish holds a Passion play near Easter. The celebration for Our Lady of Guadalupe starts with a procession of dancers in the morning and concludes with a bilingual Mass in the evening. Since August, the parish holds 24-hour adoration on Friday.

The parish has grown from its first meeting in a funeral home and there is more to come. "My dear parishioners, God has many things for us to do here and now; let's get to it," said Father Molina-Restrepo in his homily at the anniversary Mass.