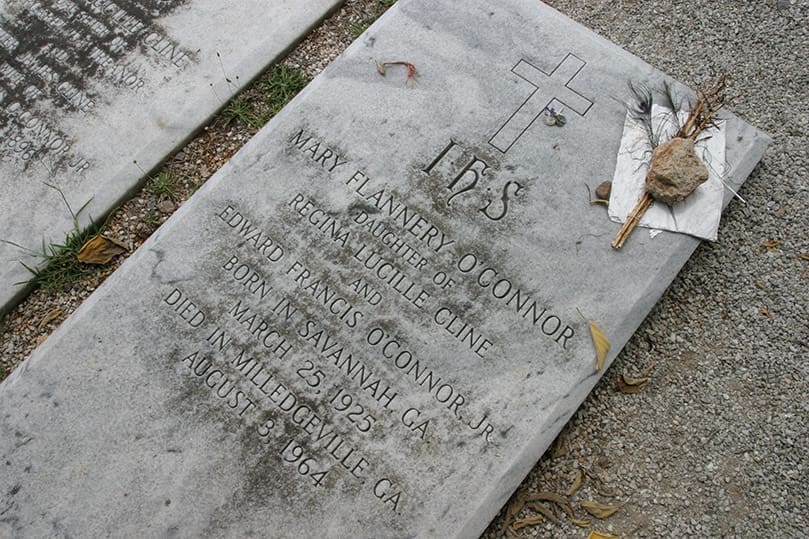 By STEPHEN O'KANE, Staff Writer
|

Published October 29, 2009

 Unassumingly positioned at the corner of North Jefferson and Hancock streets in downtown Milledgeville is a simple, quaint building that has served as a place of worship and ministry for Catholics for more than 135 years.

Matching the look and feel of the rest of Milledgeville's historic district, the brick building, along with the Milledgeville Catholic community, has witnessed a unique history, from its beginnings in 1874 when the church was constructed to the present day where its parishioners come from all around the globe.

Perhaps best known as renowned Southern fiction author Flannery O'Connor's home parish, the church offers parishioners and visitors the chance to worship from the same pews as the Catholic writer.

Sacred Heart Church has become a stopping point for those interested in Milledgeville history and for literary tourists as well as for Catholics who are passing through.

O'Connor was the great-granddaughter of Mr. and Mrs. Hugh Donnelly Treanor, the family responsible for bringing the Catholic community together in the 19th century. Catholic Masses in Milledgeville were first celebrated in the rooms of the Treanor family at the Newell Hotel, beginning as early as 1845.

Deborah Vess, a professor of history at the neighboring Georgia College and State University where Flannery O'Connor was an undergraduate, said the O'Connor connection is "a living part of the community." She said O'Connor's writings are very important to the college's curriculum and to the residents of Milledgeville as well. In addition, the college library houses a collection of O'Connor manuscripts, drawings, books and memorabilia which attracts scholars, and holds programs on her writings.

"Her legacy is still felt," said Vess, who is also a Sacred Heart parishioner.

Mary Flannery O'Connor was born in Savannah on March 25, 1925, to Edward and Regina Cline O'Connor. She began her education in the city's parochial schools and, after the family's move to Milledgeville in 1938, she continued her schooling at the Peabody Laboratory School, which associated with Georgia State College for Women, now Georgia College and State University.

When she was just 15, O'Connor's father died from lupus, the disease that would eventually take her own life at the age of 39.

In 1945, O'Connor received a scholarship in journalism from the State University of Iowa, where she eventually pursued a master's degree in creative writing instead.

It wasn't until she was diagnosed with lupus in the early 1950s that O'Connor returned to Milledgeville, a town that held a special place in her heart. She remained there until her death in 1964.

During that time, O'Connor lived quietly at Andalusia, the family farm just outside of town, with her mother, Regina. Even though she suffered from the effects of medications used in her treatment, O'Connor managed to devote a good part of every day to writing, even taking a surprising number of trips to lecture and read from her works.

Nestled near Georgia Military College, Georgia College and State University, and the former Georgia Capitol, O'Connor's church is one of the oldest standing Catholic churches in Georgia and on the National Register of Historic Places.

In 1873 Bishop William Gross of Savannah visited Milledgeville, which was then Georgia's capital city, and addressed more than 500 people on the steps of the statehouse, eventually raising nearly $4,000 to build a church on the property that was the former location of the Lafayette Hotel. The church was completed in April 1874 and contained handmade pressed glass that had been part of the hotel.

Father Robert Kennedy served as the church's first pastor from 1889 until 1894. Then Jesuit priests from Pio Nono College in Macon administered it until 1901.

In 1956 Sacred Heart Parish came under the jurisdiction of the newly established Diocese of Atlanta.

The church held a centennial celebration on Nov. 3, 1974, under pastor Father Dennis Dullea, as Atlanta Archbishop Thomas Donnellan and Savannah Bishop Raymond Lessard blessed and rededicated the building. A parish hall that was built in the 1940s and 1950s was rededicated to Flannery O'Connor in 1985.

In the early years of the parish, only 57 people were listed as members. Now more than 300 families with a diversity of backgrounds worship at Sacred Heart.

A large number of Cuban families immigrated in the early 1960s, a presence that is still prominent in the parish today. Current parishioners also hail from South America, Europe and Asia.

Vess said the diversity "really enriches our parish." She said the church and community changed her life in many ways, especially since she now sees a growing number of young adults from the nearby colleges attending Mass.

"You wouldn't believe the numbers," said Vess. "It is a great example for other kids on campus."

"The parish is fairly significant in the history of Catholics in Georgia," she said, adding that it is a testament to the spread of Catholicism in the South.

Sacred Heart Church is now under the direction of pastor Father Young Nguyen, who recently succeeded Father Michael McWhorter.