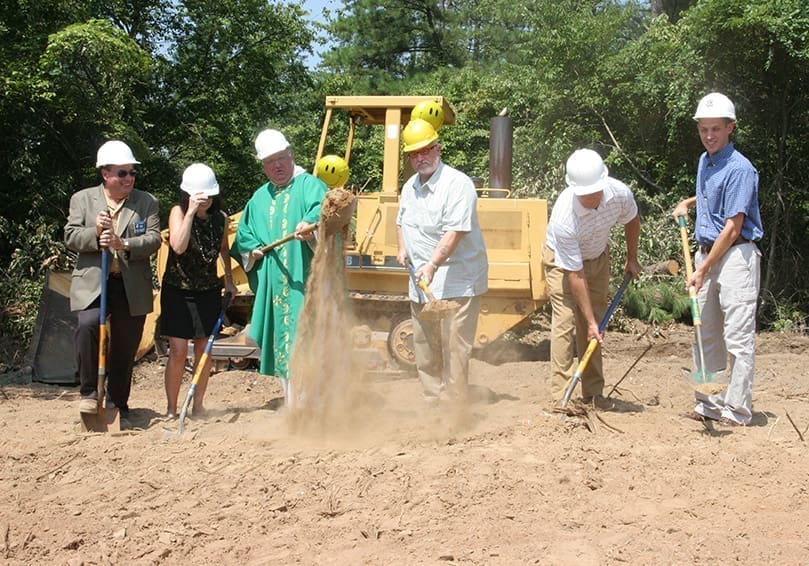 By MICHAEL ALEXANDER, Staff Photographer
|

Published August 6, 2009

Members of St. Benedict Church gathered in the bright summer heat of July 26 to break ground for a new parish family center at the church. The center and surrounding 2.8 acres of land will be used to conduct parish-wide activities such as carnivals, parish picnics, Friday night movies for families, outdoor Masses, outdoor Christmas scenes and special events in an outdoor green space environment. The estimated cost of the project is $2 million.

Outdoor seating and pavilions will be available for families to have barbecues in a shaded area. The facility will include 11,500 square feet of seating and a good view of the center's porch from any area, and the 8-foot wraparound porch will also provide room for seating.

In plan for the two-story building is a top floor of 4,800 square feet available for use by the ministries at St. Benedict's, also serving as an overflow area when existing space in the church is unavailable. Inside the new family center will be an area for special events, including space for about 200 people in the main eating area for events such as wedding showers, anniversary parties, family reunions, spiritual retreats and award banquets. A commercial kitchen will accommodate most caterers' needs. The lower level will be unfinished with a storage section, a maintenance area and additional restroom facilities.

In addition to the green space area and the building, a Stations of the Cross walking path is planned, which parishioners can utilize as a place of meditation and prayer. Special lighting is planned for the cross of the 12th Station (Jesus Dies on the Cross).