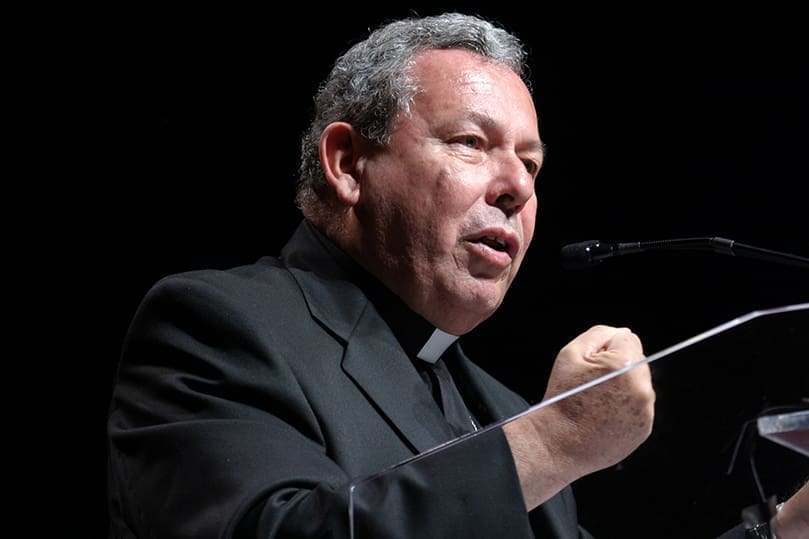 By RUTH E. DÁVILA, Special To The Bulletin
|

Published June 18, 2009

Latin American religious and lay speakers called for a fortification of faith while addressing the Hispanic Track's largest audience to date at the 2009 Eucharistic Congress. The core message was that in times of adversity, Christ still conquers through love—and his victory is realized in the Bread of Life.

The transformative power of the Eucharist was palpable for Juanita Zacarias, who traveled from Carrollton with a small group of parishioners from Our Lady of Perpetual Help Church.

A young mother, Zacarias said she faced great hardships upon leaving her home in Guatemala to work in the United States. Among them was falling in love with the father of her 3-year-old daughter, who would not commit to marrying her.

"Through the trials and tribulations of life, I kept hearing the voice of God telling me, 'I love you, I love you,'" she said.

Zacarias thanks her parents for her Catholic upbringing, which led her back to the church after a rocky period—and to the Eucharistic Congress for the past four years.

"Now it's up to me to take what I've learned and apply it and transmit it to others," she said.

Jairo Martinez, director of the Archdiocese of Atlanta's Hispanic Ministry and a main organizer of the track, expressed his gratitude for the work and wisdom put forth by a first-class roster of speakers.

"Our main goal was to offer to our Hispanic brothers and sisters the opportunity to continue growing in their faith by learning and experiencing deeper the holy Eucharist," Martinez said.

Between speakers, a sea of animated attendees raised their voices, hands and spirits to the Latin beats of Emmanuel, a popular choir from St. Thomas the Apostle Church in Smyrna. Mexican-born Rudy Velasco, a leader of the archdiocese's Hispanic youth and young adult ministry, served as master of ceremonies.

"The music played an important role," Martinez said a few days after the congress. "People enjoyed it a lot. We have received calls from people expressing their joy."
A Christian Battlefield
Launching the track, Msgr. Luis Zarama, one of two vicars general for the archdiocese, set a lively tone. In response to a roll call of nations—Mexico, Colombia, Nicaragua, El Salvador, Panama, Guatemala, Honduras and others—people shouted out upon hearing their native country.
Following Msgr. Zarama's introduction, Father Pedro Poloche, chief advocate for Atlanta's Metropolitan Tribunal, led the first session: a timely discussion of how to overcome crises, based on St. Paul's Letter to the Ephesians.
Aquiles Perez, a 31-year-old catechist at St. Thomas the Apostle, said Father Poloche's talk hit home. Though he lacks legal documentation, Perez, a married father of two, is fluent in English and has lived in this country since he was 15. But now, after being detained last year for driving without a license, he awaits a deportation trial.
"Father Poloche said you have to stand up and face your problems, not just sit there, lamenting," said Perez. "You must arm yourself with courage and say: I will not be defeated."
In addition to immigration, Father Poloche said the Hispanic community is up against a number of issues: unemployment, marital problems and youths dropping out of school, joining gangs and becoming pregnant.
"In the middle of all of this," he said, following the congress, "it's necessary that, at a given moment, we make a massive, explicit profession of the Catholic faith. The simple fact of coming together (at the congress) is a statement in itself."
He was overwhelmed by the number of Spanish-speaking participants at the congress making their confession—often a long overdue one—many of whom he was able to hear personally. "The opportunity to reencounter this sacrament and the church—that alone justifies the congress," he said.
Bread Of Life
For the midday talks, two Colombians took the stage: Archbishop Jose Octavio Ruiz Arenas, former archbishop of Villavicencio and now vice president of the Pontifical Council for Latin America, and Oscar Henao, Ph.D., a well-known theologian from Medellin.
Archbishop Ruiz Arenas spoke steadfastly of Christ's love centered in the Eucharist, drawing from two papal encyclicals. Having resided in Vatican City for the past two years, he shared an intimate perspective of the church's current priorities.
"The pope wants to promote international solidarity, with the aim of surmounting the economic crisis that is oppressing the poorest people and underdeveloped nations," Archbishop Ruiz Arenas said the day following the congress, hours before departing for Rome. "To this end, he is about to publish his latest encyclical on that topic."
After a lunch break, Henao moved the crowd with an opening prayer to the Holy Spirit, interlaced with Emmanuel's lively, charismatic music.
Henao told the story of the disciples of Emmaus, found in St. Luke, chapter 24, emphasizing that Jesus is always present walking beside us. He also cited passages highlighting the role of holy Communion in our daily lives.
As founder of the Escuela Bíblica Católica Yeshu'a (www.escuelabiblica.org), a nonprofit with an evangelization mission and strong broadcast arm, Henao has spread the Good News far and wide.
He said he created the Escuela in his predominantly Catholic homeland to instill "a biblical foundation among believers because without it, what remains is an external or ritualistic piety."
Grains Scattered
With tracks in Spanish, Vietnamese and American Sign Language, Henao said he was "positively shocked" to witness the diversity of the congress.
"This is fruit of the catholicity and the disposition of the archbishop and his priests to serve their people," Henao said. "They represent a prophetic voice where others are divided precisely because of race, language and culture."
While the Hispanic Catholic population is growing, a primary issue is the need for volunteers.
"We need more help," said Aura Triviño, 61, who attends St. Joseph Church in Marietta. "You have to look for something that you really like to do and just do it. For instance, I'm a lector and catechist for kindergarteners at my parish."
Closing the session was Father Domingo Rodriguez-Zambrana, a native of Puerto Rico. Serving as procurator of the Missionary Servants of the Most Holy Trinity in Washington, D.C., he travels the country speaking on cultural diversity.
Father Rodriguez-Zambrana honed in on the sociopolitical nuances of the congress' theme, "As Grain Once Scattered."
"Like grains of wheat, you have all come to Atlanta—regardless of the language you speak, the color of your skin or the way you look," he said.
What's important, he pointed out, is respect among all and for all.
"No child of God is 'illegal,'" he asserted. "All are legal according to divine law."
The exhibit hall roared in applause.
"I insist that a paper that gives me legality is not what gives me dignity," Father Rodriguez-Zambrana said.