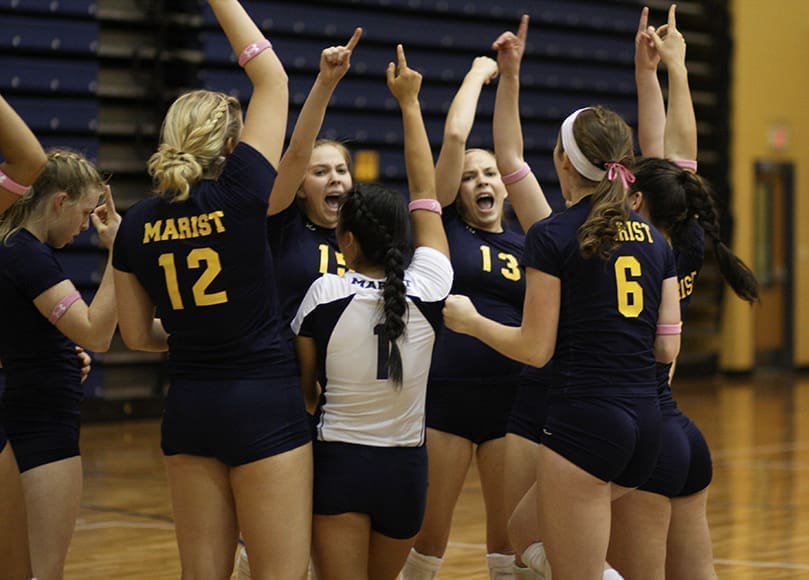 By STEPHEN O'KANE, Staff Writer
|

Published May 7, 2009

The longest they have been apart in their lives is about one week. But now, Marist School seniors and identical twins Paige and Whitney Weiland are preparing for graduation and then college, at two different schools.

Both of the tall, athletic teenagers agree that growing up with a twin has its ups and downs, although the good usually outweighs the bad. They have been there for each other through thick and thin and now are preparing for another big step in their lives.

"It's good just having her there all the time, somebody you can rely on," said Paige about her twin.

"I always had a friend, like anywhere we'd go . . . camps, parties, new schools," echoed Whitney about growing up with Paige.

As they approach the last few days at the school where they spent the past six years, both are excited about the future and ready to make names for themselves in their own unique ways.

Marist has been a wonderful experience in their growth as individuals and as sisters, they said.

"I love Marist," said Paige. "My older sister (Leah) came here first and it was always my dream to come here."

Whitney said that Marist is a strong school and has a good balance of everything, from academics and spiritual life to sports and the arts.

"I feel like I go to the best school," added Paige.

Whitney said people continue to have a hard time telling them apart and sometimes think they have the same identity. They say they have two different personalities but share many common interests.

One passion they share and for which they are known throughout campus is volleyball.

The Weilands have been playing volleyball for about seven years at clubs outside school and then at Marist. Paige currently plays year round, while Whitney decided to try coaching this year instead. She coaches a girls team at A5 Volleyball in Atlanta, where the Weilands first started playing.

The duo played on the Marist team that won the state championship in 2007 and was state runner-up in 2008. Their dedication and focus on the sport helped make the team successful and shape it into a formidable opponent in Georgia during the last few years.

"It's fun going to a school knowing that you could win a state championship every year," said Paige.

"We're both very smart players. We've been known for that," said Whitney, adding that they do have some differences on the court.

Their differing playing styles reflect their personalities. Whitney described Paige as a power player and a better athlete, while Paige said Whitney sees the bigger picture and is a very good coach.

Both have worked at the summer camps for youth at Marist, which they feel has given them a better perspective on the game.

The girls, who have always gone to Catholic schools, Our Lady of the Assumption School prior to Marist, feel the spiritual life at Marist is something that was special to them and that they will take with them as they continue on their journeys.

"The campus ministry is amazing here," said Whitney, who traveled with other students on a spring break mission trip to Nicaragua.

"That was a great opportunity that Marist gave us," Whitney said.

"I like how there is emphasis on (having a faith life)," Paige added. "There are many opportunities to get involved with the faith part of Marist."

As they look to the future, the girls, daughters of Todd and Amy Weiland and members of OLA Church, hope to take what they have learned with them on the next step.

Whitney will be attending Georgia College and State University in Milledgeville in the fall where she hopes to participate in Habitat for Humanity and join a sorority and is particularly interested in starting up a mission group at the school.

"Where I'm going there is no mission trip and I kind of want to try to organize one," she said.

After college, Whitney hopes to visit Nicaragua on another, longer mission trip before going to graduate school. She wants to be an elementary school teacher.

Paige will attend the University of South Carolina at its upstate campus in Spartanburg and will play volleyball while earning her degree. She is still discerning what she wants to major in, although she is interested in communications.

"She wants to do something with ESPN," Whitney said as Paige was discussing her future plans.

"But I already know I'm going to grad school at Florida," she confidently said.

The Weilands are two distinct personalities with one goal at heart: to be successful. The future looks bright for this unique pair of athletic twins.