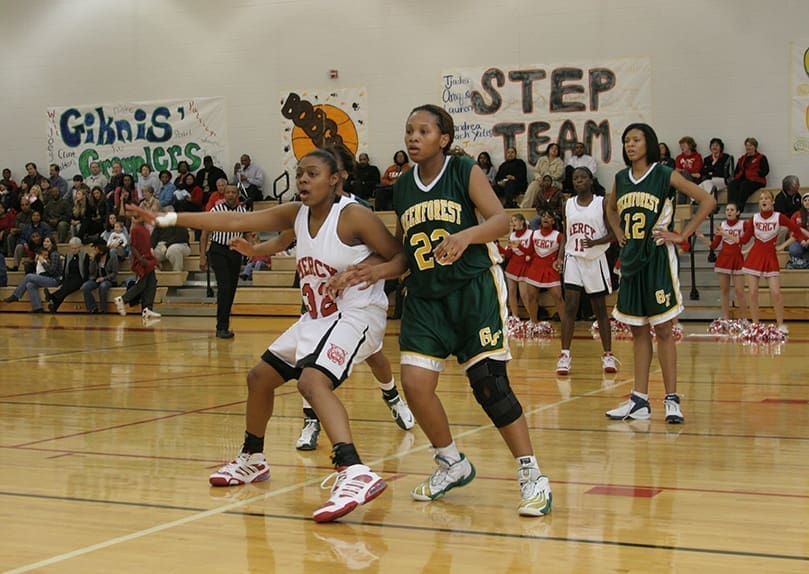 By MICHAEL ALEXANDER, Staff Photographer
|

Published February 7, 2008

The Lady Bobcats of Our Lady of Mercy High School gave their five seniors a victorious sendoff on senior night, Friday, Feb. 1, as they defeated Greenforest Christian High School of Decatur 44-25. Our Lady of Mercy's trapping defense led to a number of first half turnovers by Greenforest. Mercy took a 17-point lead into the locker room at halftime. They also held a comfortable lead of 13-15 points throughout most of the third period, and that momentum eventually propelled them to their eighth win of the season. Senior forward Kelly Tolcher led Mercy with 19 points.

The Our Lady of Mercy boys were not as fortunate as they lost to Greenforest Christian 66-53. The first two baskets by each team were 3-pointers to tie the score at six. Greenforest out-rebounded Mercy on the offensive and defensive boards to take a 21-9 first period lead. After Our Lady of Mercy honored its senior basketball, cheerleading, step team and swimming athletes at halftime, Greenforest returned to the court where they maintained a double-digit lead through most of the third period. Mercy cut the deficit to eight points, but that is as close as they would get. Junior forward Nnamdi Moh and senior point guard Dominique McDermott led Mercy in the loss with 16 and 11 points, respectively.